Dog Chooses to Walk on Hind Legs After Having Front Leg Amputated
For most dogs, walking on their hind legs is not only a chore, but actually classed by many as abuse. But for Dexter the three-legged dog from Colorado, it's his own personal favorite.
6-year-old dog Dexter was brought to the attention of a whole round of new followers two days ago, after he gained over one million views as his owner explained exactly why he's not allowed off his leash on walks.
"You have no idea how much I would love to take off the lead, especially when we're in the back country, but Dexter's a Brittany. The reason he's a bi-pedal is because of him escaping without a leash," explained Kentee Pasek.
What makes Dexter different from most Brittany Spaniels is that he was walking on his hind legs the entire video.
In 2016, at less than one years old, Dexter escaped from his backyard, causing the whole town to hunt for hours for him. After following a scent on the ground in a local park, Dexter accidentally ran into a moving van, but was luckily found moments later by Kentee's husband Tim Pasek, who is an EMT and mountain rescue volunteer.
"Brittany's are known to be able to climb over six foot fences and squeeze out of openings less than an inch big. Our previous dog was a black lab boarder collie mix and never escaped the same area. Dexter escaped and we went looking almost immediately," Kentee Pasek told Newsweek.
"We took him 45 minutes to the vet, his vet saved his life. After his first surgery and rehab at home, we found out the remaining leg was more injured than previously thought. During this time the front leg was not weight bearing so Dexter taught himself to walk upright! Our vet tried everything to help make Dexter a tripawd dog but eventually had to pin the elbow. In fact we had to pin it twice because he broke the first set of pins."
Dexter first walked himself upright up the stairs of their front porch, unsurprisingly confusing his owner. "I had watched him do this weird hop thing at first and did not think anything about it. One day, two months after the accident I had taken him outside and down the front porch stairs to go to the bathroom. He was lounging on the grass so I quickly ran inside to get my coffee. I came back and he was up on the porch! He was not putting any weight on the front leg and I thought how did that happen? This was two months after the accident and we had spent a lot of money on him. So I carried him to the grass, took out my phone to capture what happened on video for the family to believe me, and he walked upright up the front porch stairs right in front of me," said Kentee Pasek.
"I about lost it as I was so worried he was going to do something stupid and get hurt again... well we have this footage now with him in a cone, injured and walking bipedal up the stairs! I was shocked," she added.
During rehab, Dexter was even given a doggy wheelchair, but still chose to stand on his back legs even with it attached.
"We bought him custom wheels and at first he was not even using that front arm. We used the wheelchair on walks and monitored around the house for rehab strength on the front leg," said Kentee Pasek. "After a bit the front leg became strong and he used it while walking in the wheel chair. Then one day, he stood upright with them strapped to his stomach. My reaction was pure shock and disbelief I called the vet and it was decided Dexter was safer to walk upright if he wished without the wheels then to walk upright with them attached."
The video can also be seen in full here.
It's those videos that have made Dexter somewhat of a doggy celebrity, gaining over 300,000 followers on Instagram and regularly going viral.
After converting from local celebrity to internet famous, Dexter's choice of walking has been met with concern over the strain on his back and back legs. Patek confirmed in a TikTok, however, that he is checked every six months by a vet and that the concern is actually with his front leg. The leg is pinned at the elbow and is "where we had all of the rehab."
"I want to remind everyone to remember the videos are eight to 10 second clips of a walk. When he is walking he is super fast and loves to go, run and get energy out. Most of the time, he is lazy and mostly naps during the day. We limit his exercise to 30 minutes. We give him vet grade vitamins for older dog joint issues. I massage his front leg to help keep it going," she further told Newsweek.
"I have been told stories from previous Brittany owners that have dogs 11 to 13 years old with all four legs who walked upright and not had hip dysplasia. I hope and pray that is the case. It appears he is double jointed and his muscles are so strong."
Dexter's vet told the Denver Post that "he's developed massive, weight-lifter thighs. It was his desire to adapt. He chose two legs. They didn't make him walk on two legs. He accepted that he has this adversity and that he's not going to let it get him down. He has amazing resilience."
Patek's explanation on leashes is just the latest video of them to go viral, with almost daily uploads—though only the cutest make it to the millions.
In March, Dexter gained 1.9 million views on footage of him walking on his hind legs in the snow, and a clip of him running on his back legs hit 7 million in February.
"During this social media journey, everyone seems to be focused on his back legs but in fact his weakest link is that front leg. It is pinned at the elbow, had a lot of surgeries on it, and moves like a pegleg. It does not have the muscle tone of the rest of his legs. It is weak. It hurts him when the weather changes and I know that by the fact he lifts it to me when he is on his back. That means he needs a massage on that leg. He does this a lot in the winter when the barometric pressure changes and when a storm comes in," Kentee Pasek told Newsweek.
"We are grateful to still have Dexter in our life. We did not know if he would make it past the first night, first surgery, then all of the other surgeries. We did not know if we would have him a day, week or month. The vet said he might last four years like this and now in April, he will turn seven years old!"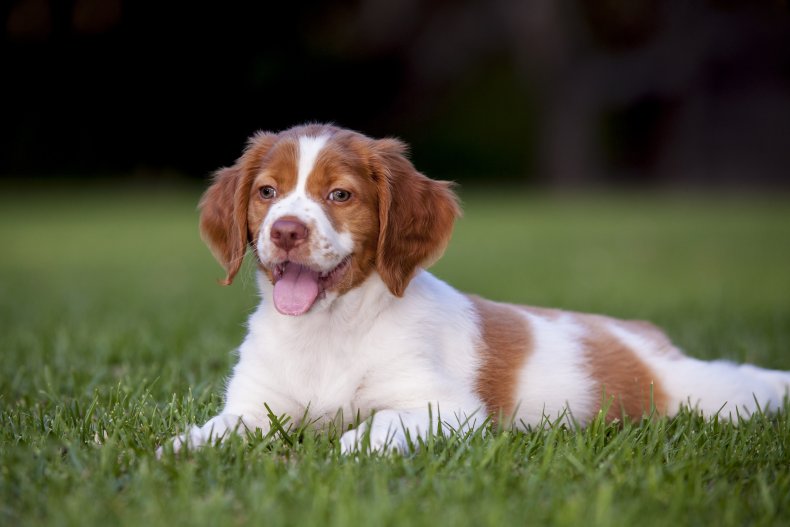 Update 09/22/21, 3:17 a.m. ET: This article was updated with comment from Kentee Pasek.