Dog Who Just Had Litter of Puppies 'Adopts' Abandoned Kitten
A New York woman has shared heartwarming photos and videos on social media showcasing the blossoming relationship between her beloved pet dog and a stray kitten she found who had been abandoned by its mother.
Brittany Callan of Geneseo is the proud owner of six Dobermans including Ruby, who is four-and-a-half and has been nursing a litter of six puppies born just a couple of weeks ago.
That litter has since become seven, however, after Brittany made a shocking discovery while cleaning her aunt's gutters.
Callan told Newsweek she began to hear "really loud meowing" coming from behind her sister Nicole's garage (Nicole lives next door to their mom) so decided to investigate.
It was there that she found a newborn adorably small tortoiseshell kitten.
Assuming that the cat's mother must be nearby, she left the animal alone. However, when she went back to check later that evening, the kitten was still there and it was getting cold.
Bringing the cat inside, Callan says she hit upon an idea.
"I thought I'd try to see if Ruby, my momma Doberman, would accept the kitten as she just had a litter of pups back in August."
Callan grew up on a farm and has always owned and looked after lots of animals.
It's something that has evidently rubbed off on Ruby who, according Callan, "has always been so great with lots of other baby animals."
"We have had ducks, chicks, bunnies and guinea pigs, and Ruby likes them like she's their mom cleaning them," she explains.
"She used to carry the baby bunnies in her mouth around the house. So I figured I'd see how she did with the kitten."
To Callan's delight, Ruby "took her in right away" and the pair have been inseparable since, with the kitten, who has been christened Ramblin' Rose, becoming firmly ensconced in the litter—as the heartwarming photos below demonstrate.
Their relationship has extended beyond cuddles too, to the point where Ramblin' Rose is very much a part of the litter.
"I hooked the kitten up to Ruby's nipple to nurse and she started suckling and ruby laid her head back down like nothing ever happened," Callan says.
"Now Ruby is obsessed with the kitten and carries her around the house and tends to her more than her own pups."
Their budding relationship as adopted mother and daughter has proven a hit on Facebook too with Callan happy to share videos and photos chronicling their many cuddles and sleepy snuggles together.
It's not just mom who has taken a shine to Ramblin' Rose either, with Callan sharing several snaps of Ruby's other pups cuddling up with her.
In one video, Ramblin' Rose can be seen sleeping on Ruby's arm, with the young kitten's purr audible throughout the life-affirming footage.
While Callan is not planning on keeping the super cute kitten, she will be nursing the cat back to full health and is already well on the way to doing just that with Ramblin' Rose looking significantly healthier and happier than she was when she first found her.
From there the plan is for a relative to take Ramblin' Rose in, meaning she will stay close by and available for more cuddles and snuggles with Momma Ruby at a future date.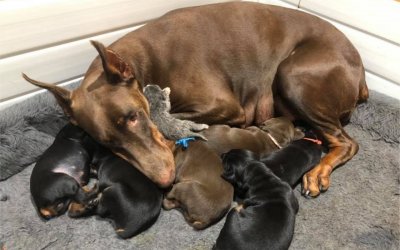 Update 09/06/2021 4.20 a.m. ET: This article has been updated with new images.