Dog Who Was in Car Stolen 8 Months Ago Reunited With Owner
After months of searching, a New York City woman has been reunited with her Maltese puppy.
In February, while at a rest stop in Fairfield, Connecticut, Valeria Karat left her car to pump gas, News12 reported. Security footage showed that while she was servicing her car, another car pulled up beside her, and a passenger from the car jumped into hers and took off. Karat's Maltese puppy who was not even a year old, Cindy, was in the car.
Trooper Donna Sabourin of the Connecticut State Police, told Newsweek that around 2 or 3 days after the car was stolen, it was located but Cindy was not inside.
From there, the department put out a BOLO, or "Be on the lookout," to other municipalities to help find the dog. Though living in New York, Sabourin said Karat made frequent trips back to Connecticut visiting shelters and putting up posters hoping to find her dog.
Sabourin said for Karat it was like "her soul was stolen from her" when Cindy was taken.
Eight months later, on September 22, officers found Cindy inside another stolen car in Waterbury, Connecticut, Sabourin told Newsweek. She said arrests were made but it is still under investigation as to how the cases are connected.
She said they were able to identify the dog as Cindy due to images and certain markings on her body. Later, Karat was able to confirm the dog was hers.
"For me, I'm a dog lover, it hit very close to home," Sabourin said. "It was so heartfelt because you could tell the love this woman had for her 'baby' as she called her."
Sabourin told News12 that when Cindy was found they noticed she appeared to have been neglected.
"She was very frail when they found her. They had to fatten her up a little bit. She was matted so they did give her a bath. They shaved her a little to get the mats out and she does have conjunctivitis in both eyes," she told the outlet.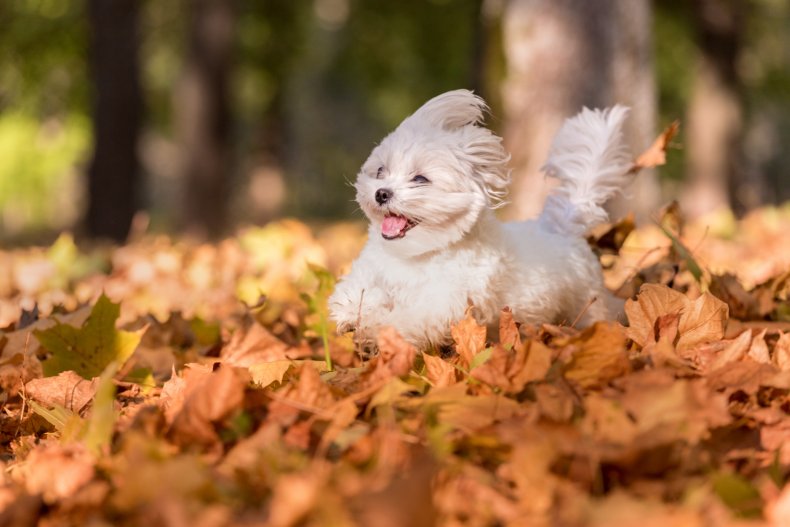 "Our followers may remember this special canine Cindy, who was taken when her family's vehicle was stolen from a Fairfield rest area. State Police Detectives located Cindy last week and today, she was reunited with mom, Valeria, and dad, Sergi," read a Facebook post from Connecticut State Police on September 30. "They expressed their deep gratitude to CSP Detectives & Waterbury Animal Control, which housed Cindy until today's reunion."
The post was accompanied by photos of the heartfelt reunion.
According to News12, Cindy turned one year old just before she was found.