Sheriff Saves Dog With Swollen Head From Zip-Tie on Its Neck: 'Sick People'
Officials in Florida have asked the public for help in locating the owner of a dog found with a hugely swollen head after someone placed a zip-tie around its neck.
The Hernando County Sheriff's Office confirmed that it's currently unclear who is responsible for the traumatic incident and whether it's related to the dog's owner or not.
The dog, a male pitbull/cur mix, was located on January 8, roaming a block in Brooksville, but it took three days for animal enforcement officers to successfully track down and capture the dog.
He had a large zip-tie tightened around his neck, causing the head to swell "considerably" as demonstrated in the images shared by police.
In a post shared to Facebook, officials wrote: "The dog, an adult male pit/cur mix, was located on 01-08-2022, roaming in the 16000 block of Blair Avenue in Brooksville. The dog had a large zip-tie fastened around its neck, which caused the dog's head to swell considerably."
"It took three days for animal enforcement officers to locate and capture the dog in an effort to remove the zip-tie. The dog was transported to Hernando County Animal Services where following treatment the swelling of the head has now subsided."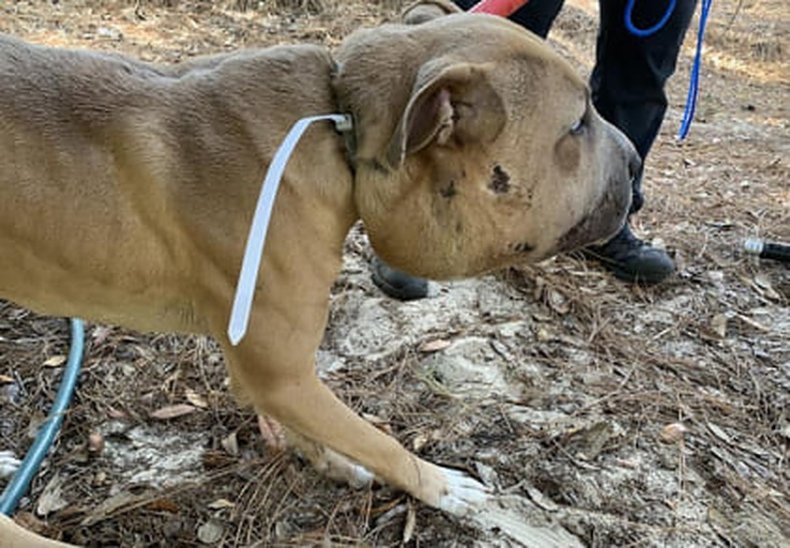 Now, the Hernando County Sheriff's Office is pleading for anyone who thinks they may know who put the zip-tie on the animal, or who owns the dog, to contact the office on 352-754-6830. A cash reward of $5,000 is being offered.
For those who would prefer to stay anonymous, they can call the Hernando County Crime Stoppers at 1-866-990-TIPS (8477) or **TIPS from a cell phone. Online tips can also be submitted at http://www.hernandocountycrimestoppers.com
Just yesterday, the DeSoto County Sheriff's Office similarly asked the public for their help in finding justice in another case of horrific dog abuse.
An abandoned dog was found in a trash bag in DeSoto County, Florida, in an incident officers described as "absolutely unacceptable."
The DeSoto County Sheriff's Office responded to a call from a resident who had noticed an "oddly shaped" garbage bag near an intersection.
According to deputies, the caller opened the bag to find an older malnourished dog inside of it.
"There is absolutely NO reason to treat animals this way; not when there are shelters available and/or people who would gladly adopt a pretty little lady like this one," they warned. "It is absolutely unacceptable!"