Laughter as Dachshund Refuses to Behave in the Office—'Adds a Bit of Spice'
While most people long for an office dog so they can have something to fawn over at work, and ease the tension in an otherwise stressful environment, this woman was left regretting her decision to bring her dachshund to work.
Lucy Bowes shared a video on her TikTok account, @thelucyandlolashop, of her energetic dog, Lola, getting the 'zoomies.' She sprints round her office with a squeaky toy, while Bowes tries to get work done in peace.
Text across the video reads: "POV: you told everyone in the office your dog would be really well behaved at work and just sleep under your desk all day."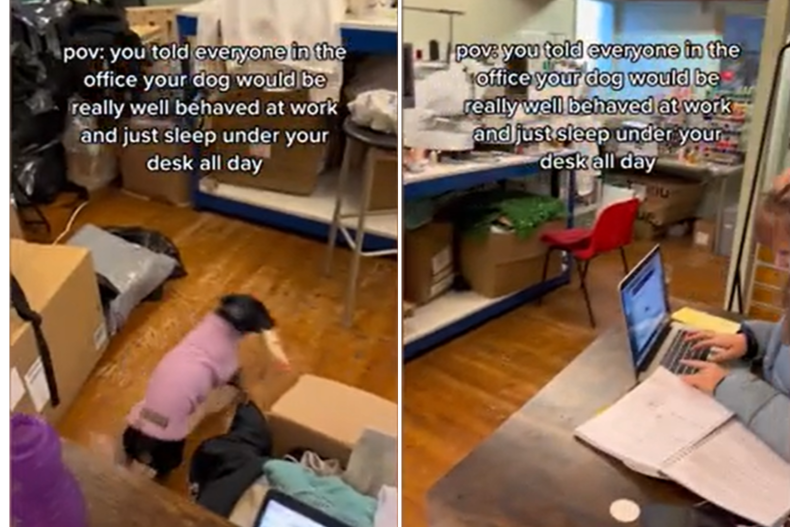 A survey by Banfield Pet Hospital released in 2021 highlighted the significant boom in pet ownership since the start of the COVID-19 pandemic. However, once the return to work came, it left employees with a difficult decision about their beloved new pets.
Results of the survey found that 59 percent of company executives were considering allowing their employees to bring their dogs to work. This was because 38 percent of staff felt worried about the idea of leaving their pets at home.
Not all pets will be quite as disruptive as Lola, however, as 23 percent of staff believed that they could be more productive at work if they had their dog by their side.
Since Lola's chaotic behavior went viral, Bowes told Newsweek how this has become a daily occurrence she's learned to live with.
"She does it every morning to us, especially when we are trying to have meetings or are on the phone," Bowes said. "She runs around like that for about 20 minutes every morning, and then sporadically during the day.
"She tends to run around like a mad thing and then sleep for a bit. Rinse and repeat all day! Everyone loves her for it, though," she added.
Bowes, from Cambridge, England, owns a pet-portrait business, which involves intricate embroidery. A quiet and still atmosphere can be very important to make sure the designs are perfect. However, it seems that Lola isn't bothered about that. She prefers causing as much noise and disruption as she possibly can.
Since Bowes shared the video on TikTok on February 8, it has already amassed over 950,000 views, and more than 80,000 likes.
With hundreds of comments on the video, many TikTok users appreciated Lola's not-so-calming presence at work. They wrote that she's the perfect colleague to lighten the mood in the office.
One person posted: "Office dog is exceeding all expectations, such dedication," as another user wrote: "I think all offices should require an office dog going forward."
One particular comment caught the attention of Bowes, as someone wrote: "This would honestly just make me so happy lol," to which the portrait designer responded that Lola "adds a bit of spice to the morning meeting."
Do you have funny and adorable videos or pictures of your pet you want to share? Send them to life@newsweek.com with some details about your best friend, and they could appear in our Pet of the Week lineup.