Dogecoin Tanks Amid Elon Musk 'SNL' Appearance, Prompting Wave of Ridicule
The price of dogecoin tanked during Tesla and SpaceX CEO Elon Musk's Saturday Night Live appearance, prompting a wave of online ridicule and jokes about his performance.
At around 11:30 p.m. ET on Saturday, the price of dogecoin sat at 0.6765 USD, according to a live tracker maintained by Yahoo Finance.
Then at around 12:30 a.m. ET on Sunday—roughly half an hour before the show ended—the price of dogecoin fell to 0.5115 USD—a 24 percent drop in value.
When SNL concluded just after 1 a.m. ET, dogecoin climbed back up to 0.5445 USD—a 19.5 percent drop since the show started.
Cryptocurrency enthusiasts quickly took to Twitter to suggest that Musk's SNL appearance could have caused the drop in dogecoin trading value.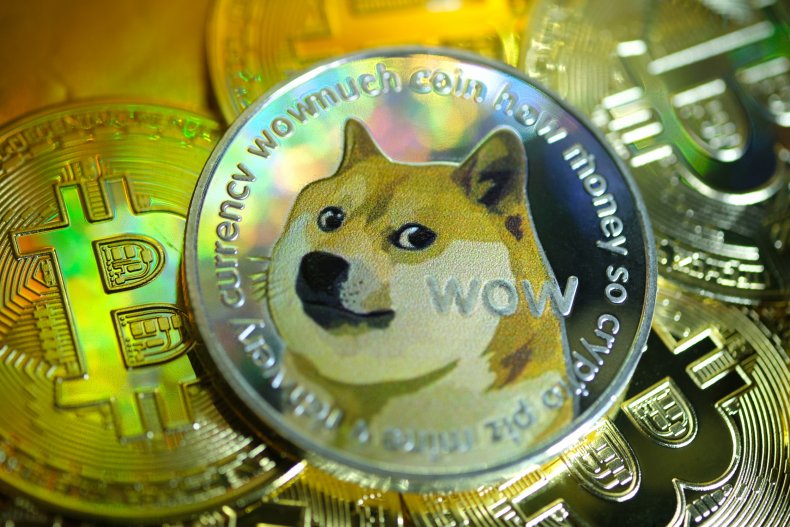 At the same time, viewers also took to the social media platform to discuss the increased enthusiasm for the cryptocurrency as Musk appeared on SNL's 'Weekend Update' segment to tout it.
"It's a digital currency," Musk told SNL 'Weekend Update' co-anchors Michael Che and Colin Jost. "It's the future of currency, it's an unstoppable financial vehicle that's going to take over the world ... It's a cryptocurrency you can trade for conventional money."
"So it's a hustle?" asked Che.
"Yeah, it's a hustle," Musk responded.
The hashtag #dogetothemoon began trending late on Saturday night.
"Sidenote did Elon tank or something? Why is Doge crashing?" Barstool Sports' Dave Portnoy tweeted at 12:04 a.m. ET, roughly half an hour after the start of SNL.
@Davetrave wrote: "SNL was so unfunny it made DOGECOIN crash."
"That crash flushed all the non believers out and now only the true #dogearmy will grow as #doge climbs back up! #dogecoin," @MattM3RCY said.
Twitch streamer @camcsgo commented: "Elon: giving dogecoin to my mom for mother's day. Doge crash. Elon 10 mins later: doge is a hustle. Comes back. Lol."
"Me watching people panic seeing Doge dip #dogetothemoon #dogecoin," tweeted @abhayprabhakar.
After SNL named Musk as a host last month, the businessman tweeted a photo of the announcement and called himself the "Dogefather."
As people began speculating that Musk's SNL appearance would boost the price of dogecoin on Friday, the Tesla CEO issued a warning to his followers on Twitter. "Cryptocurrency is promising, but please invest with caution!" he wrote.
Musk also shared a TMZ video of himself warning others not to go "too far on the crypto speculation front" in a street interview with a reporter.
"First of all, I think people should not invest their life savings in cryptocurrency to be clear," he said. "I think that's unwise ... there's a good chance that crypto is the future currency of earth. And then it's like, 'Well which one is it going to be.' Maybe it will be multiple. But it should be considered speculation at this point and don't go too far on the crypto speculation front."
Musk added: "Dogecoin was invented as a joke, as essentially to make fun of cryptocurrency. Fate loves irony. The most entertaining outcome is probably the most ironic outcome: that the currency that was invented as a joke in fact becomes the real currency."
In the hours leading up to Musk's SNL performance, the cryptocurrency dropped 3.8 percent compared to the day before, according to the Independent. The decrease was a small dip compared to its significant gain of 68 percent over the past week.
On Wednesday morning, dogecoin rose briefly to 69 cents, an all-time high for the currency, a gain of over 12,000 percent, according to CNBC.
The price of dogecoin has skyrocketed by about 14,000 percent over the past year, 100 times more than the growth of bitcoin.
Experts have warned investors not to invest any money they aren't prepared to lose in the unstable dogecoin. "My guess is that [the rally] won't last, especially for something like dogecoin which was never meant to be a payment system or a store of value," BFD chief operating officer Adam Zadikoff told CNBC.
Newsweek reached out to Musk via Tesla for comment. This story will be updated with any response.