Dogs From 100 Countries Banned from Entering U.S. for 1 Year Through CDC Order
Dogs from more than 100 countries where rabies still spreads are now banned from the U.S. for at least year, health officials announced Monday.
COVID-19 sequestered people indoors in 2020, leading to an influx in pet adoptions that emptied out shelters across the country and kept business booming for breeders, some of which ship their puppies to the U.S. from overseas. A spike in the number of puppies turned away because they weren't old enough for vaccines prompted the ban, which goes into effect July 14, the Centers for Disease Control and Prevention said in a statement.
The CDC's Emily Pieracci told NPR many of the dogs arriving to the U.S. from flagged countries were younger than 4 months, the age at which rabies vaccines take full effect. But paperwork listing the rejected dogs' ages as at least 4 months was fraudulent.
Pieracci said most of those rejected dogs came from Russia, Ukraine and Colombia, but a number of other denials led the CDC to ban dogs from all countries with a high risk of rabies.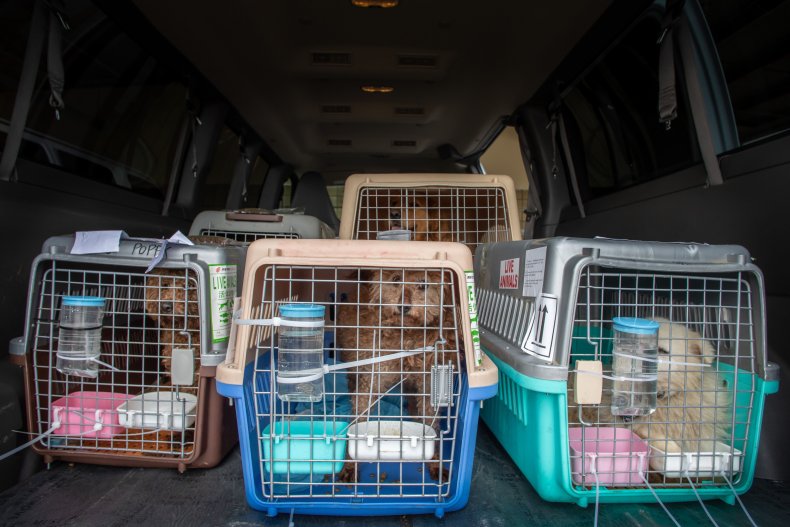 Dogs leaving or entering the country, including pets or dogs for purchase or adoption, fall under the ban. So, if U.S. citizens bring their dog to one of the countries on the CDC's list, the dog would not be allowed to return with them before it spends at least six months in a country with a low risk for rabies.
About 4 to 7.5 percent of the roughly 1 million dogs brought to the U.S. yearly will be affected by the ban, according to CDC officials. The agency will make exceptions on a case-by-case basis, such as for seeing-eye dogs or foreigners relocating to the U.S. with their pets.
Though rabies was wiped out in dogs in the United States in 2007 thanks to vaccinations, other types of rabies from foreign countries can pose a serious risk to both animals and humans if spread. In 1988, a strain of the disease that originated in Mexico spread to wild coyotes and took 19 years to eliminate.
There's no cure for rabies once symptoms present and it is usually fatal in animals and humans. Vaccination is the best tool against the disease, the CDC said.
While the number of dog adoptions may have increased during the pandemic, some dog rabies vaccination programs had to be suspended or canceled, raising the chances of bringing home an infected dog higher, Pierraci said.
Newsweek reached out to the CDC but did not receive comment in time for publication.