Dogs Left Freezing to Death In Cold Across U.S., Animal Care Groups Canvas Neighborhoods With Police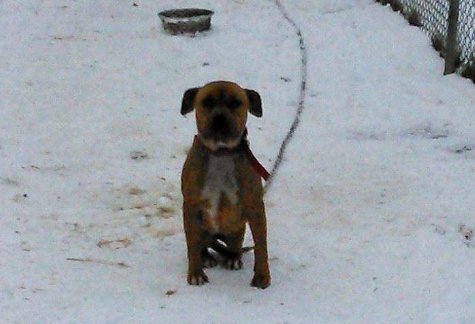 Dogs across the U.S. are being found frozen to death or left to die in subzero temperatures as animal rescue and police departments report dozens of "horrific" scenes of neglect.
Despite widespread warnings from law enforcement and animal rights groups about leaving pets outside in this week's frozen weather, canine owners throughout the Midwest are being cited for negligent, often deadly, decisions to leave dogs out to die in the bitter cold. Animal care agencies in Indiana, Iowa and Ohio report having their "busiest week in years" as they go neighborhood-to-neighborhood, house-to-house recovering frostbitten dogs chained outside, left in vacant vehicles and in some cases, deceased next to frozen water bowls.
Several animal rights leaders in the Midwest told Newsweek that local legislation has helped to reduce dog abuse and give law enforcement the ability to intervene before it's too late.
Indianapolis Animal Care Services described one of their more than 100 calls over the past week in a Facebook post Wednesday: "Our last call was the hardest one to stomach, and definitely one that will stay with me forever. We encountered a dog owner who left his dog outside, letting it freeze overnight to a cold wooden doghouse outside. The only thing blocking the cold, bitter air was a towel. While that is truly horrific, what the owner did next is even worse. He picked up the dog and threw it away in a dumpster, as if its life meant nothing."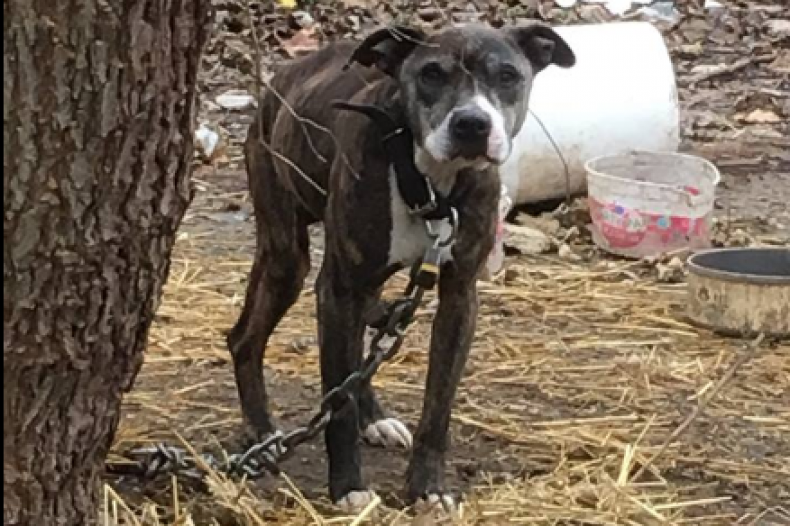 Darcie Kurtz, the founder of Friends of Indianapolis Dogs Outside, or FIDO, told Newsweek Thursday that negligent owners of dogs are "in the minority" and that an increase in news media awareness, police department cooperation and the backing of local legislation has dramatically reduced canine cold weather deaths -- even against reluctant pet owners.
"Pet owners should be told the expectations," she told Newsweek. "You can't do this anymore, they're finally learning that it takes education, takes an ordinance and it takes outrage. The media and the police have helped...in previous years there were a lot more animals who suffered and died."
Small fines are common in cases of animal neglect, but arrests and compassion from some pet owners appear to be far less common. Indianapolis animal rescuers tell Newsweek that recent legislation allowing law enforcement to enter property and save animals has been the difference between some dogs living and dying.
Kurtz added to Newsweek that FIDO assisted in responding to another concerned neighbor's report of a separate dog found dead -- starved, emaciated, dehydrated and exposed to the cold -- in an empty garage on the Eastside of Indianapolis. She said the group has also picked up 12 strays and analyzed 120 animal services cases.
In Iowa's Polk County, the Animal Rescue League of Iowa said two dogs, Chloe and Sophie, were chained outside without reach to food, shelter or water outside of a Northeast 120th Street plastic crate doghouse, the Des Moines Register reported. The owner, Rebecca Woods, 22, was charged with two counts of animal neglect on January 25, and issued a citation but not brought into jail. The Animal Rescue League shelter offers free dog houses and straw to pet owners as well as offering access to warming stations for homeless persons with pets. Temperatures in the state have seen lows of minus 20 degrees on some days.
In Youngstown, Ohio, an Animal Charity humane agent and two Mahoning County Dog Warden deputies freed three animals chained outside with bolt cutters, WKBN-TV reported. Charity Director Mary Louk told the station this past week has been the busiest she's seen in years for house-to-house rescue efforts. Local police called animal care agents to a Wilson Avenue junkyard where they rescued one dog before finding another dead inside of a dog house behind a yard of someone who may not even face any legal trouble.
"It's too early to know for sure [the dog] froze to death...But you can be charged with felony animal abuse in the state of Ohio. It's a fifth-degree but we will pursue it in the case of a death," Louk told WKBN-TV.
In Indianapolis, where temperatures have dropped well below zero, a city-county ordinance passed in 2015 with help from City Councilman Zach Adamson provided animal rights groups and law enforcement leverage, informing owners that it's illegal to keep pets outside in temperatures below 20 degrees Fahrenheit or in cases in which Indianapolis is under a Wind Chill Advisory. Violations can result in fines of up to $200 for those found responsible.
On Sunday, dramatic footage surfaced from Chicago police who pulled a man from frozen Lake Michigan as he attempted to save a dog who had fallen in through the ice and into the subzero waters.
Kurtz added to Newsweek that while social media is helpful in informing people about the dangers to leaving pets outside, a vast majority of pet owners as a whole are caring and others are simply uninformed about proper heat precautions.
"Most of the people are talking to their friends who are already on social media," Kurtz said, warning that some stubborn pet owners believed a simple heat lamp and tarp would protect their animals from subzero temperatures. "Local Indianapolis TV and radio have put the warning out. I will say of the runs we've done, a vast majority are trying to do the right thing."