Dog's Adorable Expression Melts Hearts Online: 'Just A Hint Of A Smile'
A video of a dog's sweet, yet subtle smile, has gone viral online and has earned many plaudits from social media users.
In a viral video shared last Thursday by Las Vegas-based TikTok user norman_itsyb, the TikTok user explained that their Schipperke, Itsy b, had "just the hint of a smile."
The brief video, which also featured fellow Schipperke, Norman, then proceeded to deliver on the very thing it promised with the black pooch giving a gentle smile toward the camera.
However, the TikTok user then explained in another video that while Itsy b might have a wonderful smile, she is the "naughty one" of the pair.
A caption on the video further added: "She's always getting into trouble. She's also always smiling when she's excited or when she's happy."
Meanwhile, Norman was described as "a chunky boy" who loves food and "snuggling" with his dog mother.
The pair are popular on TikTok with many videos attracting tens of thousands of views and, in some cases, millions.
According to Hill's Pet Nutrition, while dogs might smile it means something different from when humans do it.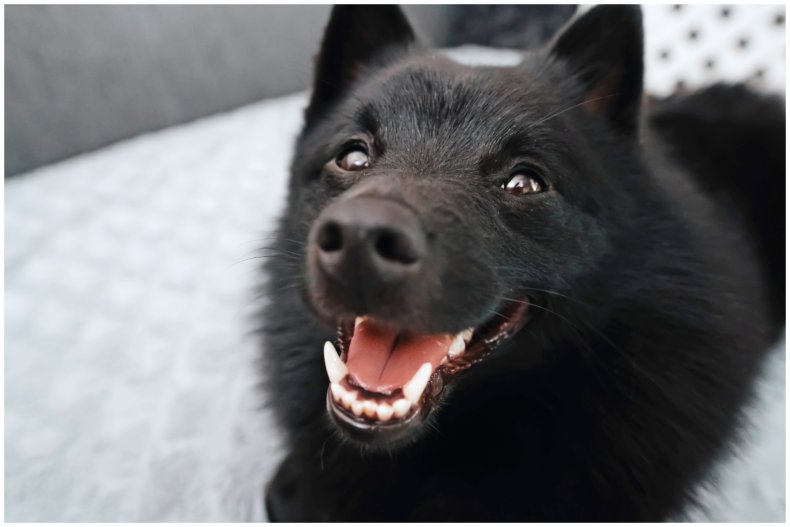 "For example, if you're watching a movie and a character says something funny, you're likely to crack a smile or laugh. Don't expect the same from your pet. Your dog isn't smiling because they find something humorous. Instead, they're smiling because they are calm and relaxed and, because of that, one could venture that your pet is happy," Hill's Pet Nutrition said on it's website.
Since being shared, the post has attracted more than 17.1 million views and has received an estimated 3.9 million likes.
Many of those who commented under the video praised Itsy b for the dog's sweet-looking smile, while others said they wanted to have him as their pet.
Owloz2 simply said: "I want to cuddle that dog forever."
WhyamIonhereagain? asked: "Can I have your pupper. She's taken my heart with that smile."
Louis added: "The face I make when my girl starts flirting with me," while Morgan Jay commented: "I like this guy."
Newsweek has contacted norman_itsyb for comment via TikTok.
Do you have funny and adorable videos or pictures of your pet you want to share? Send them to life@newsweek.com with some details about your best friend, and they could appear in our Pet of the Week lineup.