The Premiere of 'A Dog's Purpose' Has Been Canceled After Animal Cruelty Claims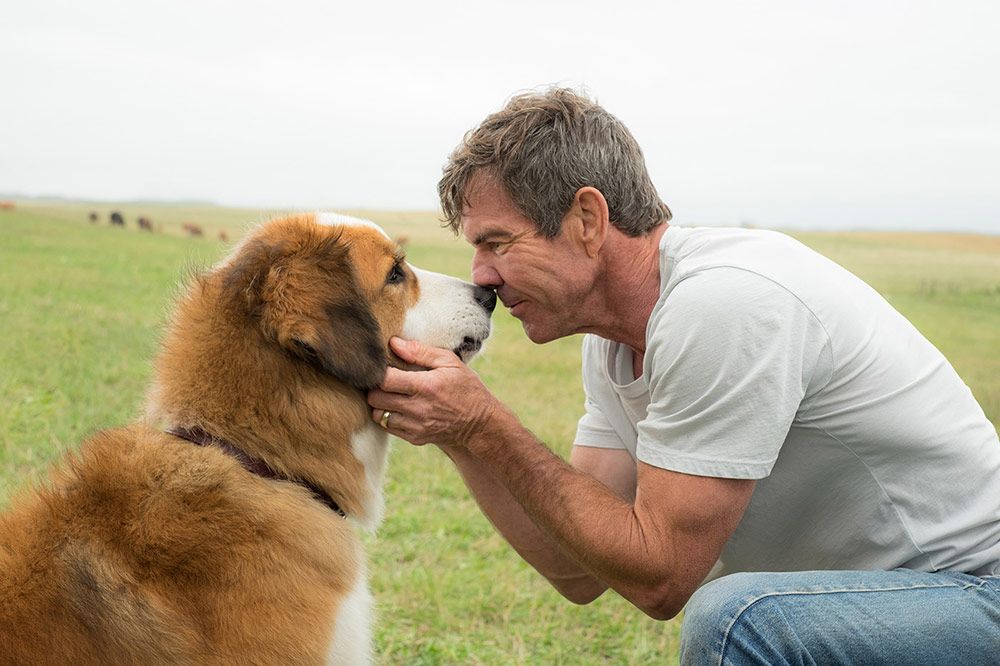 A Dog's Purpose is a film about the bond between humans and their canine pets. You may have seen posters around your city featuring a closeup of an attractive dog just begging to shower his master with love. Based on the bestselling book of the same name, the film's appeal is essentially that of many viral internet videos, only you have to leave your house and pay $20 to see it. It could have been called Cute Dogs Doing Cute Things: Dog Lovers, Give Us Your Money.
Related: Say goodbye to these animals we're losing to mass extinction
But as we learned earlier this week, the filming of A Dog's Purpose wasn't as warm and cuddly as one might have expected. Disturbing video surfaced of a dog being forced into raging waters during production, causing an uproar from animal rights groups. Now, Universal Pictures has canceled the movie's premiere, which was scheduled to take place this weekend in Los Angeles.
The videos in question, which were published Wednesday by TMZ, were shot in Winnipeg, Canada in November 2015. A handler is seen apparently trying to force a resistant German Shepherd into a pool of turbulent water, which was reportedly being churned with eight outboard motors. Another clip shows the water forcing the dog to the edge of the pool, seemingly on the verge of drowning before crew member rush to save it.
PETA has called for a boycott of the film, and for the director and producer to sign a pledge promising never to use animals in their films again. "This movie is directed towards those who love dogs and, clearly, this is not a dog's purpose," said PETA Senior Vice President Lisa Lange.
Several members of the film's production have crew expressed their concern over the videos, as well. Though PETA wants them to promise to never use animals again, director Lasse Hallström and producer Gavin Polone have both expressed shock over the footage.
"I am very disturbed by the video released today from the set of my film A Dog's Purpose," Hallström tweeted. "I did not witness these actions. We were all committed to providing a loving and safe environment for all the animals in the film. I have been promised that a thorough investigation into this situation is underway and that any wrongdoing will be reported and punished."
Polone told Deadline that he was "horrified" by the video.
Actor Josh Gad, who voices one of the dogs in the film, released a statement on Twitter.
Though Amblin Entertainment and Universal Pictures said that the dog was not harmed and that they still support the film, they didn't feel it was appropriate to hold an official premiere considering the controversy.
"Because Amblin's review into the edited video released yesterday is still ongoing, distributor Universal Pictures has decided it is in the best interest of A Dog's Purpose to cancel this weekend's premiere and press junket," they said in a statement. "Amblin and Universal do not want anything to overshadow this film that celebrates the relationship between humans and animals.
"Since the emergence of the footage, Amblin has engaged with many associated with the production of the film, including safety personnel, trainers and stunt coordinators as part of their in-depth review. While we are all disheartened by the appearance of an animal in distress, everyone has assured us that Hercules the German Shepherd was not harmed throughout the filmmaking."
A Dog's Purpose will still see a wide release next Friday, January 27.
Read more from Newsweek.com:
- Why dogs are more self-aware than you think
- A brief history of Snoop Dogg and Willie Nelson's marijuana romance
- Wes Anderson is making a stop-animation film with dogs starring nearly every celebrity