Dog's Reaction to Pet Sitter After Humans Go Out of Town Is Priceless
A Hungarian Vizsla dog's reaction to being left without her favorite human while they were out of town has left the internet laughing.
The 17-month-old pup Parker lives in the San Francisco Bay Area and was being looked after by her "aunt", Alissa DeMarco, while her owner was out of town for the week.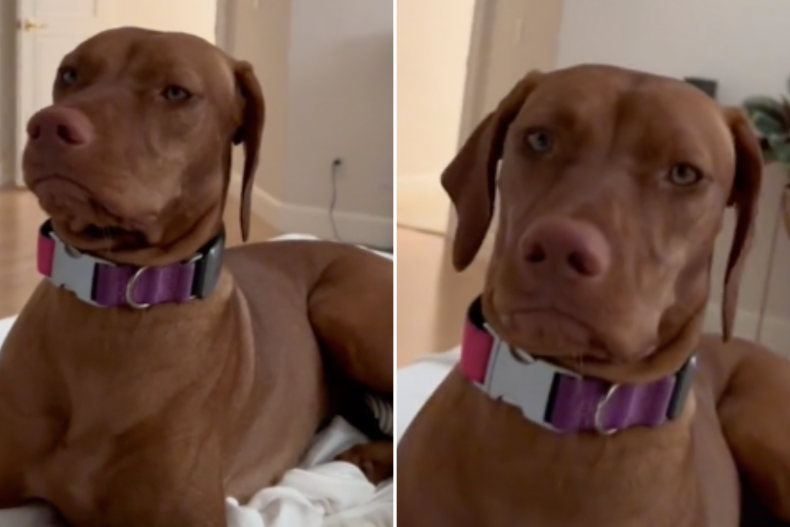 While any parent will tell you they don't have favorites, dogs are a little more fickle with their attention, and research shows that our canine friends will often have preferred people.
Dog-advice site Rover says that your pup's favorite might not always be the primary caregiver. It could be a dog sitter, the neighbor who always has the treat in their pocket, or even the owner of their favorite canine friend.
The footage has been viewed more than 1.5 million times on TikTok where Parker's facial expression has delighted users.
DeMarco told Newsweek: "Parker is upset in this video because her favorite human went away for the week, and she's stuck at home with the spare human."
A study conducted by Canine Cottages fitted four dogs with heart-rate-tracking collars to measure their responses to their owners.
A dog's average heart rate was 67 beats per minute, but when owners told their pups "I love you," their heart rate increased by 46 percent to 98 bpm.
The study also found that dogs feel calmer when receiving a hug from their beloved human, with heart rate decreasing by around 23 percent after receiving a cuddle.
The study also recorded owners' heart rates, and human bpm would increase by 10 percent on average when they saw their dog after being away from them for a while.
In hundreds of comments, viewers of the video were quick to compare the reaction to their own dogs. One commenter said: "My dogs are the same. Waiting by the window."
Another reply said: "I am usually the spare," while one TikToker wrote: "Why do dogs always look so awkward?"
"The viral reaction is incredible! It's fun to see a community of pet parents come together and relate to being either the spare human or the favorite human," said DeMarco.
"The comment section is filled with light-hearted and supportive pet owners. I swear the pet community is one of the most welcoming communities on TikTok. We love being a part of it."
Last month, a video of three dogs reacting to their owners arriving home went viral. After a 10-day vacation, the pets were quick to greet their "mom" with enthusiasm, while their other owner was able to slip by almost unnoticed.
Do you have funny and adorable videos or pictures of your pet you want to share? Send them to life@newsweek.com with some details about your best friend and they could appear in our Pet of the Week lineup.