Over 200 Dogs Rescued From Chinese Slaughterhouses to Be Brought to U.S.
More than 200 dogs have been rescued from slaughterhouses in China and are to be brought to the U.S. next month.
The charity China Rescue Dogs rescued 205 dogs from meat trucks and slaughterhouses ahead of Chinese New Year, it has revealed.
Jill Stewart, president and founder of China Rescue Dogs, said in a statement: "What was once the end of their lives is now a new beginning for these beautiful babies.
"They all have been quarantined, microchipped and received all the necessary vaccinations. Now it is time for them to live the rest of their lives being safe and happy with their forever families."
Next week, 145 dogs will fly from China to New York on three cargo planes. China Rescue Dogs hopes to bring the remaining 60 dogs to the U.S. later in March, if it raises enough money.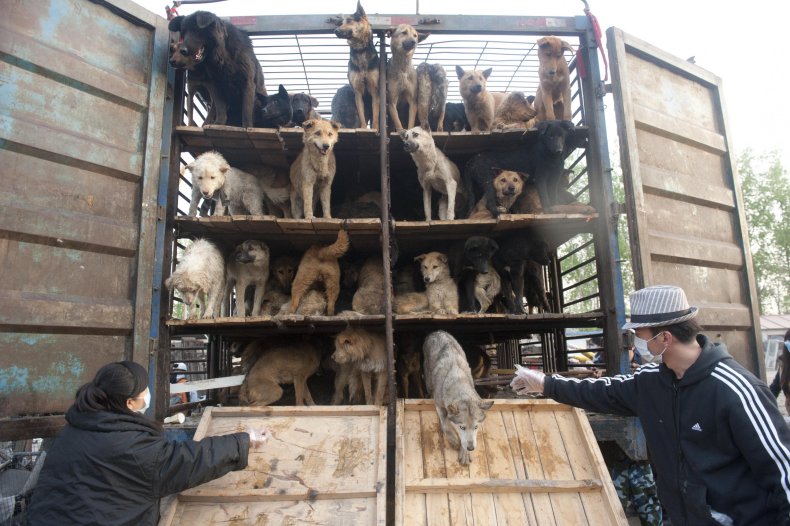 In January, China Rescue Dogs brought 60 dogs to the U.S. from China, with Stewart crediting an article on People.com with raising awareness and money to fund the trip. According to the charity's website, it costs $3,500 to fly one dog from China to the U.S. at present. It attributes the high cost to COVID-19 restrictions.
"Without People.com and its readers, we would not have been able to save 60 dogs at the end of January," said Stewart. "I become so emotional knowing how much joy and unconditional love they are now bringing to their new families."
China Rescue Dogs intends to fly 60 dogs to the U.S. at the end of next month, but says it will need to raise another $30,000 to do so.
"Funding is crucial," said Stewart. "We never say no to any dog—mixed breeds, banned breeds, disabled dogs and seniors. We try to rescue them all. Unfortunately, we cannot do that without the public's continued support."
Once the dogs arrive at John F. Kennedy Airport in New York, they will be checked by vets from Bay Street Animal Hospital in Staten Island to make sure they're healthy. The animals will then be sent to their adoptive families across the U.S.
More than 10,000 dogs are eaten each year in China at a 10-day lychee and dog meat festival held in Yulin, a city in Guangxi province.
The festival has faced criticism within China and from around the world in recent years. Animal rights groups say the dogs are kept and killed inhumanely and festival visitors have speculated that some of the dogs were stolen pets, as they were reportedly seen wearing collars.
The Yulin festival only began in 2009 and critics have claimed that it has no cultural or traditional value, and exists solely for commercial gain. It is also thought that the majority of Chinese people do not eat dog meat and that many young people in the country oppose the festival.