Dogs Dismembered and Sold for Meat at Indonesia Wet Markets, Despite Ban
Dogs are being dismembered and sold for meat at wet markets in Sumatra, Indonesia, even in an area where a ban is in place, an investigation has found.
The investigation launched by international animal protection group Lady Freethinker was conducted in June, and found that dogs are being kept in sacks at the markets, with their mouths tied shut, before they are killed.
Footage taken by the investigator shows the dogs being kept in cages and piled on top of each other in filthy conditions. Once the dogs are killed, the bodies are torched to get rid of any hair, Lady Freethinker said in a release sent to Newsweek. At times, the dogs' charred remains were on display at the markets.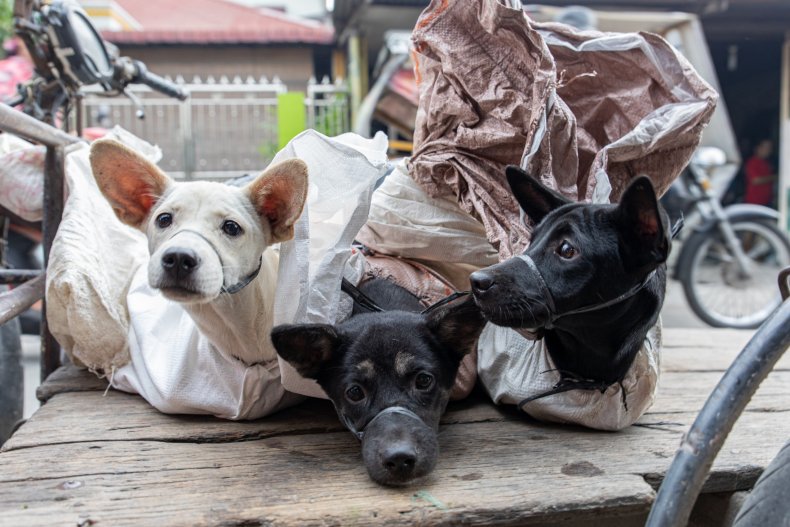 Many of the dogs rounded up for meat were once companion animals, having been stolen from families, the charity said.
Indonesian law does not explicitly prohibit the trade of dog meat, according to Humane Society International, but there are regulations relating to how animals are transported, kept, and sold at markets.
Only a very small percentage of Indonesians still eat dog. It is seen as a traditional food, and will usually be eaten during festivals or celebrations. However, demand for the product is declining. This is not just due to the cruelty involved in the practice, but multiple health risks associated with the meat. Filthy conditions at slaughterhouses and markets present a risk of rabies as well as other zoonotic diseases.
Several Indonesian regions have already passed directives banning dog meat. However, Lady Freethinker's investigator did not observe regulations being strictly enforced.
The mayor of Medan—the capital of Indonesia's North Sumatra province—issued a letter banning the dog meat trade while Lady Freethinker's investigation was taking place, the charity said in a press release. However, investigators observed no change.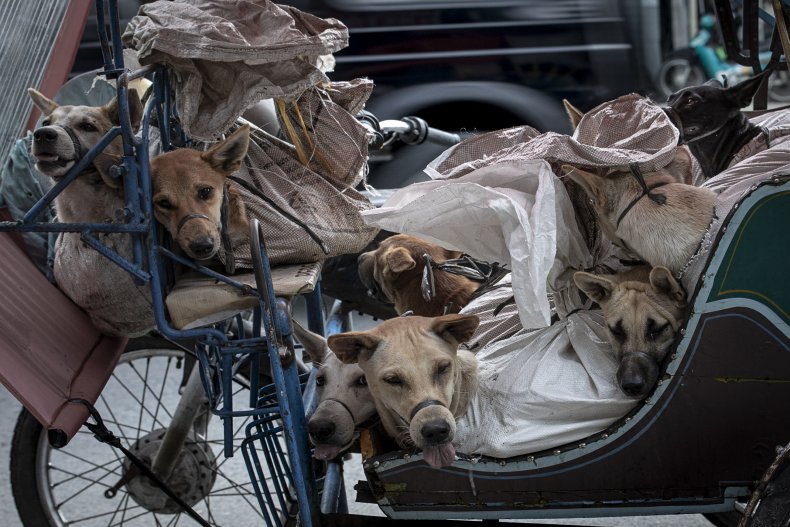 "Despite the mayor of Medan issuing a letter banning dog meat in the city last month, Lady Freethinker has received repeated eyewitness reports and videos of the trade continuing there, with the latest evidence coming in on July 11. Activists on the ground in Medan report that nothing has changed, except that dog meat traders are no longer willing to be photographed," Nina Jackel, president and founder of Lady Freethinker, told Newsweek.
"The dog meat trade has also been banned in a handful of other Indonesian regions in recent years, but it's unclear how much action the government has taken to enforce these bans."
Jackel said that the dog meat trade is still happening in a number of other countries including China, South Korea and Vietnam.
"Across Asia, an estimated 30 million dogs per year are slaughtered for meat. Interestingly, South Korea is the only country with commercial dog meat farms," Jackel said. "In other countries, the dogs are typically stolen or rounded up from the streets. It's important to note that most people in these nations do not eat dog, and many caring local advocates are calling to end the dog and cat meat trade."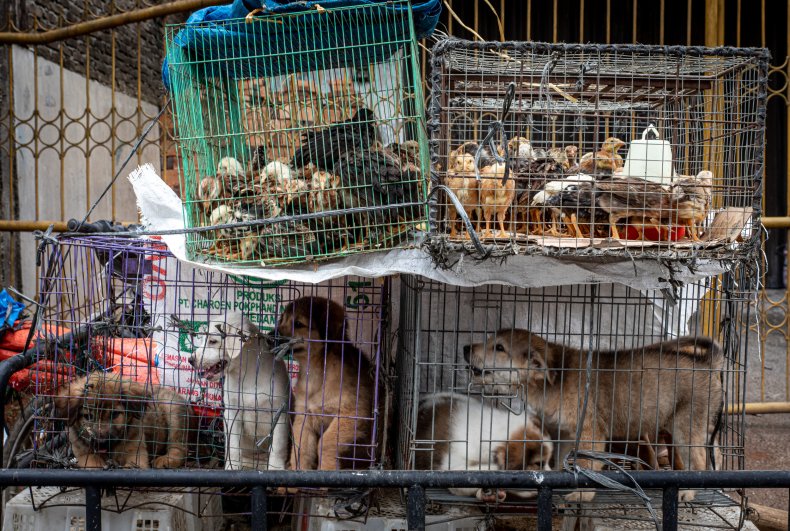 Dogs were not the only animals observed during the investigation. Cats were also seen kept in horrendous conditions. Footage shows live turtles being piled on top of each other, while a live lizard was filmed being tied at the mouth and legs.
Bats, birds, chickens and monkeys were also observed in filthy metal cages stacked on top of one another.
"As long as these live markets continue to operate, countless dogs and exotic animals will continue to suffer in cramped, disease-ridden conditions before being violently killed, and public health will remain at risk," Jackel said in a press release.
"It's crucial that these markets be shut down immediately in Indonesia and around the world. Lady Freethinker is urging the Sumatran government to shut down all live markets and ban the dog meat trade statewide and is asking everyone disturbed by these images to sign our petition."
Newsweek has contacted the Indonesian government for comment.