DOJ Accuses California Governor Newsom of Discriminating Against Religion, Tells State to Reopen Churches
In a Tuesday letter, the U.S. Department of Justice told California Governor Gavin Newsom to loosen restrictions around in-person worship services.
Newsom's stay-at-home orders, which have been in place since March, have expressly prohibited large gatherings such as religious ceremonies and church services. Tuesday's letter from Assistant Attorney General Eric Drieband, who heads the DOJ's Civil Rights Division, said Newsom's restriction showed discrimination against religious communities. The letter also said the state had not given proper evidence for keeping California's churches shuttered.
"California has not shown why interaction in offices and studios of the entertainment industry, and in-person operations to facilitate nonessential ecommerce, are included on the list as being allowed with social distancing where telework is not practical," the letter said, "while gatherings with social distancing of religious worship are forbidden, regardless of whether remote worship is practical or not."
The letter also warned that under the U.S. Constitution and civil rights policies, California must "mandate equal treatment of persons and activities of a secular and religious nature."
Governor Newsom's office confirmed to Newsweek that they had received the letter from the DOJ.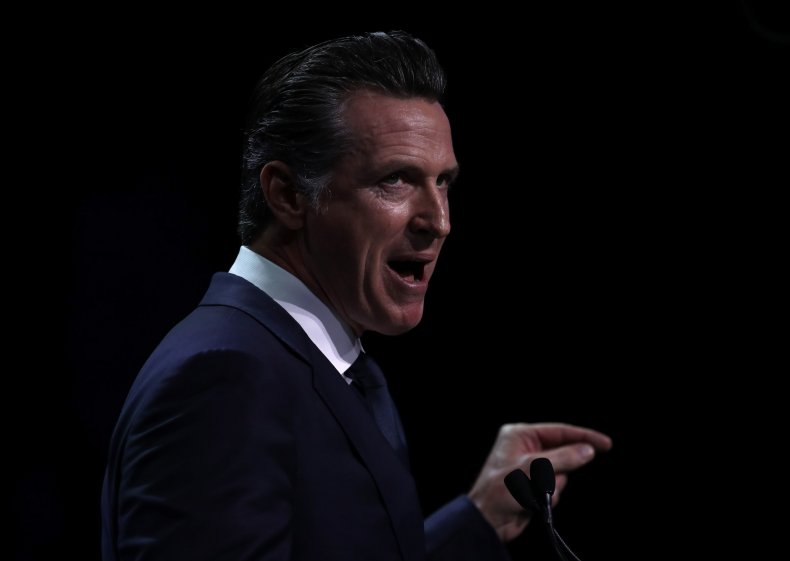 California has been slowly relaxing its stay-at-home order, working on a county-by-county basis to reopen businesses such as restaurants with dine-in service and some workplaces. Newsom, however,has shown reticence in allowing places of worship to reopen.
"Our fear is simply this," Newsom said during a May news briefing. "Congregations of people from far and wide coming together in a closed space at a large scale remains a point of concern and anxiety for us. We are working on guidelines for physical distancing and working with faith leaders talking about unique conditions in their own facilities. Nothing is etched in stone."
Details on when churches may be able to reopen should be revealed, according to Newsom during a Tuesday briefing, "in the next week or so."
Approximately 3,000 California churches have said that even if Newsom does not allow in-person services by May 31, a date which marks the religious holiday of Pentecost Sunday, they will open their doors anyway.
At a May news conference, Pastor Matt Brown said Newsom had "overreached" his authority by deeming churches nonessential.
"He didn't ask us," Brown said. "He overstepped and he's overreached. And he needs to step back and he needs to declare that the church is an essential part of what we do as Americans, as what we do as Californians."
According to the CDC, churches may have a higher rate of coronavirus transmission since they often serve vulnerable individuals with underlying health issues. Alternative methods of worship are recommended, as is the modification of certain religious rituals. Bowing and waving are suggested in lieu of shaking hands and holding hands during prayers is discouraged.