DOJ Appeals Ruling After CDC Says Masks 'Necessary' on Public Transport
The Department of Justice (DOJ) announced an appeal to the recent ruling striking down mask mandates after the U.S. Centers for Disease Control and Prevention (CDC) said that masks were still "necessary" in public transportation.
The ruling from U.S. District Judge Kathryn Kimball Mizelle on Monday brought an end to federal face mask requirements on public transportation, leaving the decision on masking up to individual transportation providers. The DOJ said on Tuesday that the ruling would be appealed depending on guidance from the CDC.
"It is CDC's continuing assessment that at this time an order requiring masking in the indoor transportation corridor remains necessary for the public health," the CDC said in a statement on Wednesday. "CDC believes this is a lawful order, well within CDC's legal authority to protect public health."
A short time after the CDC's statement was issued, the DOJ announced that it would be moving forward with an appeal of Mizelle's ruling.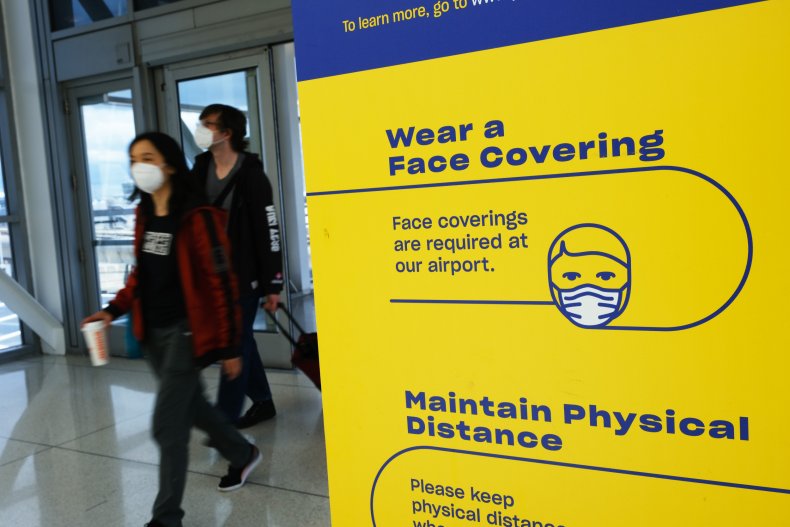 "In light of today's assessment by @CDCgov that an order requiring masking in the transportation corridor remains necessary to protect the public health, the Department has filed a notice of appeal in Health Freedom Defense Fund, Inc., et al., v. Biden, et al," DOJ Director of Public Affairs Anthony Coley tweeted.
On Tuesday, President Joe Biden told reporters that the decision on whether Americans should wear masks on airplanes and other types of mass transportation was "up to them."
That same day, White House Press Secretary Jen Psaki called the decision to strike down the mandate "disappointing." She clarified that the administration disagreed with the ruling, although people were not currently "legally bound to wear masks."
"The President was answering the question quite literally, which means right now, as you know, we are not implementing the mask mandate because of the court order," Psaki said during a press briefing. "We disagree with [the ruling]...He is still abiding by CDC guidance. And we recommend Americans do that across the country. They're still recommending people wear masks on airplanes."
Multiple major U.S. airlines quickly announced that they were dropping mask requirements on their fights following Mizelle's decision. Similar announcements were made by Amtrak and Uber, which said on Tuesday that riders who were "uncomfortable" with the decision to no longer require masks could "always cancel the trip."
Viral videos taken on airplanes after the mandate was struck down showed some passengers cheering and crew members expressing their approval of the requirement being lifted. Others have been less enthusiastic. A poll released Wednesday by Morning Consult and Politico found that roughly half of Americans thought the mandate was dropped too early.
Public health experts have expressed concern over the lifting of the mask mandate, noting that the COVID-19 pandemic is still ongoing, as hundreds of people continue to die due to complications of the virus every day.
Jerome Adams, who served as U.S. surgeon general under former President Donald Trump, said on Twitter that the decision to drop the mandate was tantamount to telling "kids under 5 with chronic illnesses- stay home, or you're on your own!"
Despite the ruling, requirements for masks in transportation were still in effect at the local level in several parts of the country, at times applying to taxis, buses and other forms of transportation. And regardless of whether the mandate returns or remains inactive, private companies will also retain the option of requiring masks if they chose to do so.
Newsweek reached out to the White House for comment.