DOJ Doubles Funding to Combat Violence Against Indigenous Women, Amid Staggering Deaths and Disappearances
The U.S. Justice Department is set to double funding dedicated to combating high rates of violence against Native American women in the country.
DOJ Principal Deputy Associate Attorney General Jesse Panuccio announced that the department will be awarding up to $246 million in grants to improve public safety in Native American and Alaska Native communities.
More than $133 million of the funds will be awarded to tribes to go towards supporting survivors of violence, the DOJ announced in a statement published on Wednesday.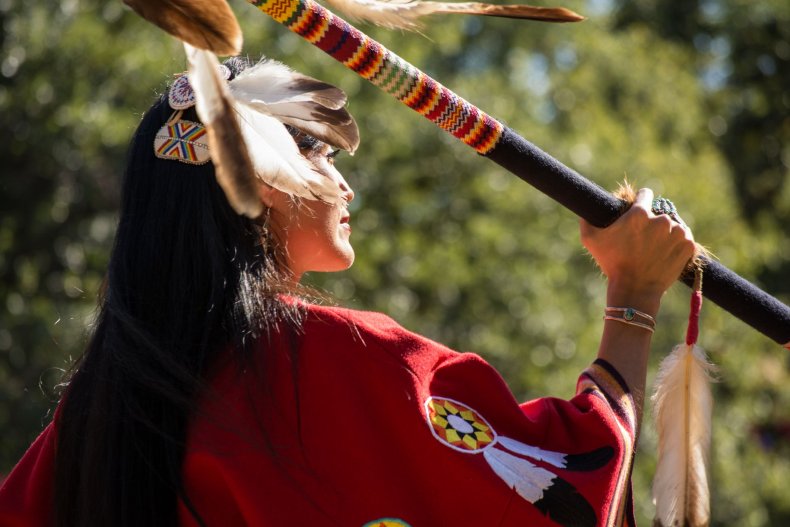 The announcements comes amid calls from tribal leaders for investigations into the deaths and disappearances of Native American women and girls.
Federal figures show that more than half of Native American women have faced sexual or domestic violence at some point in their lives, while on some reservations, Native American women are killed at a rate more than 10 times the national average.
In 2017, more than 5,646 Native American women were entered as being missing into the National Crime Information Center's database, with 5,711 names added in 2016. In the first six months of 2018, 2,758 women had been declared missing.
"There is an unacceptable level of violent crime and domestic abuse in American Indian and Alaska Native communities," Principal Deputy Associate Attorney General Jesse Panuccio, who announced the funding commitment while delivering remarks at the 26th Annual Four Corners Indian Country Conference in Santa Fe, New Mexico, said in a statement provided by the DoJ.
"With these awards, we are doubling the amount of grant funding devoted to public safety programs and serving victims of crime in Native American communities," he said.
"This increase in resources, together with our aggressive investigation and prosecution of crimes, shows how seriously Attorney General Sessions and the entire Department of Justice take these issues. We are committed to reducing violent crime and improving public safety," Panuccio added.
While principal deputy associate attorney general said the department would focus its efforts on partnering with tribes, assigning more special prosecutors who are able to handle cases in federal and tribal courts and by supporting tribal law enforcement, as well as survivors of abuse.
Juana Majel-Dixon, who co-chairs a National Congress of American Indians taskforce created to address violence against Native American women and girls, told the Associated Press she welcomed the boost in funding.
However, she said that even with the additional funds, it would likely not be enough to take on the enormity of the issue.
"When you think about the enormity of the victims we're talking about, the money being provided has been graciously received," she said. "But it's not enough."