DOJ Files Brief in Federal Court Against Illinois Governor's Stay-At-Home Order
The U.S. Department of Justice (DOJ) has filed a brief in support of a legal challenge seeking to strike down Illinois Governor J.B. Pritzker's stay-at-home order intended to contain the spread of COVID-19.
Republican state Representative Darren Bailey filed suit against Pritzker in April seeking to invalidate the governor's order. The Illinois attorney general's office moved the case to federal court and on Friday the DOJ filed a statement of interest in the case, asserting that Pritzker had overstepped his authority and urging the court to the throw the case back to state court.
"However well-intentioned they may be, the executive orders appear to reach far beyond the scope of the 30-day emergency authority granted to the Governor under Illinois law," Steven D. Weinhoeft, U.S. Attorney for the Southern District of Illinois, said in a press release. "Even during times of crisis, executive actions undertaken in the name of public safety must be lawful."
"While the people of Illinois must be physically protected from the effects of this public health crisis, including by complying with CDC guidelines their constitutionally guaranteed rights and liberties must be safeguarded as well," he added.
The case was moved to federal court on Thursday, one day before Pritzker was ordered to respond to Bailey's motion for summary judgement in state court.
The DOJ's statement of interest contends that Illinois urges the court to "respect our federal structure" by moving the case back to state court, while also noting that Pritzker's restrictions "appear unsupported by state law" because they extended beyond the 30-day limit mandated by the state's Illinois Emergency Management Agency Act.
"The Governor of Illinois owes it to the people of Illinois to allow his state's courts to adjudicate the question of whether Illinois law authorizes orders he issued to respond to COVID-19," said Assistant Attorney General Eric Dreiband. "The United States Constitution and state constitutions established a system of divided and limited governmental power, and they did so to secure the blessings of liberty to all people in our country."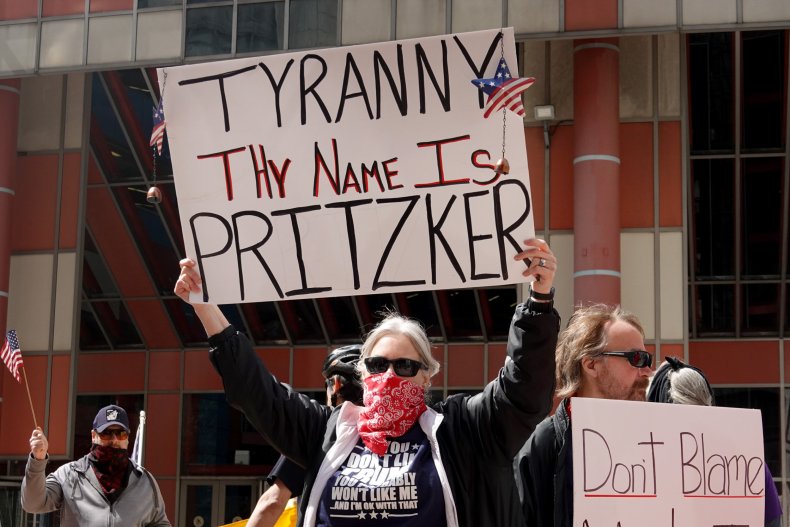 Bailey's lawsuit resulted in a temporary restraining order personally exempting him from following Pritzker's orders. The governor immediately appealed the decision and a series of subsequent court battles followed, with Bailey attempting to persuade courts to invalidate Pritzker's restrictions for all Illinois residents.
"Representative Bailey's decision to go to the courts is an insult to all Illinoisans who have been lost during this COVID-19 crisis. It's a danger to millions of people who might get ill because of his recklessness," Pritzker said in a statement. "Disasters don't evaporate on a 30-day timeframe. Legislators took this into account when they wrote this law. We will fight this lawsuit to the furthest means possible."
On Wednesday, the Illinois House voted to remove Bailey from a legislative session for refusing to wear a mask as required under rules of meeting. He returned for another meeting while wearing a mask on the following day.
Regardless of the outcome of the lawsuit, Pritzker's order expires at the end of May and restrictions have already begun to gradually ease, with Illinois set to enter the third of five phases included in the state's Restore Illinois reopening plan on May 29.
Newsweek reached out to Pritzker's office for comment. This article will be updated with any response.