DOJ Indicts Three Nigerian Nationals For Fake Tax Refund Scheme
Federal officials on Wednesday unsealed indictments against three Nigerian nationals who face felony charges for their alleged involvement in a scheme to steal income tax refunds using identity theft.
U.S. Attorney Erica H. MacDonald announced that the three defendants have been charged with wire fraud, aggravated identity theft and conspiracy related to the alleged scheme. The indictment names the defendants as Francis Nwabueze Iwuoha, 38, Oluwadamilare Gbenga Macaulay, 32, and Olufemi Oluwaseun Banjo, 37, who is also known as "Femi Banjo."
Feds said in a statement that the trio "gained unauthorized access to internet accounts of thousands of individual victims" before stealing PIN numbers and IRS W-2 forms that they later used to file for the fraudulent refunds. They are said to have obtained unauthorized access to 1,200 accounts from an unnamed Minnesota company that offers businesses payroll and human resources services.
The accounts were intended to link employees from multiple companies to a web-based program that allows them to download their W-2 forms. Officials say the alleged fraudsters were able to download the forms, along with other personal identifying information, which they later used to file the fake returns with the IRS.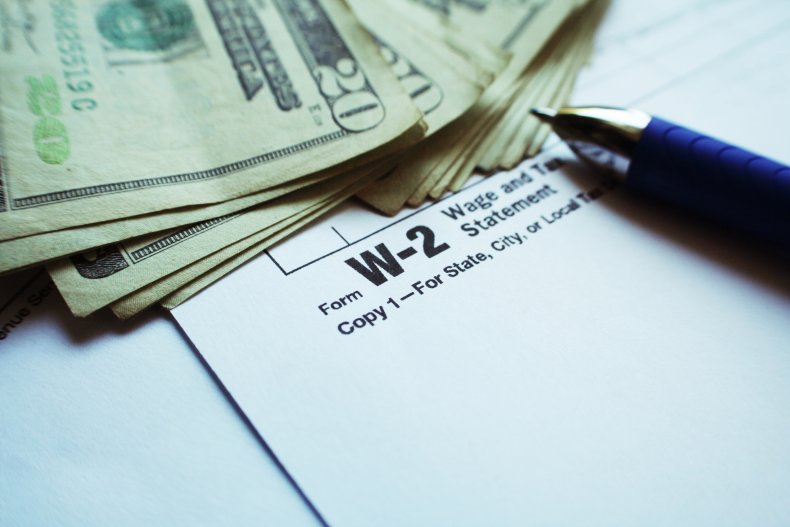 The three defendants are also said to have breached Department of Education (DOE) accounts of the victims by exploiting an online tool intended to transfer information between the DOE and the IRS. That information was also used to prepare and electronically file the bogus returns, officials say.
The crimes are said to have taken place between March 2016 and February 2018, with defendants allegedly attempting to collect approximately $16.4 million in fraudulent refunds. All three defendants are yet to be detained and thought to be currently located in Nigeria.
"We remain optimistic that the defendants will have their date in court in the U.S., but we can't get into further detail with respect to our apprehension efforts," U.S. Attorney's Office spokeswoman Tasha Zerna told The Minneapolis Star Tribune.
Newsweek called the U.S. Attorney's Office for comment but did not receive an answer.
All three defendants were charged with a single count of conspiracy to commit wire fraud. In addition, Iwuoha was charged with five counts of wire fraud and five counts of aggravated identity theft. Banjo faces four counts of wire fraud and four counts of aggravated identity theft, while Macaulay was charged with three counts of both charges.
The cases were investigated by the IRS's Criminal Investigation Division, the FBI, the Department of Education and the Office of the Inspector General. Prosecutors for the cases are U.S. Attorneys Julie E. Allyn and Angela M. Munoz.