DOJ's 'Reprehensible' Reversal on Roger Stone Sentencing Proves Agency Has 'Lost Its Moral Compass,' Ex-Federal Prosecutors Say
Attorney General William Barr's Department of Justice is facing scrutiny after it publicly rebuked its own prosecutors over the sentencing of Trump associate Roger Stone Tuesday.
Federal prosecutors in Washington asked a judge on Monday to sentence Stone to seven to nine years in prison for obstructing Congress and witness tampering. But hours after President Donald Trump complained about the sentence, it was reported that the Department of Justice was planning to backpedal on it's own recommendation.
It's an abnormal and controversial move, according to former federal prosecutors. The reverse has already caused all four prosecutors involved in matter to leave the case.
"Recommending a below-guidelines sentence on a case that DOJ tried and won is highly unusual," former federal prosecutor Michael J. Stern told Newsweek. "Undercutting the trial prosecutors by ordering them to retract their sentencing memo is reprehensible. Donald Trump and Bill Barr acting corruptly to help out a buddy.... well, that's predictable."
Prosecutors Jonathan Kravis, Adam Jed, Michael Marando and Adam Zelinsky all withdrew from the case following the DOJ's reversal. Kravis and Zelinsky also resigned from their posts at the U.S. attorney's office.
"When [four] career prosecutors resign over what they feel is political pressure, that is an incredibly telling signal that the Justice Department has lost its moral compass," former federal prosecutor Gene Rossi told Newsweek.
Stone's indictment was the last brought forward by former special counsel Robert Mueller as part of his two-year probe into Russian election interference. Prosecutors argue that the 67-year-old tried to prevent investigators from discovering how the 2016 Trump campaign tried to benefit from stolen Democratic documents.
"Stone's actions were not a one-off mistake in judgment. Nor were his false statements made in the heat of the moment. They were nowhere close to that," the prosecutors wrote in the original sentencing memorandum. "Stone's conduct over the past two years shows the low regard in which he holds the House Intelligence Committee's investigation and this very criminal case."
Trump deemed the seven to nine year sentencing recommendation "disgraceful!" and a "very unfair situation" in a series of tweets early Tuesday. He also claimed that "the real crimes were on the other side, as nothing happens to them. Cannot allow this miscarriage of justice!"
By Tuesday afternoon, federal prosecutors requested Stone serve "far less" time in prison than the office had asked for on Monday. Though they declined to specify exactly how much time Stone should serve in jail.
A senior Justice Department official told The Washington Post that the original sentencing memo had "shocked" the department but that the decision to revise prosecutors' recommendation came before Trump's social media posts.
But Renato Mariotti, a former federal prosecutor and legal analyst, said the initial judgement that Stone serve seven to nine years was "consistent" with sentencing guidelines outlined by federal law. He also noted that prosecutors usually have to get permission to recommend a sentence below what is in the guidelines.
"It will be very difficult for the government to explain why a sentence 'far below' the sentence they recommended yesterday is now appropriate today. It insults our intelligence for them to suggest that this has nothing to do with Trump's tweet," Mariotti told Newsweek.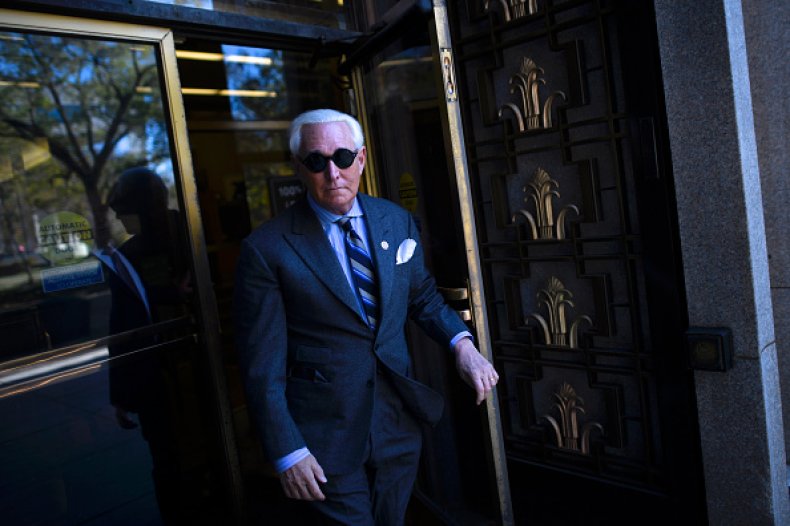 Stone, 67, is a longtime associate of Trump and GOP operative. He worked as a strategist for past presidents Ronald Reagan and George H.W. Bush. He had also been a friend of Trump's for more than 30 years.
Stone was arrested by the FBI in a pre-dawn raid in January 2019 after being indicted on five counts of making false statements and one count of witness tampering. His trial was somewhat of a spectacle, as Stone was issued a gag order after posting a photo that appeared to have crosshairs next to a picture of the judge in the case.
He's one of a handful of Trump associates to be indicted through Mueller's Russia investigation. Other members of the president's inner circle convicted include former campaign manager Paul Manafort, former national security advisor Michael Flynn and Trump's personal lawyer Michael Cohen.
The DOJ's reversal on Stone's sentencing sends a message that "the president's whims and fancies are more important to the administration of justice than the views of career prosecutors," Rossi argued.
"That is a bad recipe and all it does is destroy morale and affect the ability of prosecutors to do their job," he added.