DOJ Serves Jim Jordan Another Loss Over Biden Documents
Representative Jim Jordan was dealt yet another setback as chair of the House Committee on the Judiciary, as the Department of Justice (DOJ) once again declined to provide documents related to President Joe Biden's document case.
In a letter sent on Monday, Assistant Attorney General Carlos Uriarte addressed Jordan and Representative Mike Johnson, another House Republican on the Judiciary Committee, explaining that "longstanding" DOJ rules prevent it from disclosing documents related to ongoing investigations. Releasing such "non-public information" surrounding investigations, Uriarte wrote, could interfere with the ability of investigators to carry out their cases effectively.
"The Department's longstanding policy is to maintain the confidentiality of such information regarding open matters," Urirate wrote. "Disclosing non-public information about ongoing investigations could violate statutory requirements or court orders, reveal road maps of our investigations, and interfere with the Department's ability to gather facts, interview witnesses, and bring criminal prosecutions where warranted."
Uriarte additionally expressed concern over the request potentially giving the appearance that Congress might be trying "to influence Department decisions in certain cases." In a response to the denial, the House Judiciary Committee accused the DOJ of "playing politics."
"It's concerning, to say the least, that the Department is more interested in playing politics than cooperating," committee spokesman Russell Dye told CBS News.
When reached by Newsweek for comment, DOJ spokesperson Emma Dulaney said that the Department had no response to Rye's remarks.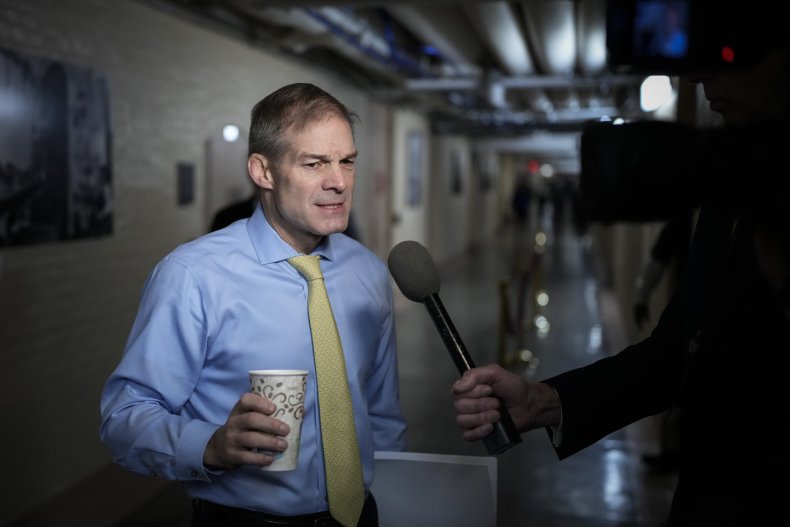 Jordan sent the initial letter to the DOJ and Attorney General Merrick Garland on January 13 requesting documents and other pieces of evidence surrounding the appointment of Special Counsel Robert Hur to oversee the investigation into President Biden's classified documents situation. The request came as part of Jordan's first investigation as chair of the Judiciary Committee.
The request was met with immediate scrutiny from legal experts and scholars, who cited the same longstanding rules and norms the DOJ ultimately invoked to refuse Jordan's demands. Former FBI deputy director Andrew McCabe advised that the Department should take a "very hard line against it" while discussing the matter on CNN.
"I would advise them to take a very hard line against that," McCabe said. "There is a clear precedent here of not sharing information, from an ongoing criminal investigation, with Congress. And I think the DOJ is in a very strong position to resist on those grounds."
Jordan's request came only a few days after it was first reported that 10 classified documents were found in the offices of a Washington, D.C., think-tank that Biden had started after his time as Vice President under Barack Obama. Further caches of top-secret documents have since been found during voluntary searches of Biden's home in Wilmington, Delaware. The White House has consistently stressed that they are cooperating fully with the investigation into the matter.
Updated 01/31/2023, 5:18 p.m. ET: This article was updated to reflect a response from the DOJ.