Prince Andrew's royal protection officers should testify to the FBI about claims he had sex with a Jeffrey Epstein trafficking victim, a biographer tells Newsweek.
The Duke of York is locked in a standoff with the D.O.J. over whether he will give evidence to the investigation into the New York financier.
However, sources close to the royal in October told Newsweek he will clear his name and then make a return to public life.
Barry Levine told Newsweek that investigators could compel Andrew's testimony if they first obtained evidence from the Special Operations 14 Metropolitan Police unit that provides royal protection.
The author of Epstein biography The Spider, released last month, said: "It became very apparent to me that members of the SO14 detail that were assigned to him are in a position to testify.
"We have very specific allegations at the very first meeting of the SO14 detail entering Ghislaine Maxwell's London townhouse, checking out Virginia Roberts before they allowed Prince Andrew to enter.
"My sense is that there are members of this detail that know specifically these allegations are true. I would like to see what evidence there is in terms of what station logs they may have."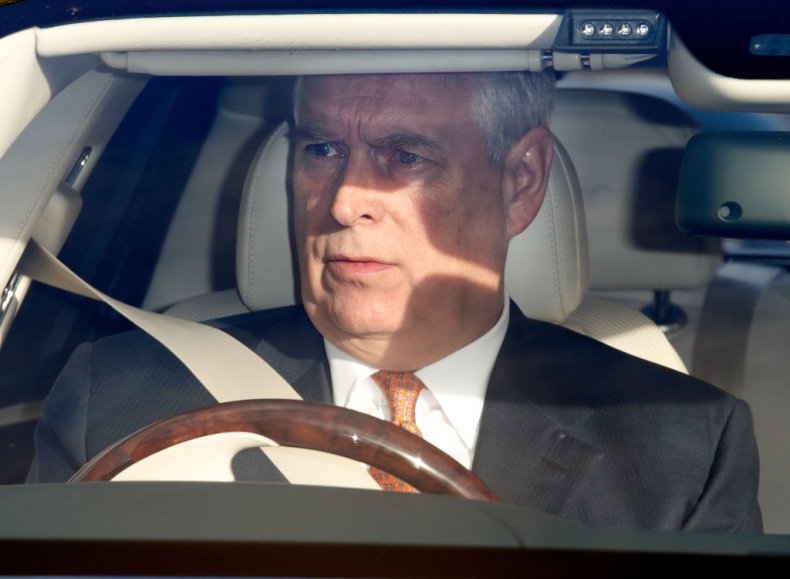 Virginia Giuffre claims she was flown to Britain and forced to have sex with Prince Andrew at alleged Epstein accomplice Ghislaine Maxwell's London townhouse.
She says they met again at the financier's New York mansion and on his private island, Little St. James, in the U.S. Virgin Islands.
Andrew denies the allegations and says he cannot recall ever having met Giuffre, despite the existence of a photo of him with an arm around her bare midriff.
Levine said pursuing the evidence from his police detail could force Andrew to give full testimony to the FBI, who are treating him as a witness rather than a target.
He told Newsweek: "Yes, I think that if there is a way to fast-track getting testimony from Andrew. It would be to get testimony first from SO14 because they know his secrets.
"They know that he was there, they know that while they did not witness the wrongdoing that took place, they can certainly testify to the fact that Prince Andrew was with Virginia Roberts and spent time in the house. That completely blows apart Prince Andrew's claim that he never even met the young woman."
The FBI first asked for Andrew's testimony in January and over the summer he was locked in a war of words with then U.S. attorney for the Southern District of New York Geoffrey Berman.
The duke's legal team say he has repeatedly offered to give a statement, however, Berman accused him of attempting to "falsely portray himself to the public as eager and willing to co-operate."
Levine added: "Right now Prince Andrew for the most part is hanging in the wind and he faces a true dilemma.
"The fact he says he never met her is to some degree much worse than saying he was introduced to her but the accusations she's making against him are false.
"He's set himself up in a very bad way by completely denying any knowledge of ever meeting her. I do think they need to look around him and to me the security detail is certainly the way to go.
"I would hope there would be cooperation from the government with the FBI and SDNY to achieve that."
Hester Cavaciuti and Kate Goold, of law firm Bindmans, said the scope of the MLA request "is very broad" in an article for their firm's website.
They wrote: "In Prince Andrew's case, investigators could, for example, request that he provides a witness statement or ask that he provides documents and/or property relating to the investigation.
"Although Prince Andrew cannot be compelled to cooperate, investigators have at their disposal, the full range of powers available to domestic investigators and prosecutors to obtain evidence, including witness summons and search warrants.
"Therefore if Prince Andrew chooses not to cooperate with investigators at an early stage, he is opening himself and the Royal Family up to more invasive investigative practices, which could be far more embarrassing for the Royal Family."
The prince was forced to retire from public life in November after a disastrous TV interview with the BBC's Emily Maitlis in which he refused to say he regretted his friendship with Epstein.
Asked about Giuffre's allegations, Prince Andrew told Maitlis: "Without putting too fine a point on it, if you're a man it is a positive act to have sex with somebody. You have to take some sort of positive action and so therefore if you try to forget it's very difficult to try and forget a positive action and I do not remember anything.
"I can't, I've wracked my brain and thinking oh... when the first allegations, when the allegations came out originally I went, 'well, that's a bit strange, I don't remember this,' and then I've been through it and through it and through it over and over and over again and no, nothing.
"It just never happened."