DOJ Warns State Attorneys General That Anti-Trans Bills Violate Federal Law
The Department of Justice (DOJ) has warned states that laws and other restrictions that seek to discriminate against transgender people may be in violation of federal law.
The DOJ cautioned that "intentionally erecting discriminatory barriers" against transgender Americans could be at odds with federal protections in a letter sent to all of the nation's state attorneys general on Thursday. The letter, signed by Kristen Clarke, assistant attorney general for the DOJ's Civil Rights Division, came amid a wave of actions aimed at banning transgender women and girls from participating in sports and transgender children from accessing medical treatment.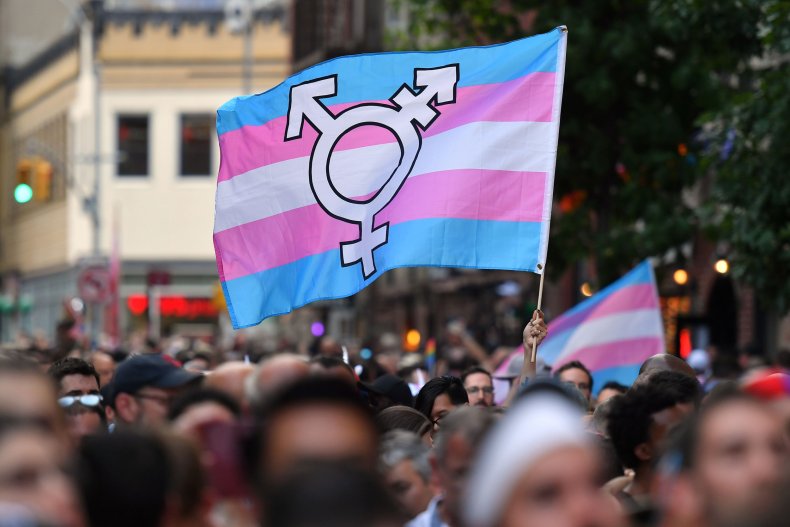 "The Department of Justice is committed to ensuring that all children are able to live free from discrimination, abuse and harassment," Clarke said in a statement. "Today's letter reaffirms state and local officials' obligation to ensure that their laws and policies do not undermine or harm the health and safety of children, regardless of a child's gender identity."
The letter warned the attorneys general that laws and policies preventing "parents or guardians from following the advice of a healthcare professional" on appropriate medical care for transgender minors could be at odds with the equal protection and the due process clauses of the U.S. Constitution's Fourteenth Amendment.
A provision of the Affordable Care Act that prohibits discrimination was also cited in the letter, as were protections in Title IX of the Education Amendments of 1972, the Omnibus Crime Control and Safe Streets Act of 1968 and the Rehabilitation Act of 1973.
Over 130 anti-trans bills have been proposed by more than half of the states this year, according to the bipartisan pro-LGBTQ group Freedom for All Americans. Some have been signed into law by Republican governors, most recently including Arizona Governor Doug Ducey, who on Wednesday signed a bill banning both sports participation for transgender women and girls as well as treatment for trans children.
Related actions have included Texas Attorney General Ken Paxton, a Republican, authoring a legal opinion that concluded transgender children receiving gender-affirming care could be "child abuse."
While Paxton's opinion was not legally binding, it prompted Republican Texas Governor Greg Abbott to order the state to investigate the parents of children receiving gender-affirming care for child abuse. A judge has since ordered that the investigations be at least temporarily halted.
Newsweek reached out to the offices of Ducey and Paxton for comment.
The DOJ warning was issued on International Transgender Day of Visibility, an event that has been celebrated annually since 2009 but only received an official proclamation from President Joe Biden in 2021. The department said that the letter was timed to recognize "the contributions and accomplishments of transgender and gender non-conforming people, as well as their continued struggle to live free from violence and discrimination."
Attorney General Merrick Garland issued his own statement to mark the occasion on Thursday, stressing that the DOJ was "committed to protecting the civil and constitutional rights of transgender individuals."
"Transgender individuals deserve to be able to live free from discrimination, harassment, violence, and threats of violence," Garland said. "Transgender youth deserve to be loved and protected. And members of the transgender community deserve to be treated with dignity and respect."
"The Justice Department will continue to work tirelessly to make real the promise of equal justice under law for everyone in our country," he added.
President Biden also addressed Transgender Day of Visibility in a video message released on Thursday. The Biden administration announced new policies and protections for transgender people in areas like education and employment on the same day, as well as a new option for an "X" gender marker on passports and changes to airport security screening procedures.
"To everyone celebrating Transgender Day of Visibility, I want you to know your president sees you," said Biden. "The onslaught of anti-transgender state laws attacking you and your families is simply wrong. This administration is standing up for you against all these hateful bills."
"We're committed to advancing transgender equality in the classroom, on the playing field, at work, in our military, in our housing and health care systems," he added. "Everywhere. Simply everywhere."