Doja Cat has been making headlines this week as the 24-year-old singer and rapper addressed allegations of past racism. Footage emerged of the performer participating in chat rooms with alleged alt-right members as well as an offensive scrapped song, titled "Dindu Nuffin."
Hashtags such as #DojaCatIsOverParty and #OnlyKlans began trending on Twitter last week leading the performer, whose real name is Amalaratna Zandile Dlamini, to publicly apologize.
Videos and images that allegedly show the "Say So" singer taking part in alleged racist internet chat rooms surfaced and began circulating on social media on Friday, May 22.
The footage shows Dlamini making sexual comments to men whom several Twitter users claim are members of the alt-right/incel (involuntary celibate) community—a claim which Dlamini states is "100% incorrect."
"The narrative that it's a white supremacist chat is absolutely 100% incorrect," she clarified on Instagram Live.
This was followed by the scrapped song "Dindu Nuffin"—a term used to undermine black victims of police brutality—being shared on Twitter with fans accusing the singer of racism.
The star has since issued an apology on Instagram and took part in an Instagram Live afterwarda where she spoke about the accusations against her and denied taking part in any "racist conversations."
"I'm sorry to everyone I offended," Dlamini wrote. Newsweek has contacted Dlamini's representatives for comment.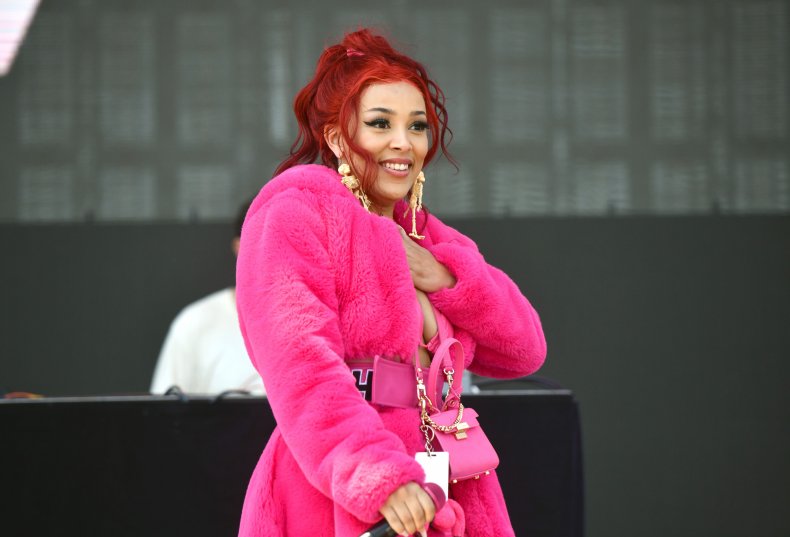 The events are a little confusing as the singer appeared to be canceled then uncanceled by the internet, so here's a break down of how the controversy played out.
On May 22, videos that allegedly showed Dlamini taking part in purportedly racist internet chat rooms surfaced and began circulating on social media. Fans claim the biracial singer was participating in chat rooms on video chatting platform Tinychat.
Dlamini has spoken about her participation in online chat rooms before, and an interview with Paper magazine in December 2019, she confessed to having a "near-religious" obsession with them.
"People would pick on me and use horrible, horrible language, just the worst, and I just didn't understand why people were so crazy on there," she said. "So I became the person who would make offensive jokes and do things sort of out of the box."
Addressing the chat rooms in her Instagram apology on May 25, Dlamini wrote: "I've used public chatrooms to socialize since I was a child. I shouldn't have been on some of those chatroom sites, but I personally have never been involved in any racist conversations."
She added: "I'm a black woman. Half of my family is black from South Africa and I'm very proud of where I come from."
Dlamini's father is South African actor Dumisani Dlamini. She was born in Los Angeles.
Following the release of her statement, Dlamini broadcast on Instagram Live this morning saying she is "not perfect" and her behavior "isn't something that always needs to be followed."
Once again addressing the chat rooms, Dlamini said: "The chatroom that I go to is a public chatroom. It's me and my friends, you go in there ... I learned that there are racist people who come in and out of the chat. They're there. They happen, and then they're banned. The idea that this chatroom is a white supremacist chatroom is... I don't understand it in any way. Not even."
Dlamini explained that she had been a moderator on Tiny Chat before her career took off and had banned other users for offensive comments.
"I've been targeted by it and I know it's controllable," she said.
As news of the chat rooms began dominating Twitter discourse Friday night, a lyric video of a scrapped song by Dlamini surfaced.
Titled "Dindu Nuffin" the 2015 track was uploaded to Soundcloud before being deleted.
The phrase "Dindu Nuffin" is a racist slur that mocks African-American victims of police brutality, a derogatory pronunciation of the words "didn't do nothing."
The phrase is widely believed to have started on anonymous message board site 4Chan and is associated with language used by the alt-right.
According to Know Your Meme, the term originated in 2014, during the riots in Ferguson, Missouri started as a response to the shooting of Michael Brown.
Some people claimed the lyrics referred to Sandra Bland, a black woman who died in police custody in Texas in 2015, but Dlamini's apology states that her use of the phrase in the song is "in no way tied to anything outside of [her] own personal experience."
"It was written in response to people who often used that term to hurt me," she said. "I made an attempt to flip its meaning, but recognize it was a bad decision to use that term in my music."
On her Instagram Live, Dlamini further elaborated on the song, which she described as "maybe the worst song in the world" and that it "is in zero ways connected to police brutality."
"To see something like that, to see a song, my song that I made, connected to an innocent black woman's death is one of the most awful rumors that I've ever encountered," she said.
She ended her statement by saying she was taking the controversy "very seriously" and promised to show fans that it is not her character. "I'm determined to show that to everyone moving forward. Thank you," Dlamini said.
The hashtag #WeAreSorryDoja began to trend on Twitter after Dlamini's initial Instagram apology.
This isn't the first time the star has faced a backlash. In 2018, she was forced to apologize for her use of homophobic language when a deleted tweet from 2015 surfaced in which she used the slur "f*****" to refer to Odd Future members Tyler, the Creator and Earl Sweatshirt.
Last week, Doja was one of the singers mentioned by Lana Del Rey in her controversial post in which she denied her music "glamorizes abuse".