'Dolemite is My Name': The True Story Behind the Eddie Murphy Film
Eddie Murphy's latest film is Netflix movie Dolemite is My Name, released on October 25. In it he plays Rudy Ray Moore, a stand-up comedian turned blaxploitation movie star, and one of Murphy's personal real-life heroes.
Moore, born in 1927, spent much of his life working in entertainment. In his teenage years, he worked as a singer and dancer in a number of African American bars before being drafted and working in a military entertainment unit in Germany at the age of 23.
Two decades later, Moore was floundering in a singing career that left him having to manage to record store to pay his bills. However, according to Biography.com, at this record store he met a regular customer called Rico, who would tell stories about a pimp named Dolemite in exchange for a few dollars. Moore then recorded these and turned them into stand-up comedy routines.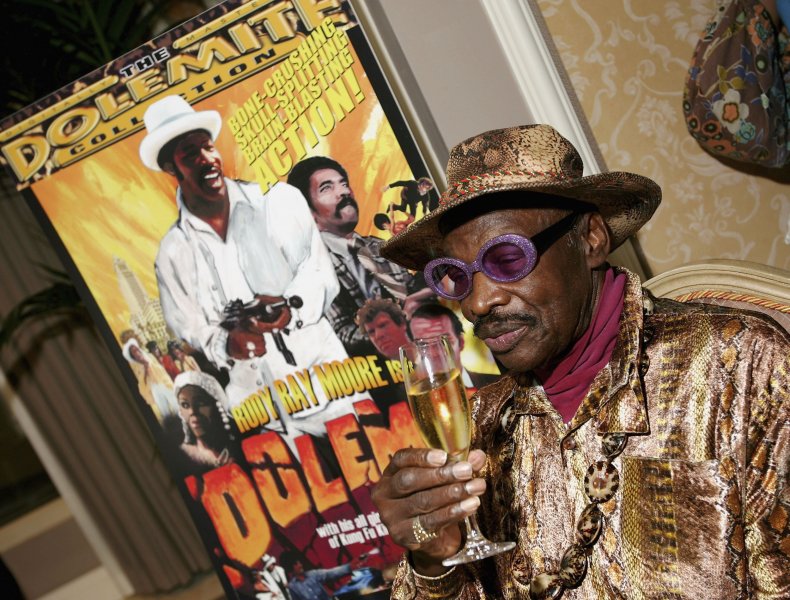 These routines were then recorded onto comedy 'party albums' like Eat Out More Often, which became cult successes despite only getting sold under the counter. He then turned this success into extremely low-budget movies⁠ like 1975's Dolemite, its 1976 follow-up The Human Tornado and 1979's Disco Godfather.
Speaking to the LA Times, Dolemite is My Name star Keegan-Michael Key said of these films: "For me, originally, he was an escape. I was sitting in a room with about eight or nine friends, and we slapped a VHS tape — that's right, a VHS tape — into a VCR and watched the first Dolemite.
"I couldn't articulate, quite frankly, until I was working on this film, that what was attracting me to him was the perseverance. How did he get this movie made?! As I've grown and matured and become a filmmaker, that's the realization that builds my admiration for him. Because for someone to believe in themselves so purely is amazing."
The first film, self-financed from money Moore made from his club performances, sees Dolemite recently out of jail and looking for revenge on those who framed him, with tangents that include a female karate school, a series of nightclub performances and quotable lines like " I'm so bad, I kick my own ass twice a day" and "Dolemite is my name, and f**kin' up motherf**kers is my game!"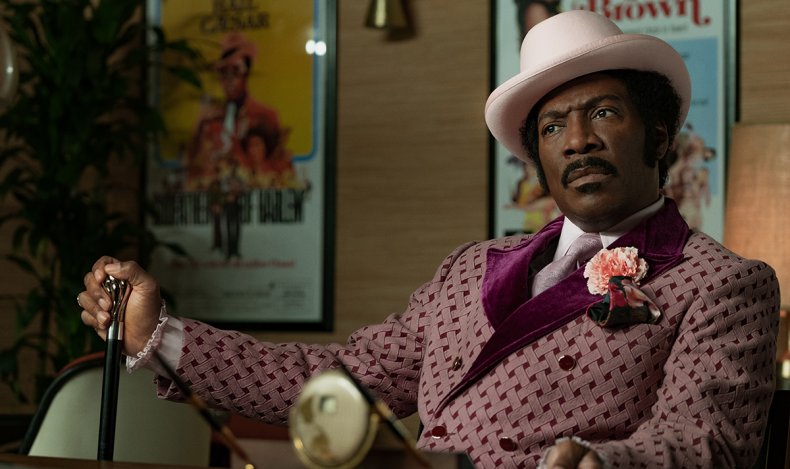 According to Jet Magazine in 1976, Dolemite cost $100,000 to make and made more than $12 million dollars. It also became a cult hit, inspiring a generation of rappers and comedians including not only Murphy and Snoop Dogg (who cameos in the Netflix film) but also Dr. Dre and Busta Rhymes, among many others.
Those these early films remain his most famous works, Moore remained working until his death in 2008, releasing over 20 albums and reprising the Dolemite character occasionally in the 2000s for projects like Insane Clown Posse film Big Money Hustlas and 2002 sequel The Return of Dolemite.
In a featurette about the making of Dolemite is My Name, Murphy says of Moore: "I was a big fan of Rudy Ray Moore from the time I was 14, 15 years old, I started watching him. And when I got older I found out how he was a catalyst, how he put his movies together. He financed them. And he put his records together. He financed all of his stuff. He became this inspirational figure because my career was the exact opposite of Rudy Ray Moore's. I really got in really easy, and he took a whole different road, so he's got a really inspirational story."
Dolemite is My Name is streaming now on Netflix.