Dollar Tree Store Closed After Lone Manager Announces 'I've Quit' on Door Sign
A Dollar Tree store in Ann Arbor, Michigan closed on Thursday after its manager announced on a door sign that they had quit their job.
The store manager hung a sign on the door of the North Maple Road location that read "Store closed until further notice. I've quit. I'm sorry," MLive reported. The note was signed "the only manager."
Another sign let customers know that the store's hours of operation are constantly changing because of reasons such as "Truck Day and being short-staffed," according to the news outlet.
The store's listed opening hours are posted as being from 9 a.m. to 4 p.m. on Mondays as well as Wednesday through Saturday, and it is closed on Sunday and Tuesday, according to MLive.
No details were revealed about if the store manager resigned due to a potential staff shortage or the changing work hours. This store is one of two Dollar Tree stores in Ann Arbor.
Similarly, a Dollar Tree store was closed in December in St. Francis, Wisconsin until further notice, local ABC affiliate WISN 12 reported. The store manager put up a sign that read: "This Dollar Tree will be closed until further notice. All the workers quit, and we must restaff."
The store's door was locked during its normal hours of operation, which were listed as 9 a.m.- 6 p.m. daily, according to the news outlet.
"It's really hard when you can't find good workers nowadays in the stores. Nobody wants to work," customer Maria Camacho told WISN 12.
Newsweek contacted Dollar Tree for comments and further information but didn't hear back by publication time.
In November, Dollar Tree announced in a statement that it was going to increase the price of a majority of its products to $1.25 at its locations nationwide, the first time in 35 years that the company has raised its prices, due to increasing costs of goods and store operations.
The company said that its decision to roll out the $1.25 price point is permanent and it is "not a reaction to short-term or transitory market conditions."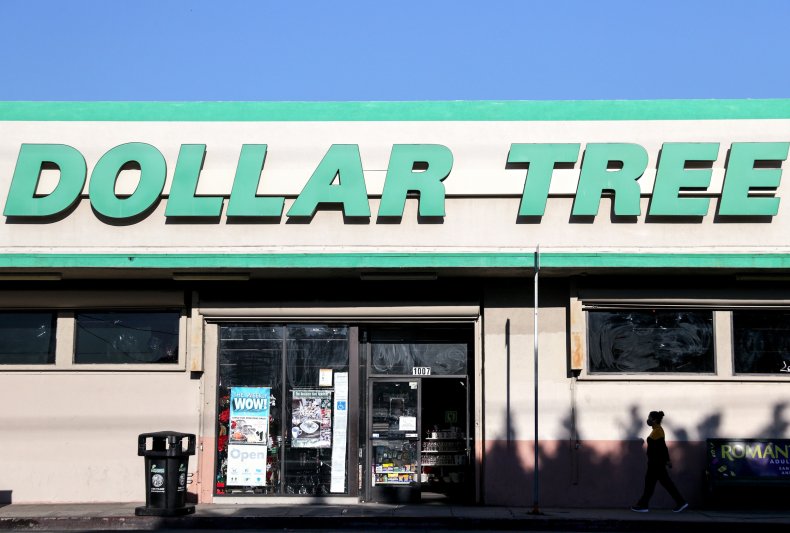 Dollar Tree said that it will complete the rollout of the price change to all stores by the end of the first fiscal quarter of 2022, adding that this price point will allow the company "to return to its historical gross margin range by mitigating historically-high merchandise cost increases, including freight and distribution costs, as well as higher operating costs, such as wage increases."
Still, the decision received backlash from multiple customers who complained that "it does not sit right" with them. Shoppers expressed their frustration on social media with some calling for the store chain to change its name to "$1.25 Tree,", CNN reported.
A survey by Coresight Research, a retail research firm, found that Dollar Tree "saw a meaningful decline in shoppers" after its price hike.
The survey's results, which were obtained by CNN, showed that the number of shoppers, who said they bought non-food items at Dollar Tree, fell 6.2 percent during the period between December 27 and January 3 compared to the two weeks prior.