What Is the Dolly Parton Challenge? Jonas Brothers, Naomi Campbell, and Miley Cyrus Take Part in Viral Craze
Dolly Parton inadvertently created a viral meme challenge when she posted a collage featuring four photos of herself labeled LinkedIn, Facebook, Instagram and Tinder on social media, with the caption: "Get you a woman who can do it all" with a winking emoji.
Since Parton's post on January 22, social media users, including celebrities, have joined in the challenge, sharing photos of themselves looking appropriate for various social media platforms, causing #DollyPartonChallenge to trend on Twitter.
Like the photographs Parton shared, LinkedIn profile pictures tend to be formal and conservative and Facebook photos tend to be family-friendly, sometimes featuring friends or family members. On the other hand, Instagram photos are more stylish and posed, and Tinder photos are flirty and sometimes provocative.
Celebrities including Naomi Campell, Janet Jackson, the Jonas Brothers, Mark Ruffalo, and Donatella Versace have joined in the Dolly Parton Challenge and shared photos of what their social media profile pictures would be.
Twitter accounts for TV shows and movies, like Modern Family, Friends, and Twilight have also imagined what their characters' LinkedIn and Tinder accounts would look like.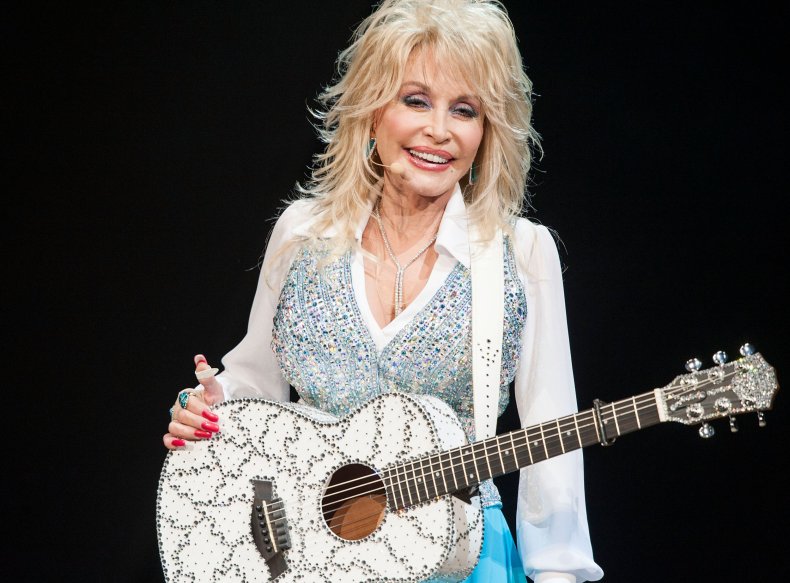 Celebrities take on the Dolly Parton Challenge
Dolly Parton's goddaughter, Miley Cyrus, said: "Dolly's setting world wide trends shouting out platforms she don't even use" calling Parton her "fairy godmother", "queen of the gram" and "meme queen."
The Jonas Brothers shared photos of what they would look like on LinkedIn, Twitter, Instagram, and Tinder, with the caption: "Wow. So versatile."
Naomi Campbell imagined her profile pictures on LinkedIn, YouTube, Instagram, and Tinder.
Kerry Washington joined in the Dolly Parton challenge, stating: "Inspired by @dollyparton, of course!"
Mark Ruffalo captioned his tweet: "Get a guy who will play them all" and included a photo of him with fellow Marvel actors Chris Evans, Chris Hemsworth, and Robert Downey Jr.
Actor and comedian Terry Crews had a unique take on the challenge, posting four shirtless photos. Crews also shouted out to Parton, saying: Hey @dollyparton, I'm WORKIN' out NINE TO FIVE!!! #PecPoppinAllOver."
Janet Jackson also shared her take on the Dolly Parton challenge on Instagram.
Singer Reba McEntire said: "Leave it to @DollyParton to be a #trendsetter! I can't be left off the wagon!!! #AllTheWomenIAm".
The @FriendsTV Twitter account completed the challenge on behalf of the six main characters, Rachel, Monica, Phoebe, Joey, Ross, and Chandler.
Sarah Michelle Geller posted her collage on Instagram, saying: "This seems about right."
A Twitter account for the Twilight saga also took part in the Dolly Parton challenge, posting four photos of Edward Cullen, played by Robert Pattinson, asking: "Which account are you adding him on?"
Donatella Versace joined in, and captioned her Instagram post: "Couldn't resist!!!! Love you @dollyparton."
The Late Night with Seth Meyers account said: "Dolly Parton can do it all, but Seth Meyers is pretty versatile too."
iHeart Radio completed the Dolly Parton challenge from Shawn Mendes' perspective, tweeting: "All of @ShawnMendes social media profiles (probably)".
The Modern Family Twitter account imagined Phil Dunphy's social media accounts, saying: "Remember, Phil Dunphy is a cool dad."
Jessica Chastain used stills from movies that she has starred in to complete the challenge, and joked on Instagram, saying: "Follow me on Tinder."