Dolly Parton Fans Slam Lawmaker for Asking if Book Program Is 'Appropriate'
Fans of Dolly Parton are letting their displeasure known to Kentucky State Senator Stephen Meredith about his recent questioning of the country star's children's book program.
Dolly's sister, Stella Parton, started the backlash against Meredith with a series of tweets attacking the senator for comments he made during a Wednesday legislative committee meeting to discuss a state partnership with Dolly Parton's Imagination Library program. The popular literature initiative gives free books every month to children from birth to age 5.
Meredith, a Republican, asked during the meeting if language could be added to the partnership bill to ensure the program's books are "subject-appropriate."
"I'm outraged this morning that anyone, let alone a GOP Sen. Meredith from the great state of Ky. Would question my sister Dolly or even insinuate something sinister about the 'Imagination Library' program for children," Stella Parton tweeted Thursday morning, which caused enough Dolly fans to weigh in that the matter became one of the day's top trending Twitter topics.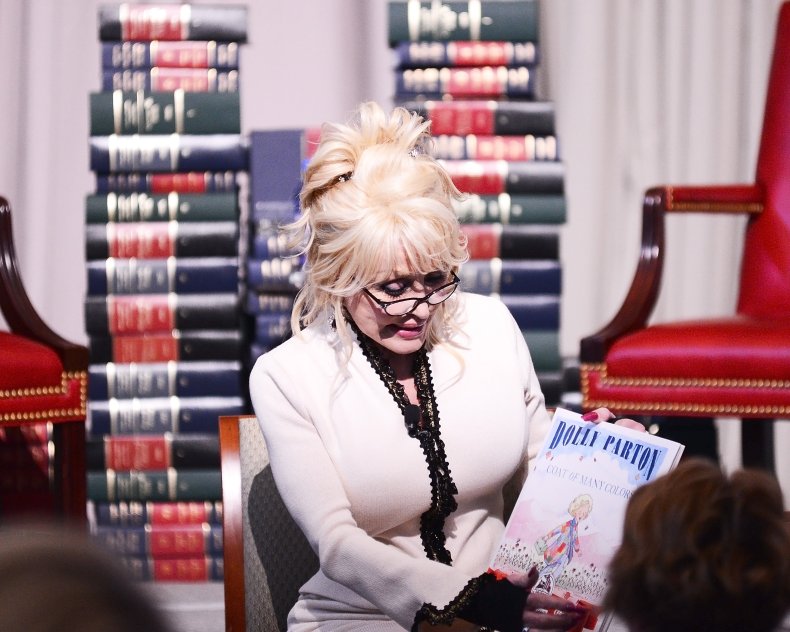 While the committee discussed the bill to partner with Parton's program, Meredith said his "[o]nly concern, this may be a strong statement, don't mean it as such, but on page one, section two, we talk about age-appropriate books, and I think that certainly is warranted given today's environment, but I wonder if that's enough. You know, should it be subject-appropriate as well?"
He added that he's seen literature for preschool kids that he feels is "inappropriate content for children that age" and asked an amendment be added regarding subject matters.
Senate Minority Floor Leader Morgan McGarvey, a Democrat who sponsored the bill, argued the Imagination Library has long stayed "out of any controversy, and I think that what Dolly Parton and her program have shown is they have age-appropriate and subject matter-appropriate books going to children."
"You know, I've always had great respect for this program," Meredith replied. "But as we know, players change over the course of time, and things get shifted. I'd just feel a little bit more secure if we had language of that nature in this."
A video of the exchange was posted on YouTube on an official account for Kentucky Legislature meetings.
Meredith ended up voting in favor of advancing the Imagination Library legislation, but his remarks nonetheless angered Stella Parton, a fellow singer and actress.
"Appalachian people have been maligned as uneducated and to have a Senator from an Appalachian state even think much less say anything derogatory about this incredible program is appalling," the younger Parton said in her original tweet.
Among several other messages on the topic, Stella also wrote: "Sen. Meredith chose the phrase 'indoctrinate our children.' But that's the GOP way, to be as sinister and fear mongering as possible. When you stoop so low as to question the honorable intentions of someone as well intentioned as my big sister Dolly, then you are stopping low."
"The #GOP can taint anything they want but YOU WILL NOT MESS with our Dolly! #TheDollyParty Join The Dolly Party where all you need is common sense, a big heart and a good time!" wrote one Twitter user.
Another person told Meredith not to "dare mess with the great Dolly Parton. She's a wonderful human who truly cares about people and making the world a better place!"
Several people interpreted Meredith's questioning about the subject matter of such books was code, implying he wanted to block books that might be contain progressive values. As one comment stated: "Trumpists are removing books from schools and community libraries. Topics of these books are experiences of non-white, non-Christian and LGBTQ persons. Dolly Parton is a treasure."
State Senator Meredith responded to Newsweek's request for comment with a statement, in which he emphasized he has "nothing but respect" for Parton's book program.
"In the body of the bill presented for consideration, there was language that stated books to be provided should be age appropriate. I simply suggested that if books to be provided for pre-school age children will be required to be age appropriate, there should probably be an amendment to the bill to require the books also be content appropriate for this age group," Meredith wrote.
He also noted that Parton "will not always be around to assure her program maintains the high standard she now expects" and that he wanted added guidelines only for his state's best interests.
"My request was not an attack upon Ms. Parton, her organization and her program," Meredith added. "It was simply to put guardrails in place for the future to protect children from content inappropriate for their ages, and allow children to be children. I can't help but believe Ms. Parton would agree with me."
Newsweek contacted a representative for Dolly Parton for comment but did not hear back in time for publication.