Dolly Parton Voted Into Rock Hall, Has Said She Hasn't 'Earned' It
Dolly Parton is set to be inducted into the Rock & Roll Hall of Fame, despite the country music legend initially rejecting her nomination and saying that she had not "earned that right."
Parton was one of 14 artists that the institution, which aims to "engage, teach and inspire through the power of rock & roll," announced would be inducted to the Hall on Wednesday. In March, the country music star said in a statement posted to Twitter that she would "respectfully bow out" of consideration due to not having produced a "great rock 'n' roll album."
However, the Hall refused to withdraw her nomination, noting that "Rock & Roll has had deep roots in Rhythm & Blues and Country music" and was "not defined by any one genre" but instead "a sound that moves youth culture." By last week, Parton had reversed her stance, promising during an NPR interview to "gracefully" accept the honor should it happen.
"I am honored and humbled by the fact that I have been inducted into the Rock and Roll Hall of Fame," Parton tweeted on Wednesday following the announcement of her forthcoming induction, which is set to take place during a ceremony in Los Angeles on November 5, 2022.
"Of course I will accept it gracefully," she continued. "Thanks to everyone that voted for me and to everyone at the @rockhall. I will continue to work hard and try to live up to the honor."
Parton was inducted into the Country Music Hall of Fame in 1999. During an interview with Billboard magazine in February of this year, Parton said that she never considered herself as "rock and roll in any sense of the word" and was "absolutely floored" that she had been nominated to the Rock Hall.
"I guess they judge it on the music and the influence certain songs have had, and I guess I've had songs with other people in that realm," she said. "I'm not expecting that I'll get in. But if I do, I'll immediately, next year, have to put out a great rock and roll album—which I've wanted to do for years, like a Linda Ronstadt or Heart kind of thing."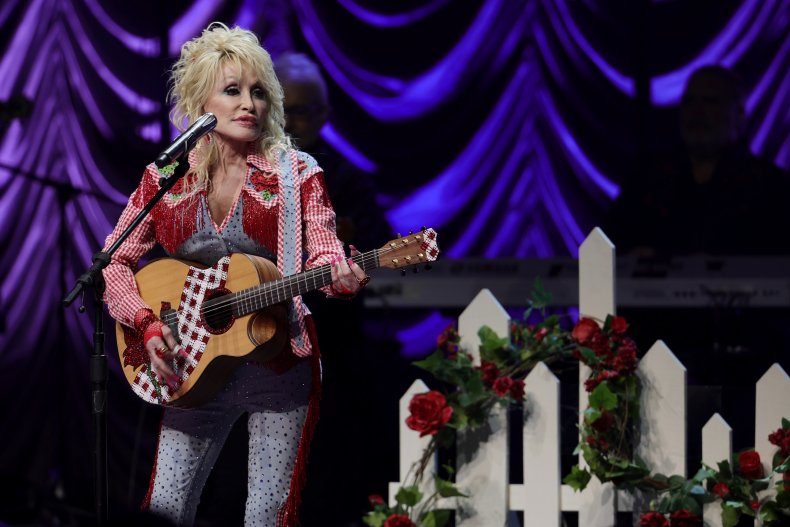 Parton is far from the only Rock & Roll Hall of Fame inductee this year who is not strictly associated with rock 'n' roll. Rap star Eminem and crooner Harry Belafonte were among this year's announced inductees, while artists of multiple popular music genres have been regularly inducted throughout most of the Hall's history.
Nominees who missed out on the honor this year included the New York Dolls, MC5 and Devo, groups that have all been nominated on multiple occasions and are often considered highly influential in the rock genre.
Newsweek reached out to Parton's publicist and the Rock & Roll Hall of Fame.
Correction 05/05/22, 6:03 p.m. ET: This article and the headline have been updated to reflect that the Rock & Roll Hall of Fame inductees were announced on Wednesday, while the inductions themselves will officially be taking place during a ceremony in November.