Dolly Parton Might Appear in 'Playboy' Again for Her 75th Birthday
Dolly Parton's 75th birthday wishes may just be coming true.
There are three months to go before the country legend reaches that milestone age, but she's long hinted at how she hopes to celebrate. During an interview with BBC Radio 5's Scott Mills & Chris Stark Show on Saturday, Parton teased that she may appear on the cover of Playboy once again, in tandem with her turning 75.
"Well, there's some truth to that," Parton said when asked about the rumors of her possibly appearing on a Playboy cover in January 2021.
"I just might do it. If I can do it in good taste and they want it, we'll do it along with a really good interview inside," she continued. "So, yeah, it's possible. Yep, we've talked about it."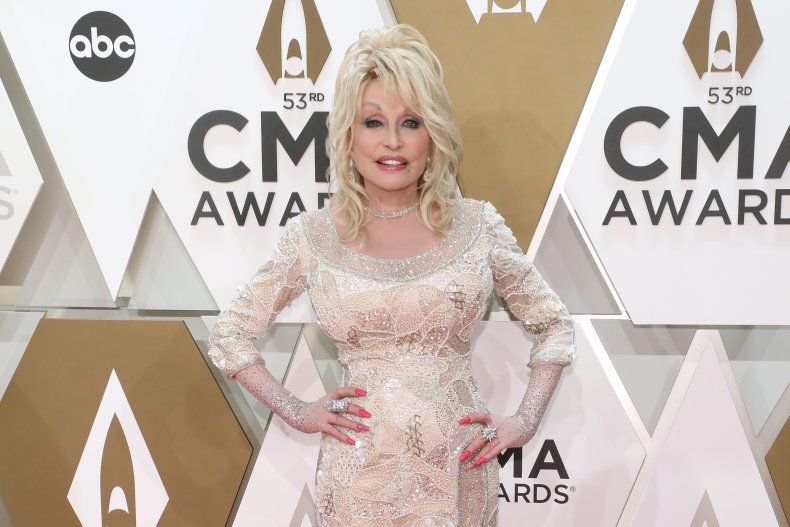 It was around the time of Parton's 74th birthday when she first spoke about her desire to appear in Playboy again. Parton chatted with 60 Minutes Australia and claimed she had no intentions of retiring and even had dreams of recreating her iconic Playboy cover from 1978.
"I don't plan to retire. I just turned 74 and I plan to be on the cover of Playboy magazine again," she said earlier this year. "See, I did Playboy magazine years ago and I thought it'd be such a hoot if they'll go for it—I don't know if they will—if I could be on the cover again when I'm 75."
Parton said she'd even be willing to throw on the famous Playboy Bunny costume that she wore on the magazine's cover back when she was 32 years old. "I could probably use it. Boobs are still the same," she joked.
The "Jolene" singer became the first country music star to pose for Playboy when she appeared on the cover wearing the signature Playboy Bunny uniform, ears and all, designed by Patricia Taylor.
More recently, audio excerpts of Parton's interview with the publication were recovered and released by Blank on Blank in 2015. Throughout the five-minute sound clip (which is dubbed "Dolly Parton on Getting Dirty"), Parton talks with a Playboy reporter about literally getting dirty; she answers questions about the first time she used a flush toilet and how often her family bathed in the winter. Parton, who grew up incredibly poor in Tennessee, answered all the questions in good fun.
"I'm just pretty open and honest. I mean there's not just a whole lot I won't tell you," Parton said to Playboy at the time. "I think that more people appreciate the fact that you'll be more open and honest rather than putting it down by saying, 'Don't ask silly questions.'"
Newsweek has reached out to Playboy for further comment about the possibility of Parton reappearing on the publication's cover.