'Dolly Parton's Heartstrings' Cast: Who Stars in Each Episode of the Netflix Show?
Golden Globe nominee Dolly Parton is back in the world of acting for a new Netflix series. That show is Dolly Parton's Heartstrings, and sees the 9 to 5 singer cameo in the cast of a number of the episodes, all of which she introduces on-screen and all of which are based off one of the songs from her extensive catalogue. Stars like Kathleen Turner, Melissa Leo and Julianne Hough also star in the series, with the latter playing a version of perhaps the most famous character from any of Dolly's songs, Jolene.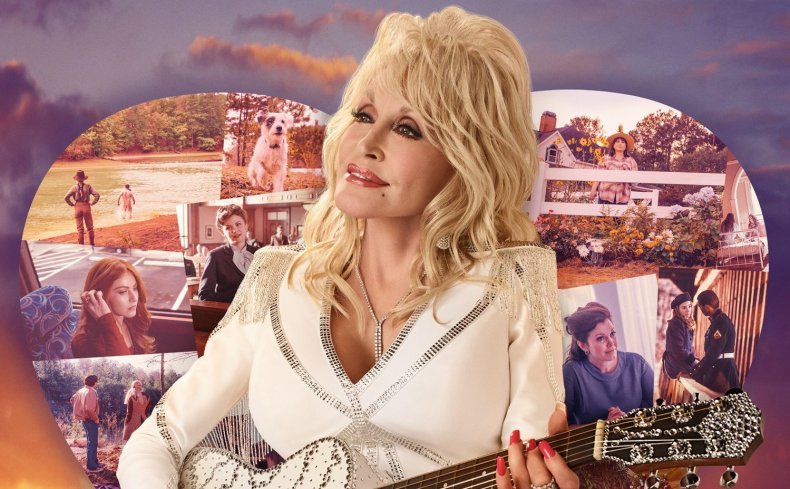 Who stars in Dolly Parton's Heartstrings?
All synopses courtesy of Netflix
"Jolene"

What is it about? "Jolene's back -- and bolder than ever. Revisit the story of the auburn-haired icon with this modern take on her seductive reputation.
Who stars in the episode? The central character, which Dolly's iconic song famously describes as a "beauty....beyond compare, with flaming locks of auburn hair" is played by Julianna Hough, the Dancing with the Stars professional turned actress. She tempts Aaron, played by Insatiable's Dallas Roberts, whose wife Emily is Nashville's Kimberly Williams-Paisley. Dolly herself appears as Babe, the owner of a honky-tonk bar where Jolene works.
"Two Doors Down"
What is it about? "Holy matrimony meets hardheaded tradition as one family prepares for a big-budget wedding...and a string of life-changing announcements."
Who stars in the episode? That family is the Meegers, led by Melissa Leo, the Oscar-winning star The Fighter as Amelia, Sons of Anarchy's Ray McKinnon as father Roy, The Flash's Andy Mientus as son Tyler and Katie Stevens of Faking It as daughter Lee, while Michael Willett (also of Faking It) is Tyler secret boyfriend Cole Evans. Dolly also cameos in the episode as a wedding singer.
"If I Had Wings"
What is it about? "The pain of the past and the promise of the future collide in this emotional tale of a family divided by difference -- and reunited by chance."
Who stars in the episode? This episode sees three siblings return home to Mississippi after receiving a 70th anniversary invitation from their estranged father. That father is NCIS: Los Angeles star Gerald McRaney, while the siblings are Clay (Designated Survivor's Ben Lawson), Nancy (Drop Dead Diva's Brooke Elliott) and Phyllis (Michelle Weaver of Love Is)
"Cracker Jack"
What is it about? "What happens when life interrupts loyal friendship? Four women reunite for a weekend of memories and try to make peace with lingering secrets."
Who stars in the episode? Those four women are: Bitsy (Tammy Lynn Michaels, Popular), Monica (Jessica Collins, The Young and the Restless) Lucy Jane (Sarah Shahi, The Rookie) and Scarlett (Rochelle Aytes, The Purge).
"Down from Dover"
What is it about? "Young love faces adversity during the Vietnam War when a reverend's daughter and a budding soldier brave the unknown, one leap of faith at a time."
Who stars in the episode? This classic Dolly song about a pregnant young woman waiting for her love to come home has been dramatised with Holly Taylor of The Americans as that woman, named Dee Covern, while her love is soldier Lincoln Dollarhyde, portrayed by Shane McGhie of Greenleaf. Dee's religious father Reverend Covern (Robert Taylor, Longmire), with support from Bellamy Young (Scandal) as Myrna Jorgensen, Camryn Manheim (Stumptown) as Mrs. Grover and Mary Lane Haskell (who previously starred in NBC's adaptation of a Dolly song, Coat of Many Colors) as Mrs. Cunningham.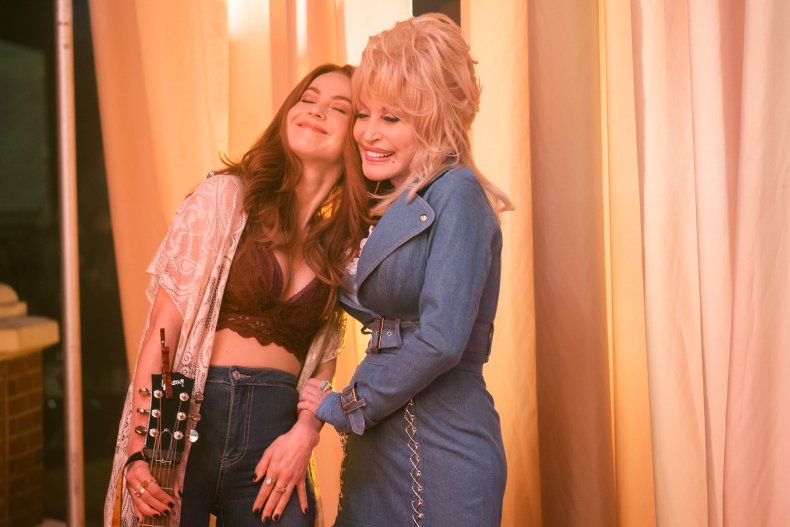 "Sugar Hill"
What is it about? "A decades-spanning romance returns to its roots in this story of sweethearts turned soul mates and the humble hometown they once called their own."
Who stars in the episode? This episode features two timelines, as a young couple first explore the eponymous area and as they return to it when they are much older. The younger Harper and Logan Cantrell are Virginia Gardner of Runaways and Tom Brittney of Grantchester, while the older pair are Patricia Wettig of City Slickers and Timothy Busfield of The West Wing.
"JJ Sneed"
What is it about? "The Old West finds new life in this action-packed story of sharpshooter Maddie Hawkins, outlaw JJ Sneed and their complex bond in the face of chaos."
Who stars in the episode? JJ Sneed himself will be Colin O'Donoghue, best known from his role in Once Upon a Time, while Scream - The TV Series star Willa Fitzgerald is his spurned loved one Maddie.
"These Old Bones"
What is it about? "A mysterious mountain woman steps into the spotlight as a lawyer struggles to find her voice in this story of seeing, believing and eveything between."
Who stars in the episode? The Oscar-nominated star of Peggy Sue Got Married, Who Framed Roger Rabbit and Serial Mom is that mountain woman, named Miss Mary Shaw. Big Love's Ginnifer Goodwin also stars as DC lawyer Genevieve, while Brooklyn Nine-Nine's Kyle Bornheimer is Landon.
Dolly Parton's Heartstrings is streaming now on Netflix