'Dolly Parton's Heartstrings': The True Story Behind "Jolene"
"Jolene had to be in the show," Dolly Parton told Netflix in a featurette about her new series Heartstrings, "that is the most recorded song that I have ever written." In the show, each episode of which brings to life one of the country legend's songs, Julianne Hough plays Jolene, an aspiring singer-songwriter who makes a loving husband (played by Dallas Austin) consider infidelity.
Unlike the creators of other famous songs about people (Carly Simon's "You're So Vain," for example, or Alanis Morisette's "You Oughta Know,") Dolly has been quite frank about the person with "flaming locks of auburn hair" who inspired perhaps her most iconic song. Or more specifically, people.
Surprisingly, the song, which provides the plot of Dolly Parton's Heartstrings Episode 1 on Netflix, is partly based on an eight-year-old girl, whom Dolly met in the 1960s while working on the show that first found her fame, The Porter Wagoner Show. She told NPR in 2008, "One night I was on stage, and there was this beautiful little girl. She was probably eight years old at the time.
"And she had this beautiful red hair, this beautiful skin, and beautiful green eyes. And she was looking up at me, holding, you know, for an autograph. And I said, well, you're just the prettiest little thing I've ever seen. I said, what is your name? And she said, Jolene. And I said, well, Jolene, Jolene, Jolene. I said, that is pretty, I said, that sounds like a song. I'm going to write a song about that."
The second element of the song was a bank teller in Nashville who flirted with Dolly's then husband, Carl Dean. She added: "She got this terrible crush on my husband. And he just loved going to the bank because she paid him so much attention. It was kind of like a running joke between us when I was saying, hell, you're spending a lot of time at the bank. I don't believe we've got that kind of money. So it's really an innocent song all around, but sounds like a dreadful one."
Speaking to Jimmy Fallon in November 2019, the singer recounted meeting Jolene again recently, where it seemed as if Dolly got the last laugh. She said: "I did see the actual Jolene not long ago. She's not so hot now...she used to have that beautiful red hair, and now she's grey."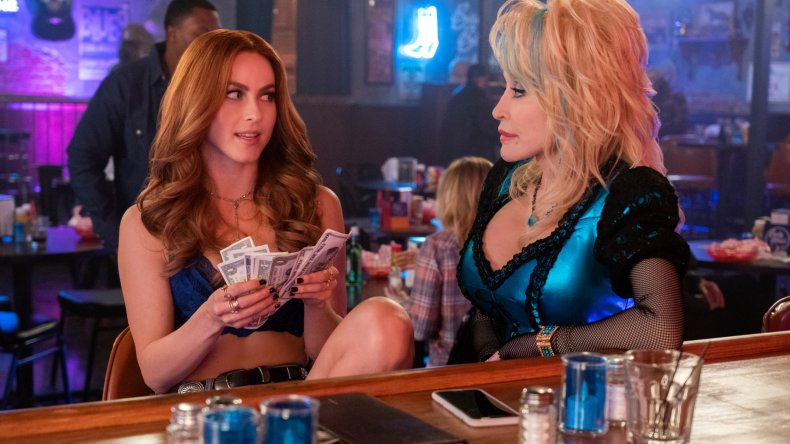 The song itself has long been a source of fascination for other artists. The song has been covered nearly 50 times, with everyone from The White Stripes to Olivia Newton-John to Dolly's own sister Stella releasing their versions. Singers like Kirsty MacColl have even released answer records to "Jolene," and British rapper Stormzy even tweeted his take on the song in a series of tweets in 2018, where he wrote that, "Jolene sounds like she's the baddest b to ever walk this planet" and that found the song, "kinda sad actually, wish Dolly had more self-love and confidence or the strength to just leave my man cah it ain't really jolene's fault."
Dolly Parton's Heartstrings is streaming on Netflix now
'Dolly Parton's Heartstrings': The True Story Behind "Jolene" | Culture