Dolphin With Missing Tail Washes Up on Exact Spot Greenland Shark Died
A dolphin with a missing tail has been found washed up on a U.K beach, in the exact same spot a Greenland shark was found dead just a few months ago.
Rosie Woodroffe—a biologist at the Zoological Society of London (ZSL) Institute of Zoology—found the dolphin on Newlyn beach in Cornwall on April 27 while walking her dog.
Woodroffe guessed it might be a Risso's dolphin, but this has not yet been confirmed. Risso's dolphins, also known as gray dolphins, live in deeper waters across the world in mid-temperature waters. Unlike the elusive, deep water Greenland shark, these dolphins are very active on the surface of the ocean.
A picture shared to Twitter by Woodroffe shows that the dolphin is missing a large chunk of its tail.
"Missing its tail.... Propellor or bitten off?" Woodroffe said.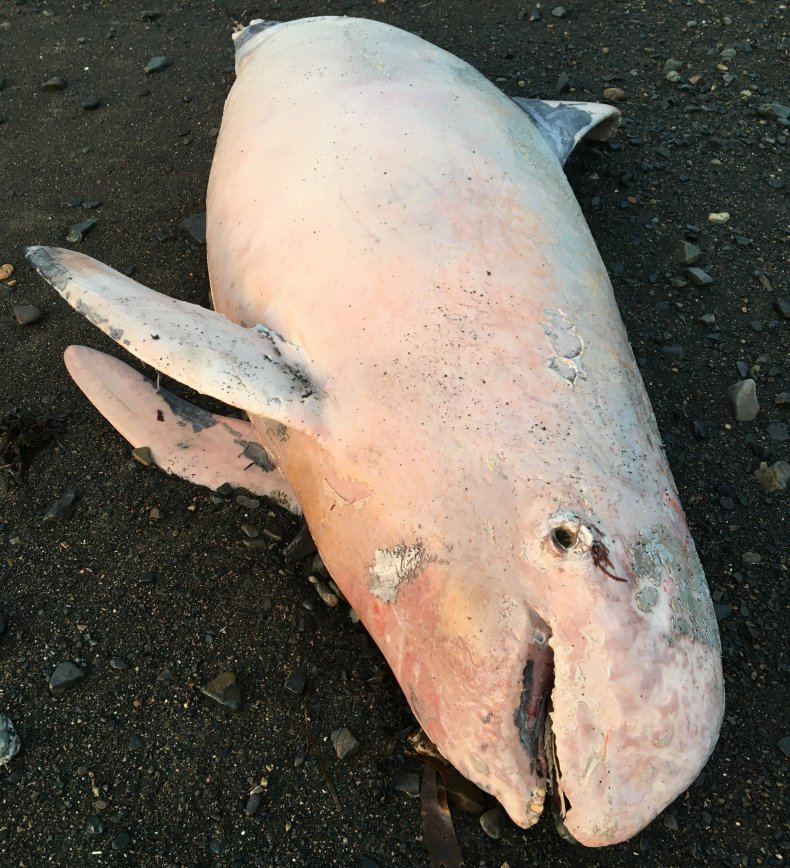 Marine wildlife strandings occur globally and are a phenomenon where animals are found washed up on beaches, unable to return to the water. In most cases, the animals die while on land. Woodroffe suspects this dolphin had been dead for a long time. In the U.K., from 1990 to 2014, there were 12,362 documented cetacean strandings.
While the exact cause of strandings is unknown, washed up wildlife is often found to be unwell or injured in some way. Sometimes, wildlife can get entangled in fishing nets or injured by passing ships.
On March 7, Woodroffe came across an incredibly rare Greenland shark on the same beach.
Woodroffe told Newsweek the dolphin was in "exactly the same spot" as the shark had been, within 3 or 6 feet.
She had found the Greenland shark under the same circumstances—while walking her dog.
"In fact this time I was in a hurry and didn't go via the beach, then spotted it from a nearby path and had to go back to see what the big white thing was," she said.
It is not yet clear why the creatures happened to wash up on the same spot of the beach, however Woodroffe believes it might have something to do with the sea bed and ocean currents.
While the species hasn't yet been confirmed by strandings experts, Woodroffe said its teeth are similar to a Risso's dolphin, as it has a "small number of teeth in the lower jaw only."
"Unlike the Greenland shark, this is a species known to be present locally. In fact I've watched Risso's interacting with common dolphins from a headland just a couple of km from this spot," she said.
On Twitter, Woodroffe said she'd had "no idea" that Risso's dolphins could get "so big."
A post-mortem of the Greenland shark found it had died of a brain infection that had never before been recorded in the species.