A freshwater dolphin population has gone extinct in northeastern Cambodia after the last member got tangled in fishing gear and died.
The Irrawaddy dolphin was found dead on a riverbank on February 15. It was the last one living on a particular stretch of the Mekong River in Stung Treng province.
Irrawaddy dolphins are found in coastal areas of South and Southeast Asia. They only live in three rivers: the Ayeyarwady in Myanmar, the Mahakam in Indonesian Borneo, and the Mekong in Cambodia.
The Mekong River Irrawaddy dolphins are already scarce. The Mekong, at 2,700 miles long, is the 12th longest river in the world, running from Cambodia to Myanmar. However, the dolphins only inhabit a 118-mile stretch of the river between Cambodia and Laos. The World Wildlife Fund estimates there are only around 90 left in this area.
The lonely dolphin had been monitored by experts. After noticing its injuries, they tried to work out a way to save it, The Phnom Penh Post reported. However, authorities said they lacked equipment and catching techniques, meaning they were unable to catch the animal to treat it. Instead, they kept a close watch on the dolphin to make sure it did not get harassed by fishermen.
Eventually, the lonely dolphin died because of its injuries, The Phnom Penh Post reported. Its injuries eventually prevented it from swimming well enough to hunt.
A spokesperson for volunteer-run campaign organization Blue Planet Society told Newsweek that Irrawaddy dolphins were not described as a separate species by science until 2005, when the world was already on the brink of losing them.
"Overfishing, pollution, development and habitat destruction is having a devastating impact on marine life. Unless we set aside more fully protected areas for our precious wildlife, we can expect this trend to continue unfortunately," the spokesperson said.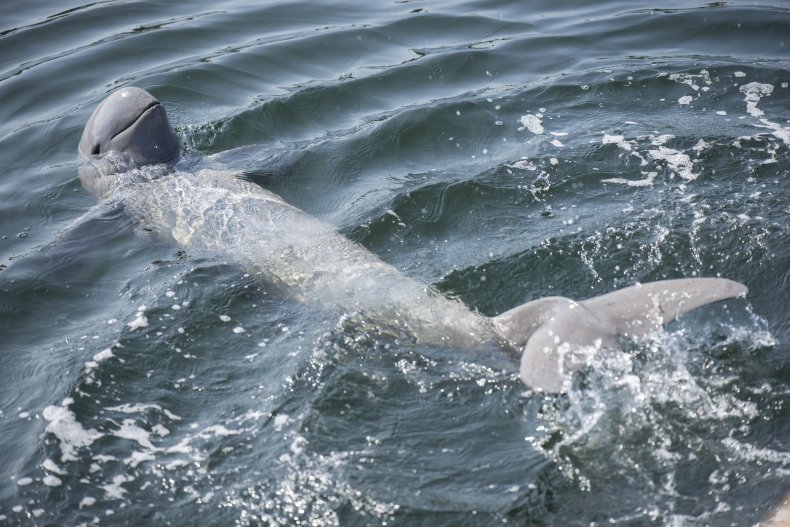 The main threat facing the freshwater dolphin is becoming a victim of bycatch, which is the accidental capture of animals in fishing gear.
Fishing in Stung Treng province is important to the livelihoods of local people, but it is also considered one of the last available habitats for many fish species to breed in. Every year between May 1 and September 30, the Stung Treng Provincial Administration orders a closing of the fishing season to allow fish to successfully breed. However, fishermen are still allowed to continue fishing with small-scale gear during this time.
Marine deaths from entanglement in fishing gear is a global problem. An estimated 300,000 marine mammals die as a result of discarded fishing gear.