U.K. Lawmaker Thinks Black Lives Matter Kneeling is from 'Game of Thrones'
The British Foreign Secretary Dominic Raab is facing criticism today for dismissing the Black Lives Matter gesture of taking the knee as something from television show Game of Thrones.
The Conservative Party cabinet member was appearing on talkRadio on Thursday when he said he would not "take a knee" in support of the Black Lives Matter movement and claimed: "It seems to be taken from Game of Thrones."
"I've got to say, on this taking a knee thing, I don't know, maybe it's got a broader history but it seems to be taken from the Game of Thrones, feels to me like a symbol of subjugation and subordination rather than one of liberation and emancipation," he said.
"But I understand people feel differently about it so it's a matter of personal choice."
Raab then added: "I take the knee for two people; the Queen and the Mrs. when I asked her to marry me."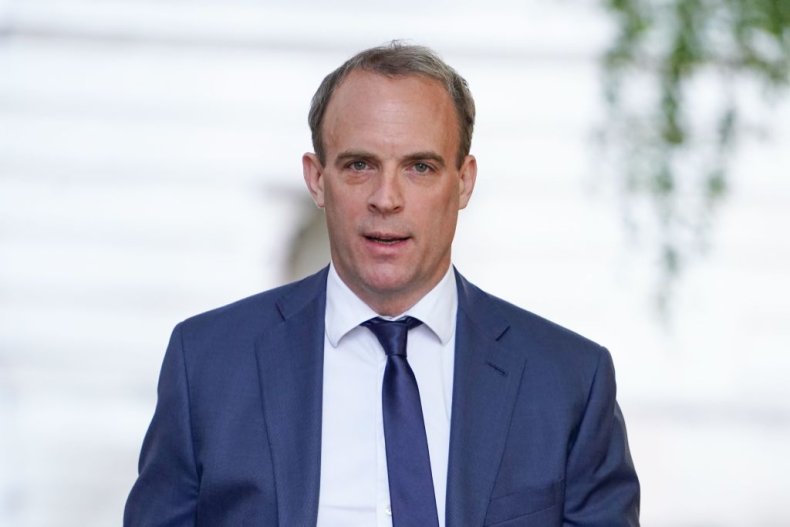 The Foreign Secretary's comments come as English Premier League soccer players kneeled in support of Black Lives Matter this week—in a gesture popularised by former NFL player Colin Kaepernick.
The phrase "bend the knee" features prominently in the HBO fantasy series, but in relation to fictional warning families and royalty and has nothing to do with the Black Lives Matter movement.
Raab's comments have predictably drawn ire from many people for diminishing the symbol of taking the knee.
Host of the breakfast show, Good Morning Britain, Piers Morgan mocked what he called Raab's "unbelievable" opinion.
"Unbelievable. Foreign Secretary @DominicRaab thinks taking the knee is from Game of Thrones. This Government continues to shame us to the world."
Activist Munroe Bergdorf has called Raab out in a statement posting to Instagram where she described his comments as "tone-deaf, insensitive and downright obnoxious is an understatement."
She added: "This movement is an inconvenient joke to these people. Combating racism isn't a priority of concern to these people. We must continue to hold them accountable and direct our protests upon the government."
Labour Party MP Diane Abbott also criticized Raab's comments, tweeting: "'Taking the knee' began in 2016 with American athletes refusing to stand for U.S. national anthem. They were protesting police brutality and racism. But @DominicRaab thinks it comes from Game of Thrones!!!"
Acting leader of the Liberal Democrat Party, Ed Davey also called on Raab to make a "fulsome apology."
Raab has since backtracked on his comments, saying he has "full respect" for Black Lives Matter.
He tweeted: "To be clear: I have full respect for the Black Lives Matter movement, and the issues driving them. If people wish to take a knee, that's their choice and I respect it. We all need to come together to tackle any discrimination and social injustice."