Dominic Vaca, California Police Officer, Killed in Shootout With Suspect Trying to Escape on Motorcycle
Dominic Vaca, a deputy with the San Bernardino County Sheriff's Department, was killed during a shootout with a suspect who tried to escape on a motorcycle.
In a video posted to social media, San Bernardino County Sheriff John McMahon said: "It's my sad duty to report that despite the heroic life saving measures of the staff at the hospital Sergeant Dominic Vaca, 43 years old and 17-year veteran of the Sheriff's department has succumbed to his injuries."
McMahon continued: "The gunshot wound he sustained earlier today was too severe for him to overcome. Our prayers are with him and his family as we all mourn this difficult time."
According to the department, the incident occurred at around 12:33 p.m. local time on Monday, when deputies were conducting increased patrol enforcement for "off highway vehicles," near the Morongo Basin Station.
While patrolling, deputies noticed a male suspect driving a motorcycle with no license plate. Deputies attempted to stop the motorcycle, but the suspect fled the scene and was chased by police.
According to police, the suspect got off of his motorcycle during the pursuit and continued to flee on foot near the area of of Dumosa/Sunnyslope.
After officers noticed the abandoned motorcycle, they continued to search for the male suspect. Police said that as deputies were looking for the suspect, he began firing at them.
Vaca was struck by one of the suspect's shots and airlifted to a local hospital shortly after the incident. Police said the officer was transported to the hospital in "critical condition."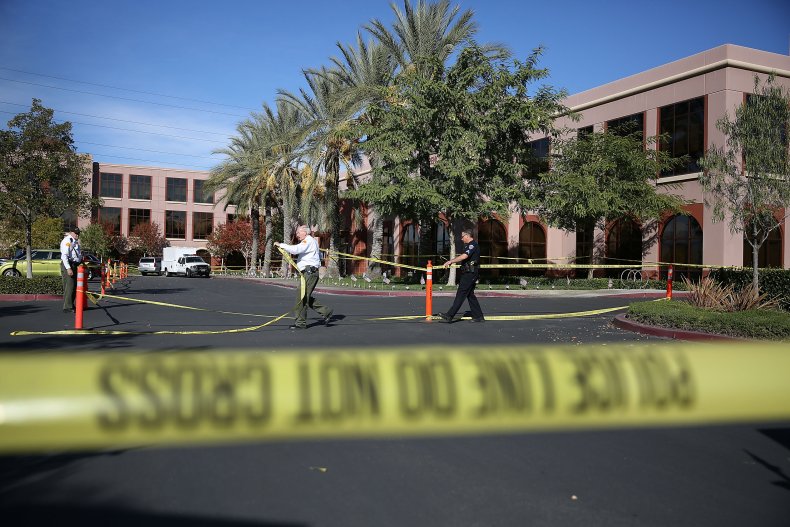 After Vaca was shot by the suspect, deputies with the San Bernardino County Sheriff's Department continued to search for him. The suspect continued to fire a gun at responding deputies and they returned fire.
Police said the suspect was struck by one of the deputies' gunshots and was pronounced deceased at the scene.
A handgun was located at the scene, McMahon said. The suspect was not immediately identified by police.
The department also posted a photo of Sgt. Vaca following his death on Sunday.
"It is with great sadness and heavy hearts that we report the passing of Sergeant Dominic Vaca, from the Morongo Basin Station. He served the community with pride and professionalism and will be missed by many," the department wrote with the picture.
Newsweek reached out to the San Bernardino County Sheriff's Department for further comment, but did not receive a response in time for publication.