Dominion Says It Chased Sidney Powell 'Across State Lines' After She Evaded Lawsuit for Weeks
Conservative Texas lawyer Sidney Powell attempted to avoid being served with a $1.3 billion defamation lawsuit filed by Dominion Voting Services in January, court documents show.
Powell was instrumental in filing a number of lawsuits on behalf of former President Donald Trump, alleging voter fraud in certain battleground states helped President Joe Biden win the 2020 election. Among Powell's arguments were allegations that Dominion's voting machines were rigged to count votes cast for Trump as ballots for Biden. In January, Dominion sued Powell for her claims. Powell filed for an extension of time to respond to Dominion's suit on Monday.
In a response to Powell's motion filed Tuesday, Dominion attorney Thomas Clare said that Dominion would not oppose Powell's motion as a "professional courtesy."
"But the record should reflect that: (1) Powell refused to respond to requests from Plaintiffs' counsel about executing waivers of service of process (which would have extended the time to respond to the complaint); and (2) Powell evaded service of process for weeks, forcing Dominion to incur unnecessary expenses for extraordinary measures to effect service, including hiring private investigators and pursuing Powell across state lines," Dominion's response continued.
In a statement emailed to Newsweek on Tuesday, Powell's attorney Howard Kleinhendler denied the allegations put forth by Dominion.
"Ms. Powell did not evade service," Kleinhendler said. "She regularly travels as part of her work. Unfortunately, for the past several months Ms. Powell has had to take extra precautions concerning her security, which may have made serving her more difficult."
"Ms. Powell had no reason to evade service as she looks forward to defending herself in court," Kleinhendler added.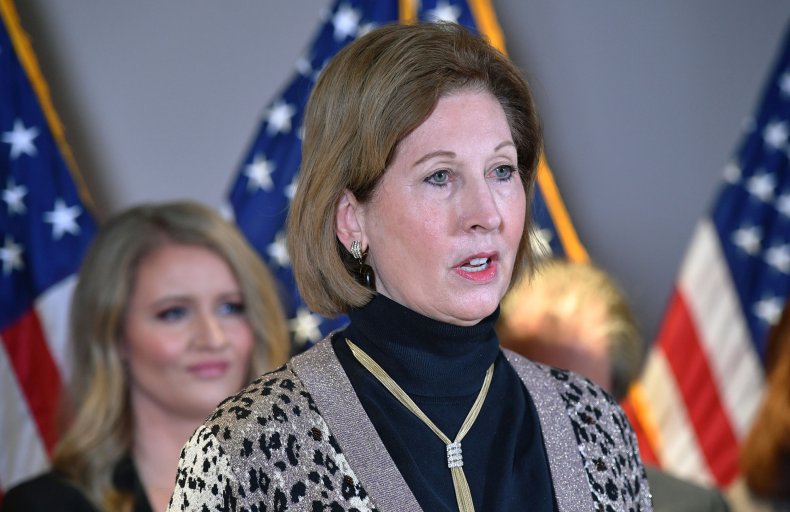 Powell also claimed that Dominion was founded in Venezuela in order to make sure that the late Hugo Chavez was the presidency in that country. Dominion said Powell's "wild accusations" were "demonstrably false."
"Far from being created in Venezuela to rig elections for a now-deceased Venezuelan dictator," the company's January complaint against Powell read, "Dominion was founded in Toronto for the purpose of creating a fully auditable paper-based vote system that would empower people with disabilities to vote independently on verifiable paper ballots."
Dominion said that Powell's allegations had been harmful to the company's reputation. "For Dominion—whose business is producing and providing voting systems for elections—there are no accusations that could do more to damage Dominion's business or to impugn Dominion's integrity, ethics, honesty, and financial integrity," read Dominion's January suit against Powell.
Dominion also filed a $1.3 defamation lawsuit against Trump's personal attorney Rudy Giuliani in January for making similar allegations against the company.
In a January statement, Dominion CEO John Paulos claimed that Giuliani's public support of Trump's baseless claims of voter fraud amounted to "actively propagated disinformation to purposefully mislead voters."
Giuliani said the amount of money asked for in the lawsuit was meant to "frighten people faint of heart."
"It is another act of intimidation by the hate-filled left-wing to wipe out and censor the exercise of free speech," Giuliani said in a January statement, "as well as the ability of lawyers to defend their clients vigorously."
Update (02/09/2021 10:34 p.m. EST): This story has been updated with a statement from Sidney Powell's attorney, Howard Kleinhendler.