Dominion Voting CEO Vows 'Imminent' Legal Action Against Trump Allies for 'False' Statements
Dominion Voting Systems' CEO on Thursday vowed to take "imminent" legal action against President Donald Trump's allies for making "false statements" about the company following the presidential election.
Appearing on CNN's New Day, John Poulos was asked about a recent letter a defamation law firm representing the company sent to White House counsel Pat Cipollone and Trump's personal attorney Rudy Giuliani. The letter told them to preserve all records related to the company and warned that legal action is "imminent," according to CNN.
"We did send a letter to several different people that have been spreading lies and defamatory remarks about our company since Election Day on various media platforms," Poulos said. "We did use the word imminent. We've handed it over to our legal team, and it's completely in their hands, so they will be filing when they're ready."
Asked what he was accusing them of, Poulos reiterated his comments and said that many of Trump's allies have been "promoting lies and amplifying those lies." He noted that he believes the lies increased doubt in the country's election systems among Americans.
On New Day Poulos was also asked if he would take legal action against Trump. In response, he noted that the company's "first and foremost" action will be taken against pro-Trump attorney Sidney Powell but suggested that further action could be taken.
"We will be looking into absolutely everybody that has repeated...made and repeated and amplified false statements that have been defamatory and damaging to our company and to our election," he said.
Pressed again about whether the company plans to look into action against the president, Poulos said, "Like I said, we will not be overlooking anybody."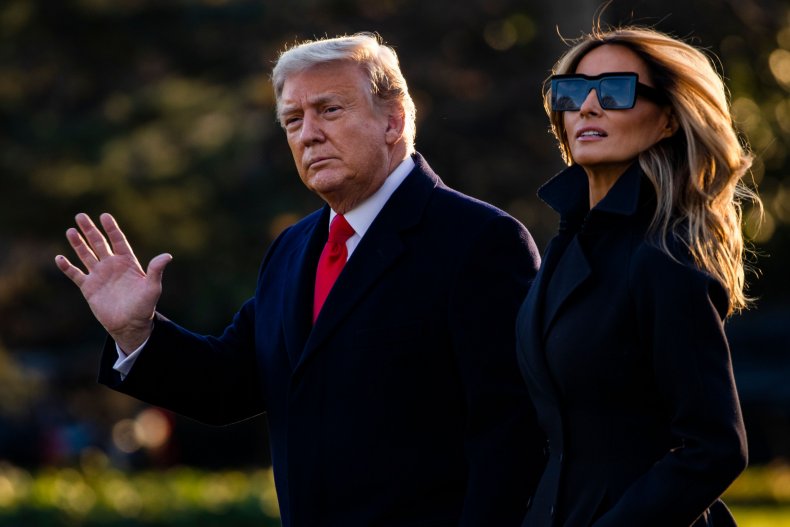 According to CNN, the letter sent to Cipollone and Giuliani demanded that they stop making "defamatory claims against Dominion." It also noted that they must ensure there is "no confusion about your obligation to preserve and retain all documents relating to Dominion and your smear campaign against the company."
Poulos' comments come shortly after a Dominion Voting Systems employee filed his own suit against Trump, his campaign and several media outlets for defamation following the election.
In a complaint filed Tuesday in a district court in Denver, lawyers for Eric Coomer, the director of product strategy and security at Dominion, alleged that Trump and his allies "elevated Dr. Coomer into the national spotlight, invaded his privacy, threatened his security, and fundamentally defamed his reputation across this country."
Speaking to the Associated Press, Coomer said that he was in hiding after being targeted by Trump's supporters.
"It's terrifying," Coomer told the AP. "I've worked in international elections in all sorts of post-conflict countries where election violence is real and people end up getting killed over it. And I feel that we're on the verge of that."
Since the election, Trump and many of his allies have been harshly critical of Dominion Voting Systems, which was used in 28 states. Many of the claims made by Trump and his allies have been debunked by several different media outlets.
In November, Trump tweeted a report from the conservative news network One America News that suggested that Dominion "deleted 2.7 million Trump votes nationwide."
Powell has also been very critical of the voting equipment company. She previously suggested that it worked with the late Venezuelan dictator Hugo Chávez and charged that the company's voting machines were built to change the results of the U.S. election.
Newsweek reached out to Dominion Voting Systems and Trump's campaign for comment but did not receive a response in time for publication.