Dominion Voting Systems' $1.3B Defamation Lawsuits Against Trump Allies Can Proceed: Judge
A federal judge Wednesday ordered that three defamation lawsuits of $1.3 billion each filed by Dominion Voting Systems be allowed to continue after allies of former President Donald Trump filed requests that they be dismissed.
Rudy Giuliani, Trump's former personal attorney, MyPillow CEO Mike Lindell and "Kraken" attorney Sidney Powell are all named as defendants in lawsuits that will proceed, alleging that each of these parties made claims without evidence that Dominion Voting Systems had rigged the results of the 2020 presidential election by manipulating voting numbers.
United States District Court Judge Carl Nichols, who is a Trump appointee, wrote in a 44-page memorandum opinion, where he dismisses requests to block the lawsuits, that "Dominion alleges that each Defendant made defamatory statements about its role in the 2020 election," according to court documents seen by Newsweek.
The document says "those statements are too numerous to summarize in their entirety." But Nichols cites several examples of standout defamation allegations without backing as grounds for why the defamation suits should be allowed to continue.
"On the day of the presidential election," Nichols wrote, "Powell appeared on One America News Network and declared that Democrats were trying to "steal the vote" from President Trump and that "they ha[d] developed a computer system to alter votes electronically."
"Shortly thereafter, she and Giuliani visited Trump campaign headquarters, where they both urged the campaign's attorneys to cast doubt on election results by focusing suspicion on Dominion," Powell continued, then specified that neither party was able to provide any evidence of their allegations.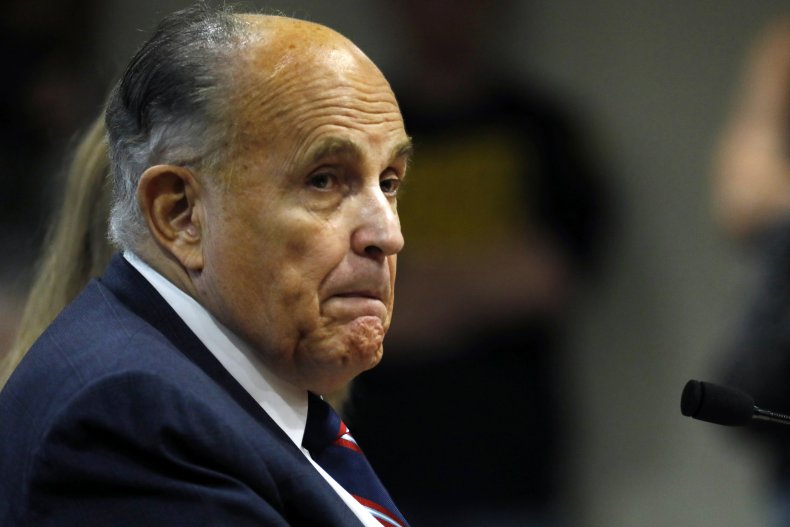 Nichols goes on to detail the multiple occasions on which both Powell and Giuliani appear in the media making claims about Dominion Voting Systems like it is a Venezuelan company "created to produce altered voting results in Venezuela for Hugo Chávez and then shipped internationally to manipulate votes for purchase in other countries[,] including this one."
On various occasions, the defendants say they are about to produce irrefutable evidence and then don't, according to the court documents.
Nichols goes on to cite important evidence in the case against Lindell, including several occasions where he claimed publically in the media that the Dominion Voting Systems machines were programmed to fraudulently give President Joe Biden more votes than Trump.
Lindell went on Newsmax and claimed, "the biggest fraud is the Dominion machines." "Appearing on FlashPoint on December 23, Lindell described Dominion's involvement in the election as "the biggest crime ever committed in the history against our country and the world," Nichols quoted.
On Tuesday, Dominion also filed $1.6 billion defamation lawsuits against One America News Network and Newsmax Media Inc, for giving voice to Trump's election fraud claims.
Newsweek reached out to Howard Kleinhendler, an attorney for Powell, for comment.