Dominion Voting Systems 'Categorically Denies' Election Tech Glitches Following Trump Accusations
Dominion Voting Systems said in a statement on Friday that it "categorically denies" claims that its election software encountered glitches that impacted the results of the presidential election last week.
The company's software is used in 28 U.S. states, including in swing states like Arizona, Georgia, Michigan, Nevada, Pennsylvania and Wisconsin. After official sources called the national race for Joe Biden on November 7, President Donald Trump accused the company of deleting millions of votes cast for him across the country.
Trump posted on Twitter a report from the conservative network One America News that alleged 2.7 million Trump votes were "deleted" and that thousands more votes cast for Trump were converted to Biden votes. The post, which attracted more than 614,000 likes and more than 183,000 retweets, was flagged by Twitter as containing a "disputed" claim.
"Dominion Voting Systems categorically denies false assertions about vote switching issues with our voting systems," the company said in a statement posted on its website on Friday. The company included in its statement a link to a Thursday joint statement from federal election security officials that described last week's election as "the most secure in American history" and said there was "no evidence that any voting system deleted or lost votes, changed votes, or was in any way compromised."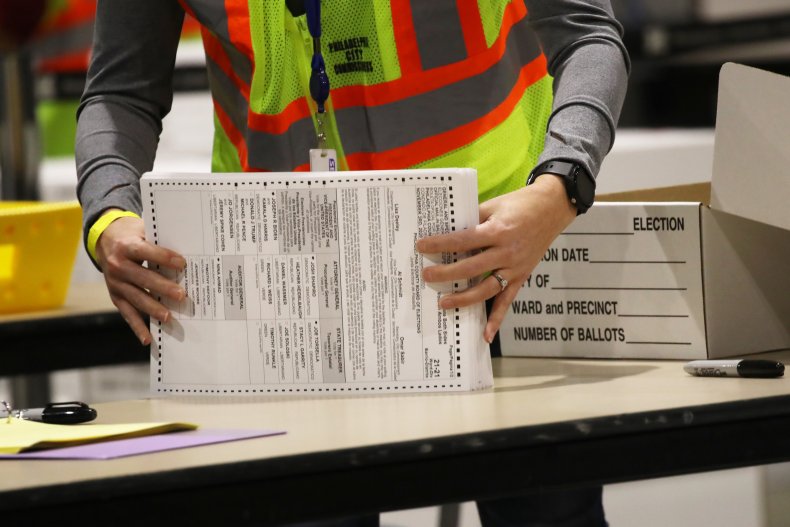 "An unsubstantiated claim about the deletion of 2.7 million pro-Trump votes that was posted on the Internet and spread on social media has been taken down and debunked by independent fact-checkers," the company said.
The company's statement went on to say that some of the allegations levied against it—including another within that same tweet from Trump that said 941,000 Trump votes were deleted in Pennsylvania alone—were "impossible." The company also denied allegations that its software was updated the night before the election, encountered general glitches and experienced problems reading ballots marked by Sharpie pens. The company pointed to statements by the Michigan and Georgia secretaries of state, which also said votes were properly tabulated without widespread software-related incidents.
Trump has yet to concede the election, and his campaign has over the last two weeks filed lawsuits in several battleground states based on a series of allegations that include illegally-cast votes and improperly-counted ballots. Two of the president's tweets targeted Dominion Voting Systems on Thursday, and he mentioned the company in another tweet on Friday.
"Must see @seanhannity takedown of the horrible, inaccurate and anything but secure Dominion Voting System which is used in States where tens of thousands of votes were stolen from us and given to Biden," Trump tweeted on Thursday evening, nearly 12 hours after first alleging the company deleted millions of Trump votes.
On Friday afternoon, Trump tweeted, "Now it is learned that the horrendous Dominion Voting System was used in Arizona (and big in Nevada). No wonder the result was a very close loss!"
The company concluded its statement by saying that allegations of widespread voter fraud "are 100% false."
"All U.S. voting systems must provide assurance that they work accurately and reliably as intended under federal U.S. [Election Assistance Commission] and state certification and testing requirements. Election safeguards—from testing and certification of voting systems, to canvassing and auditing—prevent malicious actors from tampering with vote counts and ensure that final vote tallies are accurate."
Newsweek reached out to Trump's campaign for comment but did not receive a response in time for publication.