Dominion Voting Systems Says Ex-Trump Lawyer Sidney Powell's 'Lies' Endanger Employees' Lives
A number of election workers have faced death threats and other safety concerns since the Trump campaign began pushing unsubstantiated claims that the presidential was stolen by widespread voter fraud. But Dominion Voting System employees are fed up with being the target of conspiracy theories surrounding the election.
The electronic voting company sent a letter to ex-Trump lawyer Sidney Powell on Wednesday, demanding she publicly retract her "wild, knowingly baseless and false accusations" about Dominion's machines.
The letter, obtained by The New York Times, said that the claims Powell has made in her unsuccessful lawsuits seeking to overturn the results were "predicated on lies" and have "endangered Dominion's business and the lives of its employees."
The company accused her of engaging in "reckless disinformation" about its voting machines during press conference, Trump rallies and appearances on conservative media outlets like Fox News and Newsmax.
"While you are entitled to your own opinions, Ms. Powell," the company wrote, "you are not entitled to your own facts."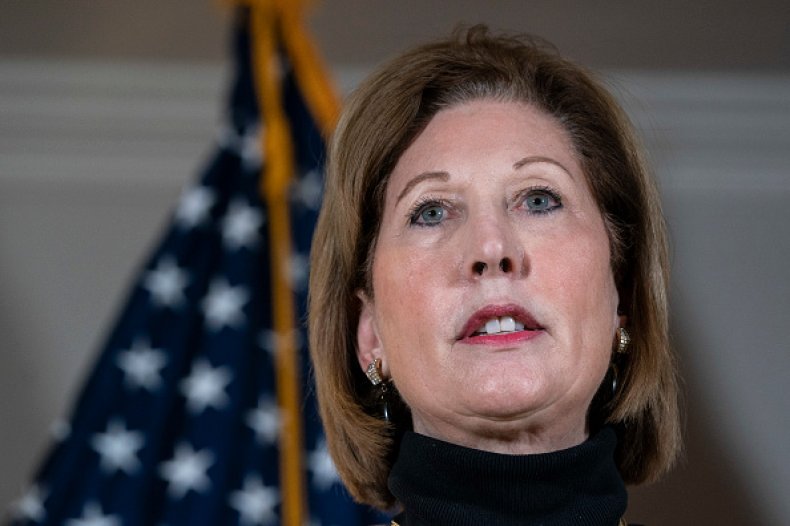 Powell has made several false claims about Dominion, including that its machines and software were created in Venezuela to help former president Hugo Chavez win elections and that the company bribed Georgia officials to use its machines, which manipulated votes in "an effort to rig the 2020 election."
Dominion has disputed these claims, saying it has no connection to Venezuela, Chavez, "Big Foot or the Loch Ness monster."
"The comments about our company being started in Venezuela with Cuban money with the intent to steal elections are beyond bizarre and are complete lies," Dominion CEO John Poulos said on Monday. "My company started in my basement, which happened to be in Toronto."
This week, Poulos defended the company's machines to Michigan's State Senate Oversight Committee, telling lawmakers that the company had been subjected to "a dangerous and reckless disinformation campaign aimed at sowing doubt and confusion."
Poulos reassured that Dominion had no connections to House Speaker Nancy Pelosi, Democrat Hillary Clinton or billionaire George Soros.
The letter is a preparatory step to formal legal action, which the company has been unable to pursue thus far because Powell has never mentioned these specific accusations in her court filings.
Powell, a former federal prosecutor, was reportedly well-liked by President Donald Trump in the aftermath of the election, but Trump began distancing himself from the lawyer after she spread conspiracies about Dominion during a press conference.
Powell has continued to file lawsuits on her own but all of her suits have been dismissed by federal judges, who have said her claims are based on "nothing but speculation and conjecture."
Newsweek reached out to Powell for comment but did not hear back before publication.