Dominion Voting Systems Security Director Files Defamation Suit Against Trump Campaign
Eric Coomer, director of product strategy and security for Dominion Voting Systems, filed a defamation lawsuit against President Donald Trump's re-election campaign, Trump's personal lawyer Rudy Giuliani, attorney Sidney Powell and others on Tuesday.
Voting machines provided by Dominion became the center of controversy after Trump and others claimed that the equipment was a factor in widespread voting fraud. Some connected to the Trump camp claimed that Dominion machines were capable of running software that flipped votes from Trump to President-elect Joe Biden.
Dominion has previously denied the allegations. Trump's lawyers have yet to provide any tangible evidence for their claims. Coomer said that the theories about Dominion machines have caused him to receive death threats.
"The widespread dissemination of false conspiracy theories about the 2020 presidential election has had devastating consequences both for me personally and for many of the thousands of American election workers and officials, both Republican and Democratic, who put aside their political beliefs to run free, fair, and transparent elections," Coomer said in a Tuesday statement. "Elections are not about politics; they are about accurately tabulating legally cast votes."
Coomer claims that the defendants in the case have engaged in "relentless defamation and ongoing threats."
"Defendants, by their actions, have elevated Dr. Coomer into the national spotlight, invaded his privacy, threatened his security, and fundamentally defamed his reputation across this country," the lawsuit says.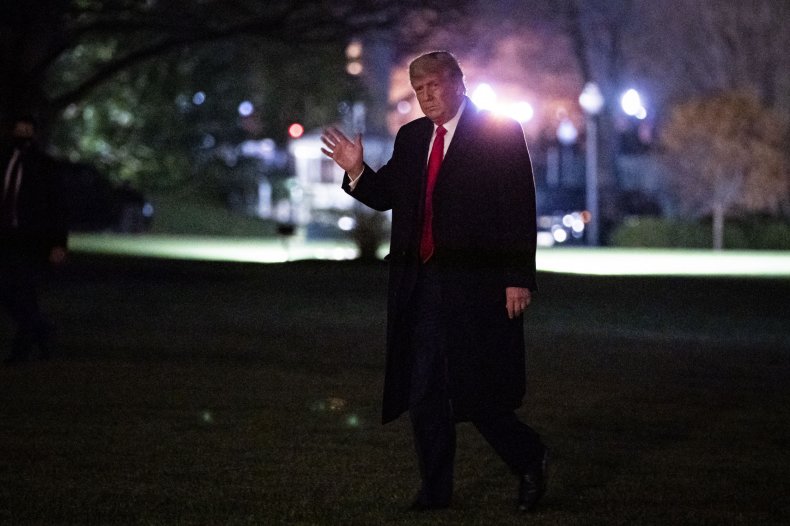 The defendants in Coomer's lawsuit include Trump's re-election campaign, Powell, Giuliani, Joseph Oltmann, FEC United, Shuffling Madness Media doing business as Conservative Daily, James Hoft, Top Communications LLC doing business as The Gateway Pundit, Michelle Malkin, Eric Metaxas, Chanel Rion, Newsmax Media and Herring Networks, Incorporated doing business as One America News Network.
Coomer alleges that theories that Dominion voting machines were somehow rigged were started by conservative podcast host Oltmann. Oltmann allegedly "infiltrated an Antifa conference call" in which an individual named "Eric" implied that he had made sure that Biden would win the election by manipulating the voting machines.
According to the lawsuit, other members of the conservative media began spreading the theory that Dominion's machines were compromised and that Coomer was the architect of the anti-Trump plan. The story was picked up by conservative news outlets Newsmax and One America News.
Giuliani and Powell also incorporated the story into their claims of electoral fraud, with Powell claiming during a November press conference that Coomer "is on the web as being recorded in a conversation with Antifa members, saying that he had the election rigged for Mr. Biden, nothing to worry about here."
Coomer denied the claims in the lawsuit, alleging that the election was both free and fair. However, threats against Coomer caused him to "leave his home in fear for his safety."
"Without concern for the truth or the consequences of their reckless conduct," the lawsuit says, "Defendants branded Dr. Coomer a traitor to the United States, a terrorist, and a criminal of the highest order."
Newsweek reached out to the Trump re-election campaign and Newsmax for comment.