Dominion Voting's Lawsuit Against Mike Lindell Cites 'FightForTrump' MyPillow Discount Code
A $1.3 billion defamation lawsuit Dominion Voting Systems filed against MyPillow's Mike Lindell alleges the CEO encouraged customers to use discount codes tied to widely discredited conspiracy theories about the 2020 presidential election.
The lawsuit, which the voting systems company filed Monday against Lindell and MyPillow in the U.S. District Court for the District of Columbia, alleges Lindell marketed his products toward consumers who were already engaging with election-related conspiracy theories involving Dominion. The lawsuit further alleges that Lindell promoted offer codes linked to or inspired by those theories to boost his company's sales.
"MyPillow's defamatory marketing campaign—with promo codes like "FightforTrump," "45," "Proof," and "QAnon"—has increased MyPillow sales by 30-40% and continues duping people into redirecting their election-lie outrage into pillow purchases," the lawsuit alleges.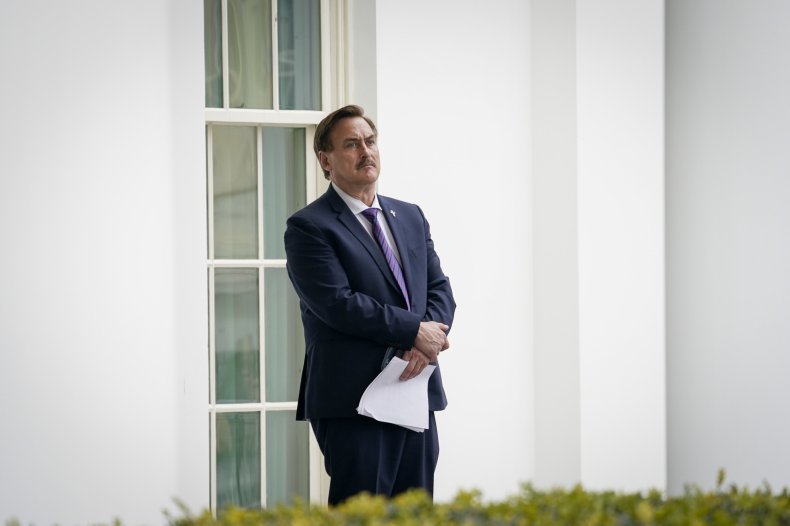 The lawsuit cites one example in which Lindell, a vocal Trump supporter, appeared for a mid-January interview with Right Side Broadcasting Network (RSBN), during which he described Dominion voting machines as "corrupt" and said he was aware of evidence that would expose flipped votes. The RSBN host later encouraged viewers to purchase MyPillow products using an RSBN offer code. MyPillow shortly thereafter began offering a $45 discount—an apparent reference to Trump serving as the 45th U.S. president—when customers made use of a "QAnon" offer code, the lawsuit alleges.
The legal complaint also alleges that MyPillow offered a "FightforTrump" discount code following the riot at the U.S. Capitol on January 6.
"While Lindell was on Facebook blaming Antifa for the storming of the Capitol by people shouting "Fight for Trump," MyPillow was offering discounts to people who used the promotional code "FightForTrump" at checkout," the lawsuit alleges.
Monday's lawsuit is the latest filed by Dominion in the wake of the 2020 presidential election. Last month, the company filed defamation lawsuits against Rudy Giuliani and Sidney Powell, both of whom served as members of the Trump campaign's legal team. Like Giuliani and Powell, Lindell has been accused of spreading disinformation about Dominion's role in the election.
"Despite repeated warnings and efforts to share the facts with him, Mr. Lindell has continued to maliciously spread false claims about Dominion, each time giving empty assurances that he would come forward with overwhelming proof," Dominion CEO John Poulos said in a Monday statement. "These claims have caused irreparable harm to Dominion's good reputation and threatened the safety of our employees and customers."
Lindell told The New York Times he was "happy" to hear that Dominion was moving forward with its lawsuit.
"I'm very happy that they've done this," he told the paper on Monday. "I'm ready to go to court. I have all the evidence that anyone would ever want to see."
Newsweek reached out to MyPillow for further comment and will update this article with any response.