Dominoes, Pulleys and Plagues: Students Design Rube Goldberg Machine for Passover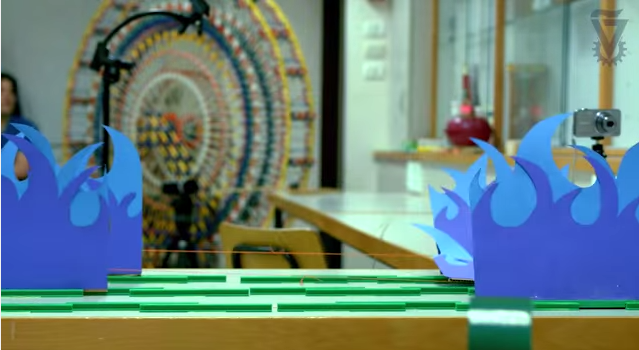 At most seders, the story of Passover is read from a book around a table. This year, in preparation for the holiday, a group of engineering students from an Israeli university decided to put their talents toward building a machine that would tell the same story using a complex setup of dominoes, pulleys and weights.
The students from the Technion—Israel Institute of Technology—used elements ranging from matzo to foil to create a Rube Goldberg machine. Named after a cartoonist and engineer, a Rube Goldberg machine or contraption is described on the Rube Goldberg Inc. website as "an elaborate set of arms, wheels, gears, handles, cups and rods, put in motion by balls, canary cages, pails, boots, bathtubs, paddles and live animals [that] takes a simple task and makes it extraordinarily complicated."
In "Rube Goldberg's Passover Seder," students in mechanical engineering and architecture and town planning use a kiddush cup being filled with wine as a weight and pieces of matzo as dominoes. The machine recounts portions of the Passover tale without words: a weight turns a fan toward a basin of water to push baby Moses across the river and a spinning machine strikes a match to light the burning bush, made with aluminum foil.
The video of the machine, posted recently on the Technion's YouTube page, was filmed in a lab dedicated to creative design at the university's Haifa campus and has been viewed nearly 150,000 times as of Monday.
The sequence includes some of the 10 plagues visited on Egypt that helped free the Jews, according to the haggadah, the book traditionally read at a Passover seder. Water flowing through a system of bottles and tubes colors a pool below red to signify the blood plague that turned all the waters of Egypt red, a large rolling wheel releases paper frogs like the ones that swarmed Egypt, a catapult lobs hail over a mini city and a pulley system with a weight turns off all the lights to reenact the plague of darkness.
Nadav Maccabi, a master's student in mechanical engineering, says he and his fellow student, Yaron Veksler, sat down about a month before the video was shot to plan out the machine and its main "stations." For about a week prior to filming, Maccabi, Veksler and a team of other students worked on building and preparing the components, toiling into the night in the last days leading up to filming.
Mechanical engineering student Yair Har-Oz walks viewers through each step in the series of reactions in a behind-the-scenes video.
The students wanted to show the Passover story in a way that relates to science and technology, which are their main focus at the Technion, says Maccabi. "The Rube Goldberg machine itself is a sort of connection to science and technology," he says, and they tried to incorporate scientific concepts in addition to narrative elements throughout, like the basic laws of physics that helped create the water system for the blood plague.
That component was one of the most difficult to orchestrate, Maccabi says, as well as the lights turning off and then back on for the plague of darkness.
"We spent hours on it, only on this part," he says. "When it [finally] worked it was an amazing feeling."
The Passover Rube Goldberg machine isn't the first Technion students have produced, says Gil Lainer, a Technion spokesman in Haifa. In November 2012, the Technion posted a video of a Hanukkah Rube Goldberg machine that ended with the lighting of a menorah.
The Passover video published last week ends with a large toy Ferris wheel spinning to pull on a string and lift a mini pyramid, revealing the traditional seder plate arranged with symbolic foods.
"I hope Jews all over the world can see it and appreciate the combination of innovation and...Passover," Maccabi says.