Pizza juggernaut Domino's wants to fill potholes in the road like it fills your empty stomach.
"Paving for Pizza" is a new initiative run by the chain to help cities and local government repair aging and deteriorated roads. Customers can nominate their towns for the program. Domino's says it wants to help "smooth the ride home" for its pizza deliveries.
"Potholes, cracks and bumps in the road can cause irreversible damage to your pizza during the drive home from Domino's," the company said in its press release. "We can't stand by and let your cheese slide to one side, your toppings get un-topped, or your boxes get flipped. So we're helping to pave in towns across the country to save your good pizza from these bad roads."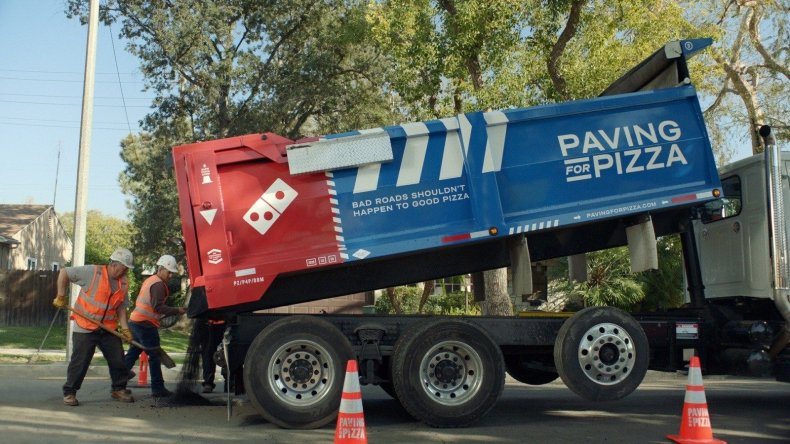 Domino's has even included a road condition meter on its website to show how pizzas are affected by mild, moderate, critical and catastrophic road conditions.
The fast food chain has already repaired roads in Burbank, California, Athens, Georgia, Milford, Delaware and Bartonville, Texas. It brands the fixed potholes with a Domino's logo and the tagline "Oh yes we did." The trucks sent out to the jobs include a slogan that reads "bad roads shouldn't happen to good pizza."
More than 50 potholes have been fixed between the four towns. If you want to get your local roads fixed by Domino's, visit their Nominate Your Town page to enter your zip code.
Bartonville town administrator Michael Montgomery praised the company's input. "I was ecstatic, I didn't think it was possible but Domino's delivered on their promise to fix potholes in Bartonville," Montgomery said.
The good publicity will be a welcome change for Domino's following an incident last month in Tennessee. At a restaurant in Johnson City, health inspectors discovered rodent droppings on 14 trays of pizza dough.
On May 2, officials said they were investigating reports of "excessive rodent activity." According to the inspection report, in addition to the droppings on the dough, large amounts were also found on the floor, shelves, in the bathroom, the walk-in coolers and inside empty boxes of chocolate lava cake.
The inspection report stated that officials inspected a dough delivery truck and found no traces of contamination before it dropped off the product at the restaurant. On May 3, a Domino's spokesperson said the discovery was "an extremely isolated incident, confined to a single store."