Domino's Worker Says He Was Fired for 'Exposing' Managers Playing Video Games
A former Domino's employee is using a social media platform to draw attention to managers who he claims fired him for "exposing" them.
The TikTok account @dominosdiscriminates has posted multiple videos, either containing still photos or live recordings, alleging that former store managers were not putting in their 100 percent on the job.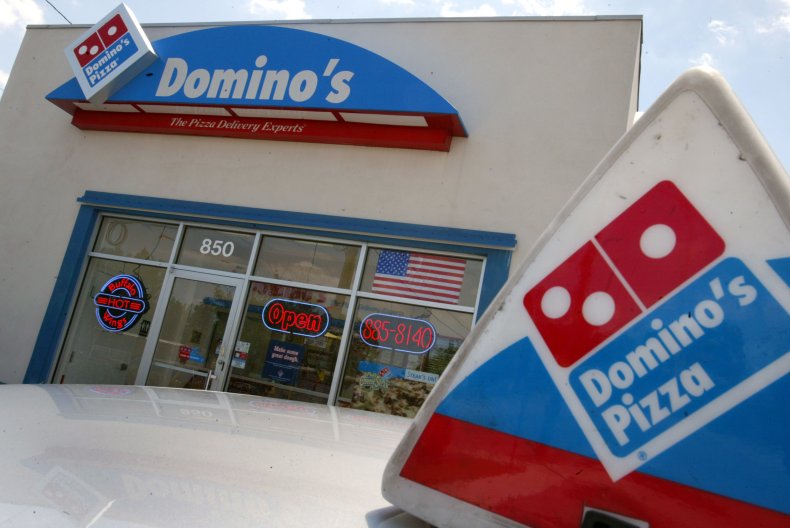 One video viewed over 657,000 times was just a still shot of a manager hunched almost in the fetal position while standing atop a large stack of trays. The video's overlay text said, "I was fired for taking photos of managers acting like this, standing on pizza trays while the dough was proofing."
"So the guy who didn't stand on food got fired, but not the manager who did are off Scott free?" one user replied. "Explain the logic @Domino's Pizza."
"Domino's foot pizza—The last thing you'd want in your Domino's pizza is someone else's foot fungus, but as it turns out, that might be what you get," another said.
Aside from some saying the manager standing on the tray was an OSHA violation, others chimed in by saying this was mild compared to what they have allegedly seen as employees.
"They do worse I promise lol," one user said.
Another pair of videos later posted that have over 70,000 views combined to show the managers playing video games while on the clock.
One showed a still image of two employees or managers as referred to by the poster, staring at a phone.
The TikTok poster was immediately called a "snitch" by many.
"I used to play animal crossing while enrolling people in health insurance get over it," one person said.
Another came to the poster's defense, saying: "Maybe he resorted to taking pics and 'snitching' because they were harassing him and fired him for discrimination? Be in his shoes."
A wobbly video related to the same subject matter was posted later on. The video showed what looks like the same two alleged managers in what looks like a back room off the main floor and kitchen area, playing some sort of video game on a phone.
It's unclear by the video how busy the store is at that time.
"For those who keep insisting in the comments that the two in the photo were playing video games were doing it on a 'break' or it 'must be slow,' Yeah, sorry that narrative doesn't work!" the poster said. "Here they are again while orders are nearly two hours late. @dominos fired me for exposing the behavior of their managers."
His video still wasn't met with full solidarity by other TikTok users.
"I don't know all the contacts but it looks like it only had a couple orders a full staff and those guys are probably on lunch or break," one person said.
Another said that while they agreed that it looked like a game was being played on company time, the order screen was not as busy as the poster made it seem.
Newsweek reached out to Domino's for comment.