'Sore Loser' Law Blocks Coal Baron Featured on John Oliver Show From West Virginia Senate Ballot
West Virginia officials rejected coal baron Don Blankenship's attempt to appear on the U.S. Senate ballot next November as a third-party candidate after losing the May GOP primary.
The state's "Sore Loser" law prevents candidates who lost a primary election from running in the general election as a third-party write-in candidate, the Wheeling News-Register reported. Blankenship gained national notoriety after he was featured in a June 18 episode of Last Week Tonight with John Oliver about the coal industry. Blankenship had recently been released from federal prison after he was convicted of purposefully violating health and safety standards stemming from the deadly Upper Big Branch Mine disaster in 2010.
Blankenship announced Tuesday he was joining the constitution party in order to continue his campaign, despite the failed Republican Party bid in May. "Today, I officially filed my paperwork for the office of U.S. Senate as a member of the Constitution Party. As I have repeatedly said, I am the only candidate who cannot be bought by out of state billionaires and I will work hard to drain the swamp," he wrote via Twitter.
HBO's Oliver was sued by another coal baron, Ohio-based Murray Energy Corporation CEO Bob Murray, for the show's criticism of both coal executives' business practices and ethical apathy.
On Thursday, West Virginia Secretary of State Mac Warner dashed Blankenship's final bid for the U.S. Senate seat after he finished a distant third place in the May Republican primary to Attorney General Patrick Morrisey and Representative Evan Jenkins. Both GOP members will face off against incumbent Democrat Joe Manchin III in the November general election. Manchin is running for his second six-year term following his 2010 special election victory.
According to the "Sore Loser" law placed on West Virginia books in June, Blankenship's loss in the major party primary election forbids him from running again in the November election. Blankenship railed against Republicans on Twitter Thursday, tying them to Planned Parenthood and lobbyists.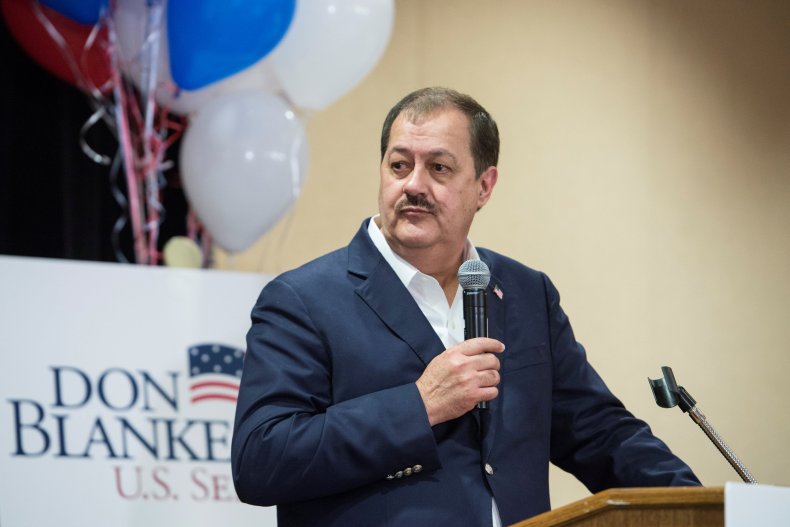 "According to the plain language of the law, which controls my decision, a candidate who loses the Primary Election cannot use the nomination-certificate process to run another campaign in the General Election. Any other decision would be contrary to the law," Warner said in a statement.
Blankenship vowed to pursue a legal battle against the "Sore Loser" law and to continue campaigning. The decision to block Blankenship's candidacy is expected to please national Republicans who spent millions of dollars against his campaign during the May primary, due to their belief that his criminal past made him unelectable.