Don Bolduc's Chances of Beating Chuck Morse in New Hampshire: Polls
As New Hampshire GOP voters pick their nominee for the U.S. Senate race on Tuesday, Don Bolduc has a double-digit lead over Chuck Morse, according to recent polls.
Ahead of the primary, Morse, the president of the New Hampshire state Senate, has received the support of more moderate Republicans, such as the state's popular governor, Chris Sununu. Republicans aligned with former President Donald Trump have embraced Bolduc, a retired U.S. Army Special Forces brigadier general. Trump has not weighed in on the race.
The primary has been an at-times bitter battle between the party's more traditional wing and the Trump-aligned wing. Bolduc supporters have sought to paint Morse as being in line with Senate Minority Leader Mitch McConnell, whose public feud with Trump has made him unpopular with some Republican voters.
Morse supporters have accused Bolduc of being too extreme for New Hampshire, a state Trump lost in 2016 and 2020. Sununu told the New Hampshire Journal in August that he would not back Bolduc, whom he said is a "conspiracy-theory extremist."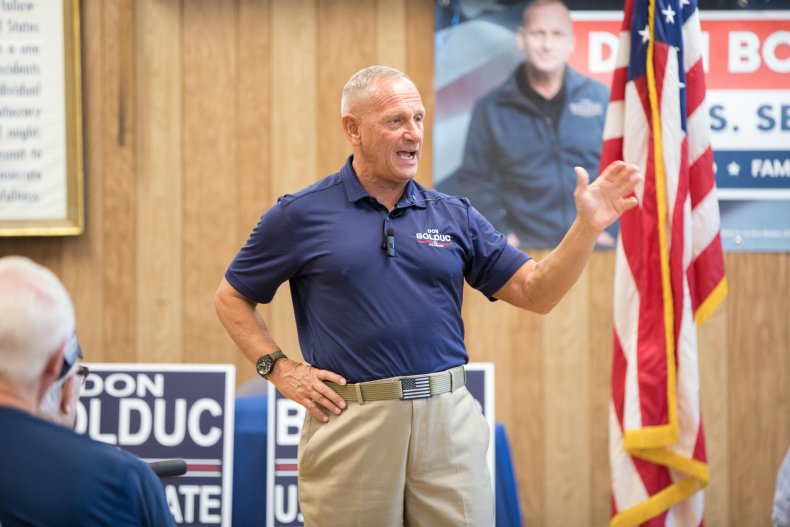 Whoever prevails Tuesday will face Democratic Senator Maggie Hassan in November. The race is viewed as competitive and could help determine control of the U.S. Senate.
According to a Public Policy Polling survey conducted from September 7 to September 8, Bolduc is favored to win the primary. He received support from 33 percent of poll respondents to Morse's 23 percent. Other candidates—Bruce Fenton, Vikram Mansharmani and Kevin Smith—received a combined total of 19 percent, while one-quarter of Republican voters said they were undecided.
Other polls have also found Bolduc holding a double-digit lead ahead of the primary. A poll from the University of New Hampshire, conducted from August 25 to August 29, found Bolduc with 43 percent support to Morse's 22 percent.
A Saint Anselm College poll from August 9 to August 11 showed Bolduc with a 16-point lead over Morse, 32 percent to 16 percent.
Hassan favored in general election
While New Hampshire's senate race is considered competitive, Hassan is favored. An aggregate of recent polling from FiveThirtyEight showed Hassan with a 6.6-point lead over Bolduc. The most recent independent polling from Data for Progress from June 22 to July 8 shows Hassan with 49 percent support to Bolduc's 45 percent.
Republicans once hoped President Joe Biden's struggling approval would translate to a favorable national environment that could propel them to victory in Biden-won states such as New Hampshire. But an uptick in his approval rating, as well as backlash over the U.S. Supreme Court's overturning of Roe v. Wade, have made the playing field more neutral.
New Hampshire Republicans initially hoped that either Sununu—who won re-election by more than 30 points in 2020—or former Senator Kelly Ayotte would run, but both declined. The race is considered to "lean Democratic" by the Cook Political Report.
Newsweek reached out to the Morse and Bolduc campaigns for comment.