Donald Trump Jr., Eric Trump Had Second Row D-Day Seats While Kellyanne Conway Watched From Sidelines: Report
President Donald Trump's adult children not serving in the administration got to not only accompany their father on his official Europe trip, but landed prime seats at the D-Day ceremony while some senior White House staffers including Counselor to the President Kellyanne Conway were sidelined.
The president's eldest sons Donald Trump Jr. and Eric Trump, both executive vice presidents of the Trump Organization family business, sat in the second row during a ceremony Thursday at the Normandy American Cemetery, a photo shared by Wall Street Journal reporter Michael Bender on Friday shows.
Another photo tweeted by Bender shows Conway sitting seemingly on the sidelines of the ceremony commemorating the 75th anniversary of D-Day.
"Trump's adult children joined him on his trip to Buckingham Palace, his golf course in Ireland and at the D-Day ceremony in FR, where Don Jr. & Eric sat in the 2nd row while some senior White House staffers initially were asked to watch from the sidelines," Bender wrote in his tweet.
An accompanying Journal story stated that 12,000 people were in the audience at the ceremony, putting into context just how much of a privilege it was to sit in the second row.
The White House did not immediately respond to a request for comment from Newsweek on Friday.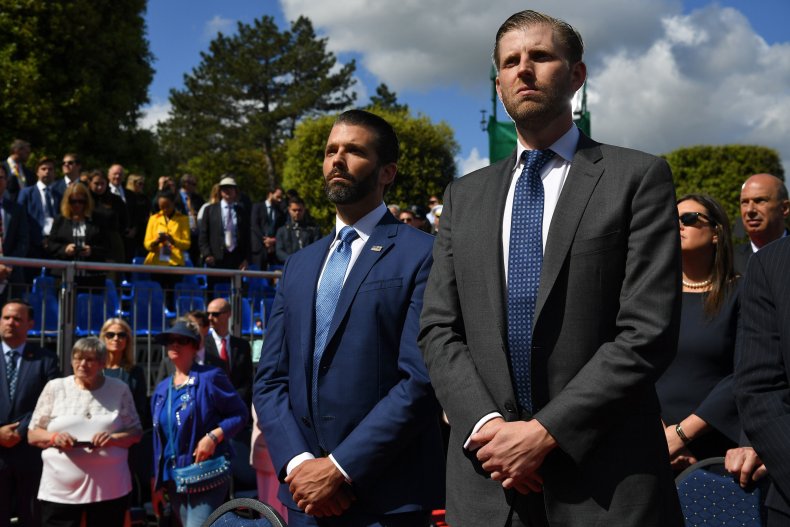 While the president's other adult children—senior White House adviser Ivanka Trump and Georgetown Law student Tiffany Trump—also traveled to Europe with him, Trump Jr. and Eric Trump were especially criticized because of their roles running the family business.
Pollster Matt McDermott on Wednesday tweeted a photo of Trump's adult children, Ivanka Trump's husband and senior White House adviser Jared Kushner, and Eric Trump's wife Lara Trump, at the U.K. state dinner and pointed out that four of the six have no official government position.
Cornell University historian Lawrence Glickman raised the question of who was paying for the participation of Trump's relatives who are not administration advisers. A White House official told Newsweek they were paying for themselves.
Richard Painter, a former chief ethics lawyer under President George W. Bush, expressed concern to Newsweek earlier this week that, "Donald Trump Jr. and Eric are the two sons running the business, so their day job is to try and enrich the Trump Organization."
The Trump sons' presence "gives the impression that the Trump family has their hands out looking for profitable business opportunities as [the president is] conducting diplomacy for the United States and that's the way you get in good with the Trump White House," Painter said.
Earlier this week, the watchdog Citizens for Responsibility and Ethics in Washington's spokesman Jordan Libowitz claimed to Newsweek that "the Trump brothers have a vested interest in making money for their father in the U.K."