Don Lemon Stuns Co-Host After Saying 50-Year-Old Women Are Past Their Prime
CNN host Don Lemon shocked his co-host after saying that Nikki Haley, who recently announced her plan to run for president in 2024, and other women over the age of 50 aren't in their "prime."
On Thursday morning's episode of CNN This Morning, Lemon and co-host Poppy Harlow discussed Haley's recent comments about requiring competency tests for politicians over the age of 75.
"This whole talk about age makes me uncomfortable. I think it's the wrong road to go down. She says people, you know, politicians are suddenly not in their prime. Nikki Haley isn't in her prime. Sorry. When a woman is considered in her prime in her twenties and thirties," Lemon said.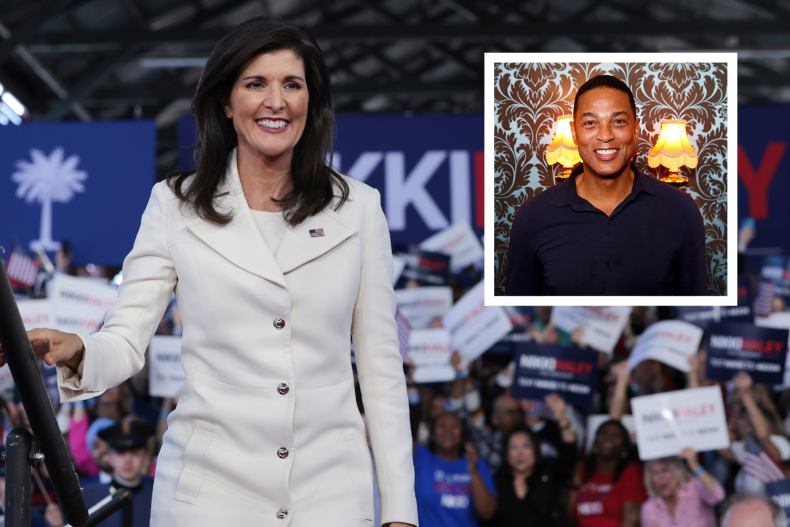 Lemon was interrupted by Harlow, who asked, "prime for what?"
He went on to say that it is not specifically his opinion but said, "If you Google 'when is a woman in her prime,' it'll say twenties, thirties, forties."
Harlow then questioned Lemon again about what he meant by "prime" to which he said:
"I'm just saying what the facts are. Google it. Everybody at home, when is a woman in her prime? It says twenties, thirties and forties. I'm just saying Nikki Haley should careful about saying that politicians are not in their prime, and they need to be in their prime when they serve. She would not be in her prime according to Google or whatever it is."
Earlier this week, Haley, 51, announced her plans to run for president in 2024 as a Republican nominee. Shortly after announcing her bid for office, Haley, who previously served as the South Carolina governor and United Nations ambassador, spoke about her plans if she wins the election.
"In the America I see, the permanent politician will finally retire. We'll have term limits for Congress. And mandatory mental competency tests for politicians over 75 years old."
Following Lemon's comments, a number of social media users spoke out sharing their own thoughts about the idea of there being a woman's "prime."
"In a related story, Don Lemon is 56 and older than Nikki Haley, who he says is past her prime. It's an utter mystery why almost no one is watching this masterpiece of a morning show hastily put together by Chris Licht," Joe Concha, a columnist for The Hill, tweeted.
Nile Gardiner, a British commentator and former aide to British Prime Minister Margaret Thatcher wrote, "Margaret Thatcher, the most successful woman leader of the modern era, became Prime Minister at the age of 53. @NikkiHaley is 51. Ridiculous comments from @DonLemon."
Ben Shapiro of the Daily Wire also responded to Lemon's comments, writing, "Don Lemon: 'Nikki Haley isn't in her prime. Sorry, When a woman is in their prime in 20s and 30s and maybe 40s...' Kamala Harris is 58."
Lemon later apologized for his comments in a statement posted to Twitter, writing, "The reference I made to a woman's 'prime' this morning was inartful and irrelevant, as colleagues and loved ones have pointed out, and I regret it. A woman's age doesn't define her either personally or professionally. I have countless women in my life who prove that every day."
Newsweek was directed to Lemon's tweet after reaching out to CNN for comment.
Update 2/16/23 2 p.m. ET: This article was updated to include Don Lemon's tweet apologizing for his remarks.