Video: CNN's Don Lemon Blasts Virginia Governor Ralph Northam for Using Strategy 'Straight Out of the Trump Playbook'
CNN anchor Don Lemon has highlighted the conflicting stories of Virginia Governor Ralph Northam as he battles to hold on to his post following the publication of a racist photo from his medical school yearbook.
Officials in Northam's Democrat party have joined in widespread calls for his resignation after the photo emerged from the 1984 Eastern Virginia Medical School yearbook of a man in blackface and another in a KKK outfit.
On Friday, Northam tweeted a video apology in which he said: "That photo…does not reflect the person I am today…I am deeply sorry."
But after the media furor following the mea culpa, he denied the following day at a media conference that he was in the photo at all: "I was not in that costume, either as blackface or KKK," he said.
Northam's other admission at the press conference was that in 1984 he had put black polish on his face when he dressed up as an impersonator of pop star Michael Jackson for a dance contest, for which he learned how to do the moonwalk.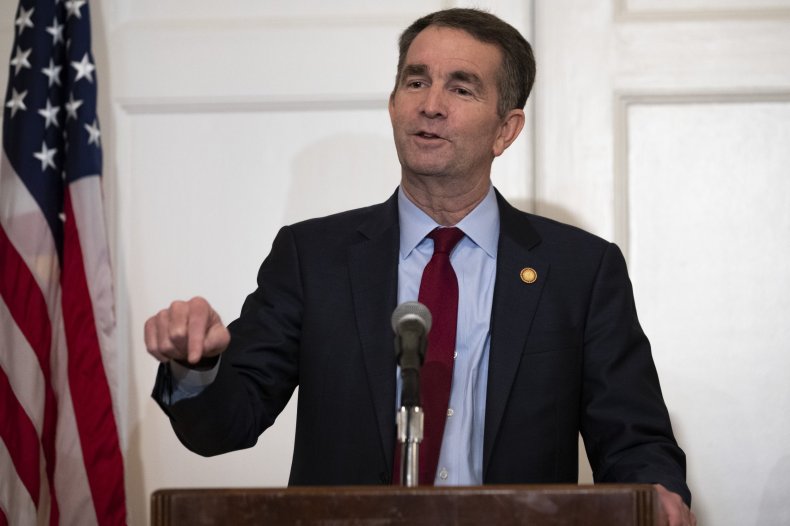 The host of CNN Tonight said that both stories "can't be true. You have got to wonder about a man who while denying he had anything to do with one racist blackface incident, admits to another one."
Lemon also asked why an image of Northam in the Virginia Military Institute (VMI) yearbook had the caption, "Goose, coonman," a nickname he said was coined by two people a year ahead of him.
Lemon compared this U-turn with controversial comments made by President Donald Trump in which bragged about sexually assaulting women. In Access Hollywood video from 2005 that emerged in October 2016, which was leaked to The Washington Post shortly before the presidential election, Trump said that because he was a celebrity, he was able to grab women "by the pussy."
Trump apologized for the comments but then later dismissed them as "locker room talk." Lemon highlighted that once elected president, Trump reportedly began questioning whether it was his voice on the tape.
Lemon said: "Why would Governor Northam contradict what he said less than 24 hours before? Why would he think that would work? It's very simple, it does work, it worked over and over and over.
"Ralph Northam's strategy is straight out of the Trump playbook, just double down, triple down, wait for the storm to pass, wait for the next big story to push this scandal out of the headlines. It is a strategy that has worked for the president but the question is, will it work this time?"
Carla Savage-Wells, a childhood friend of Northam, defended the governor, telling CNN's Chris Cuomo it was "completely inaccurate" to describe Northam as someone who does not like black people.
"You've had so many people to say that they have not seen a racist bone in his body and I can attest to that from 1972," Savage-Wells said, Mediaite reported.
The Republican speaker of the state House of Delegates, Kirk Cox, said an impeachment was unlikely as it requires a majority vote in the House of Delegates, and removal from office would require the votes of two-thirds of the state Senate.
"So, I think that's why we've called for a resignation. We hope that's what the governor does. I think that would obviously be less pain for everyone," Cox told reporters, according to NBC.
Karen Hult, who heads the political science department at Virginia Tech told The Hill that there is little chance Northam can survive the scandal.
"The press conference on Saturday probably was the end of the story for him. That was really not what he needed to do to address the situation. I'm afraid the die is cast at this point," she said.
Northam's possible replacement, Lt. Gov. Justin Fairfax (D) is facing his own controversy after a report accused him of sexually assaulting a woman at the Democratic National Convention in Boston in 2004.
In a private Facebook message posted by Big League Politics, which also broke the Northam story, the woman alleged sexual assault by an officeholder whose description matched Fairfax's.
Fairfax denied the claims, telling reporters: "That allegation is completely false. It's completely uncorroborated."